Have you seen those fabulously comfy-looking khaki campbeds when you stroll past the fishing section in outdoor stores?
Carp anglers have to stay in one place for hours, so they demand comfort. Why can't campers have squishy beds and chairs too? Here's our guide to what might work for all of us – fish or no fish.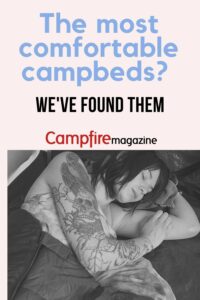 Latest update: January 2020
In a hurry? If you don't have much time using the links below to quickly find our favourite campbeds you on Amazon. You can be assured we only choose the best products…
– Best Overall – JRC Contact Lite campbed
– Best for Folding – NGT campbed
Campbeds, chairs, shelters and camping storage – and all in stealthy khaki
You'll already have spotted the downside maybe? Can you really have camping comfort with portability and packability?
Fishing beds, chairs and shelters aren't as lightweight as some camping gear. So, they won't work unless you have a vehicle. Carp anglers park nearby or use a trolley to cart all their fishing equipment to the waterside.
And these beds and chairs are probably not going to work for a family, because carrying more than one or two of these beasts isn't usually feasible. Having said that, she who pitches the tent or threads the awning into the rail deserves the best chair! The rest can sit on the ground!
We've left no riverbank uncombed in our bid to find the lightest and foldiest campbeds, chairs and more. So, read on…
Camping beds for ultimate comfort
Here are the lightest and most portable campbeds we've found from the carp fishing world and beyond.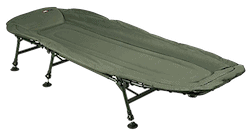 This campbed is a good buy. Adjustable, stable legs and adjustable recliner.
Folded: 84 x 74 x 20cm (approx.)
Size: Height adjustable L195cm W75cm
Weight: 9kg
A nice, easy reclining mechanism and a good padded mattress on this NGT campbed. Plus it folds fairly flat.
Folded: 60 x 60 x 20cm (approx.)
Size: H37cm (adjustable) L2m W80cm
Weight: 8.3kg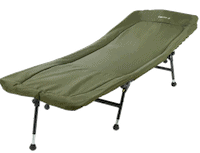 At just 5kg, this one is a fantastic option for camping. The Caperlan isn't a recliner, but it has five options for leg height. 
Folded: 90 x 70 x 20 cm
Size: H25cm-35cm L200cm W65cm
Weight: 5kg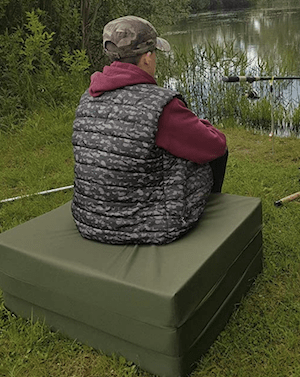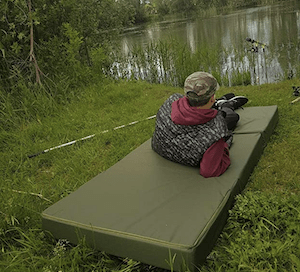 If you have a bit of room, then this is an easy option. A waterproof, folding bedchair. No back support, of course, but 10cm deep!
2m long and 80cm wide.
Add to comfort with a topper
If you choose a less padded bed to keep weight down, then consider a memory foam topper. These can make almost any campbed comfy, but watch the width as many are made for single beds rather than narrower campbeds.
They work well for camping in your car!
An inflatable camping mat?
If you'd be just as happy with a super-comfy, deep self-inflating camping mattress, we have just the thing!
Have a look at our guide to the best camping mats that feel like your bed at home (sort of).
Some of the cheaper campbeds will be much comfier with a blow-up camping mat on top, of course! 
Other comfy campbed options
Funnily enough, many of the 'normal' camping beds we looked at weren't all that much lighter (heavier in some cases) than these carp beds and nowhere near as sturdy or comfortable. 
But there are some good lightweight options that need a mattress on top for proper comfort. These are the best we found. We have also written a helpful guide to Best Camping Mattress for Couples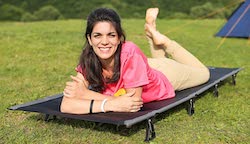 You'll probably want something to soften this ultra lightweight cot, but it doesn't sag (even with a HEAVY sleeper on it…no what I mean, you 120kg guys?).
It's sturdy and quick to put up (once you get the hang of the instructions. Plus it packs small (in a choice of colours).
Folded: 36 x 13 x 13cm
Size: H12cm L190m W64cm
Weight: 2.2kg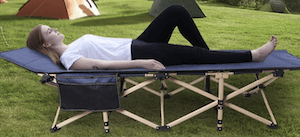 There are lots of campbeds with a simple stretched fabric design. The thing to look for, apart from sturdiness, is width. If they're too narrow, you'll find yourself lying on the uncomfortable side 'rails'.
This Redcamp campbed comes in a choice of sizes. The 70cm width one weighs under 7kg. Rated to take a crazy 200kg in weight. Now that's one heavy sleeper!
Set-up is fast and folded size is 105x23cm.
 Vango Dormir  Straps keep your mattress in place. Size: 183 x 64 x 31cm. Folded: 91 x 64 x 6.5 cm. Weight: 6.75kg
Personally, this is a step too far for us for camping, but we spoke to someone using one this summer and they loved it. Basically, it's a blow-up base for your camping mattress, which is held in place by straps.

Weighs just under 4kg and packs down into a neatish size. You need a decent pump with it because it needs to be fully inflated.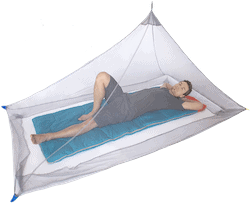 If the weather's fine, you'll get to see the stars if you lie back on your comfy bedchair with a simple mosquito net for protection. You might need to add some straps/hooks to keep it in place, and you'll definitely need a tree to hang it from.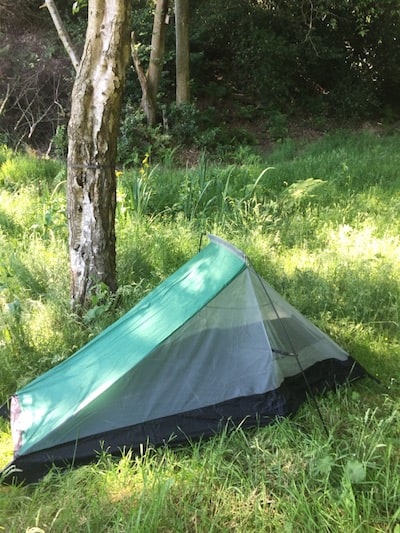 Alternatively, have a look at a ground-based bivvy tent with integrated mosquito net like the Aqua Quest West Coast we use all the time. Light, up in seconds, but no BIG campbed, of course!
Clever fishing-inspired kit that works for camping
If you don't have to design any colour choices into your kit (would you like that in khaki or khaki, madam?), perhaps you can spend more time designing clever and useful gear. How about these?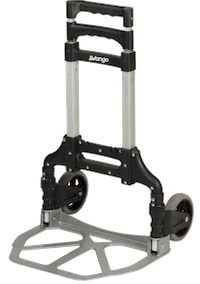 If you don't need a heavyweight all-terrain barrow, Vango's Transit is fab. Folds completely flat and weighs just 3kg. It can take up to 70kg and comes with an elastic tie-round.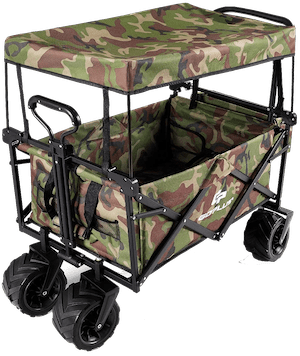 Overkill for some camping trips, but we'd have loved one of these Casart trollies when we stayed at Blinkbonny Wood, where you park your car and then walk into the woods with your gear. Great for the beach too.
It's totally adjustable, folds relatively small and the cover comes off. Pockets, rain hood, rugged wheels..
All-in-one workstations…for camping kitchens?
These might be designed to carry bait and tackle, but imagine this neat storage pack filled with kitchen supplies, herbs and spices or other camping bits and pieces? 
This NGT Deluxe has compartments for storage and a separable table.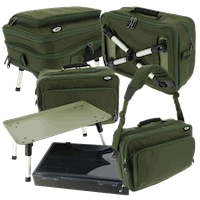 One of our readers told us they used a fishing brolly instead of a tarp. It's a great tip. 
We like the Zebco storm brolly as it's very tall (with side panels)