Dixe Wills explains how his love of tiny campsites inspired him to write a book about them. And he shares five of his favourite bijou pitches.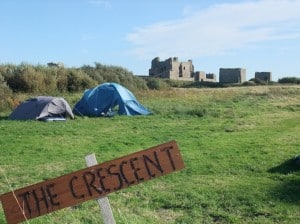 Concrete campsites or grassy gorgeousness?
If you're going to have an epiphany it may as well happen on Dartmoor, says Dixe Wills. One summer evening, with the light fading fast, he cycled over the moor to a campsite marked on his OS map.
Hauling himself over one last hill, his heart sank – he'd arrived at a huge commercial site that appeared to have been styled after a prison camp.
"I was just beginning to resign myself to my fate when a sign on a tree caught my eye. Handwritten and fastened to the trunk with drawing pins, it bore an arrow and the simple one-word legend 'Camping'.
Ten minutes later, I was putting my tent up on the back lawn of a gorgeous farmhouse. Birds flitted around me, an apple tree proffered the possibility of free pudding and my pitch was surrounded on three sides by flowerbeds bursting with colour – it was heaven. And still is, in fact – if you want to find out yourself, it's called Sweet Meadows.
It was when I started looking for a book on the nation's best bijou campsites that I hit a snag. It quickly became apparent that no such guide existed and that if I wanted one I would have to write it myself, and so Tiny Campsites was born.
It's difficult to express exactly what it is about diminutive campsites that gives them an edge over their larger brethren. EF Schumacher's dictum that 'small is beautiful' might certainly have something to do with it. In the end, however, I think it comes down to two qualities: character and soul – though not every tiny campsite has them, the hit-rate amongst them is satisfyingly high.
Wedded to this is the pleasure of al fresco dining. As a vegan, I find it not only very simple to cook over a fire or stove with a minimum of utensils but also a deeply tasty experience, especially if there's something forage-able to add to the pot."

Dixe Wills spends more nights each year in a sleeping bag than nature intended. As an eco-travel journalist writing non-flying articles for The Guardian and other national publications, there's barely a corner of Britain that hasn't felt the press of his bicycle tyre, size 11 walking boot (non-leather), or biodegradable tent peg. He's also the author of several genre-bending travel books including Tiny Islands and Tiny Stations.
Dixe's picks for unspoilt campsites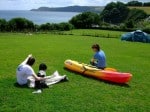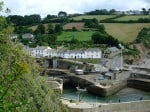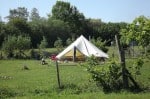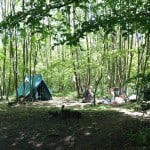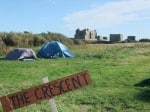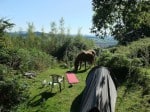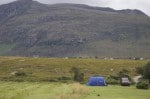 Badrallach, Ross-shire
The nearest shop is 14 miles away but, in summer, food fresh from the garden can be bought at nearby homes.
Middle Ninfa Farm, Monmouthshire
The owners sell fruit and veg they grow themselves on their smallholding and can order in locally produced organic food on request.
Welsummer, Kent
Campfires are actively encouraged and the nearby village of Lenham sports a tempting little deli.
Piel Island, Cumbria
The pub on the isle is run by a trained chef whose food attracts a clientèle happy to sail or paddle there to partake of it, and its garden boasts one of the most extraordinary views in Britain.
Broad Meadow House, Cornwall
The lovely couple who run the site can bring you a delicious breakfast-in-tent including one of the best smoothies you're ever likely to taste.