The south-west of Scotland has one of the UK's most gorgeous unspoilt coastlines, and it's never crowded (thanks to the absence of a railway and anywhere decent to eat). So, car or campervan camping and campsite cooking really come into their own here.
Solway View campsite
Solway View campsite is part of a 300-acre farm perched on a headland between Ross Bay and the Solway Firth. You can walk to fabulous coves or round the coast to a choice of beaches. There are pitches for tents, caravans and motorhomes and also some wooden wigwams to rent. It's relaxed, there are great views and the toilet block is always clean. It's recommended for food-lovers because:
Every tent pitch has its own wooden picnic table and benches, plus a wheel inner to light campfires in

There's a sea-facing shared cookhouse with gas hob, tables and chairs, washing-up equipment, crockery and cutlery

You can buy locally grown fruit and vegetables at the cookhouse (you just choose what you want and leave the money in a jar)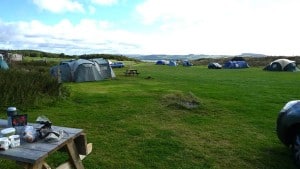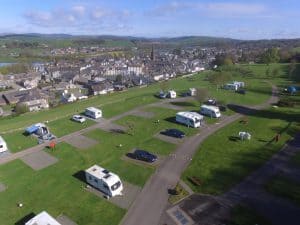 Kirkcudbright's Silvercraigs Caravan Park
Silvercraigs Caravan Park is an unusual place to camp in that it's a small green hillock perched in a residential area overlooking the picturesque town of Kirkcudbright (Kirkoobree, by the way). A bit like the municipal sites you get in France, it's community-run and the (low) fees help pay for projects and activities in the town.
Facilities are basic (although there's free wifi, 16amp hook-ups and a laundry area). There are only a few flat pitches, but it couldn't be in a better spot for strolling down to town for the harbour views, art trail, Scottish nights and the host of other summer festivities. Again, there's nowhere fantastic to eat (despite the opening or a promising-looking, highly disappointing new café and cookery school), but it's a lovely little town with gorgeous countryside, bays and beaches all around.
Doon Beach across the estuary is perfect for long family days-out because there's a big, flat field right on the edge of the sand.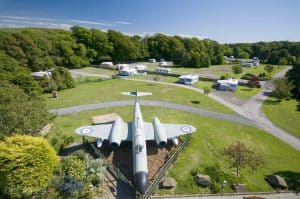 Big caravan resorts
There are quite a few bigger caravan and static/cabin parks around the area – Brighouse Bay, Seaward, Sandgreen and the ones near Kippford and Rockcliffe. These aren't our thing, but there's lots of choice for those who want the facilities this sort of place offers.
Wild camping
Have a look at our article on apps and websites that help you find wild camping spots, overnighters and campsites. Scotland is great for wild camping…because it's legal! In Kirkcudbright, there are campervan and small motorhome spots on the harbour front and in the park near the swimming pool.
Know of another great campsite? Do let us know.