It didn't take a lifetime of commuting and so-so jobs for Georgina Ackroyd and Lewis Mann to realise there had to be a better way. The couple, en route to the ripe old age of 30, are travelling Europe with Dotty, their VW campervan.
It didn't take a lifetime of commuting and so-so jobs for Georgina Ackroyd and Lewis Mann to realise there had to be a better way. The couple, en route to the ripe old age of 30, are travelling Europe with Dotty, their VW campervan.
Meet the campervan adventurers
Georgina, from Bradford, and Lewis, from Halifax, actually met when they found themselves living next door to each other in Columbus, Ohio. Lewis was working as a web designer and Georgina as a fashion designer. Both had long days and very little time off. Though they loved to travel, it was only ever for a week or two at a time.
"We wanted to pursue our passions on our terms, breaking the boundaries of money and time," says Georgina. "We wanted to travel, work and live where and when our hearts desired."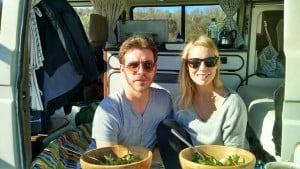 They moved back to England, sold everything they could and set off for Italy and Switzerland. It didn't take long, though, for them to realise they simply couldn't afford to drive around in a car and stay in hotels and hostels, even cheap ones.
"It was Lewis' idea to buy a campervan," recalls Georgina. "I wasn't too convinced about the idea. I had never been in one before and the idea of living in a small van didn't appeal. But we went to take a look at some different styles and models. We had no real knowledge, but we knew we wanted something small enough for us to get around the back roads of Europe, and we knew it would have to be old, but efficient, because we had so little money."
Choosing their campervan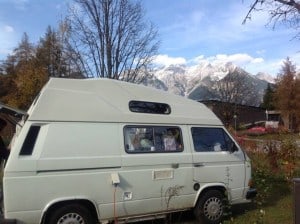 "Our hearts were set on an old style VW bus, but we had to be realistic."
"During our search, we had lovingly gazed at a fully restored 60s model, but there was little storage, and a lot of kitchen functionality had to be accessed from the outside. Not very friendly for long-distance, all-weather travelling. It wasn't very wallet-friendly either!"
Then, they spotted a model they hadn't seen on the road before – a bit boxier, a bit taller, with a lot more brown carpet. It turned out to be a 1986 VW T25 camper from the 80s, with a turbo diesel engine. It had the character they wanted and the high top gave them more storage. Dotty was theirs!
All you need is a bed and a kitchen and…
Inside, there's a small kitchen with three hobs, a grill, sink and fridge. There's a pull-out double bed in the back and the small up-top bed is used for storing bedding and clothes.
"The one thing that's missing is a toilet and shower, but we've never had any problems finding facilities nearby. With the help of a few useful free apps installed on our phones, we've been able to find campsites and even bathrooms. Our favourite is 'the toilet finder' app," says Georgina.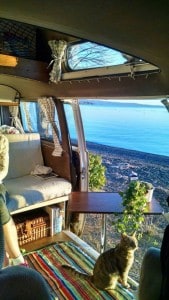 With a 30-year-old campervan, the kit that's most useful is a set of vehicle maintenance tools. In Bruges, for example, their squeaky brakes were making pedestrians cover their ears when they passed by. They managed to fix these, a bad alternator and a gear selector problem that, had they needed to pay a garage, could have cost them the rest of their trip.
Their tools have also come in handy for gradually customising the inside of the van to make it a more efficient living space.
"Since our camper is small, and it has to change from kitchen to living room to bedroom to office, it's really important for us to be efficient in performing these transitions," adds Georgina. "We've learned quickly the best ways to do this, and designed our living area to complement the flow of our actions. We've shed unnecessary items, found new homes for items we need to get at regularly, and divided the camp set-up duties so that we can work in harmony without tripping over each other. In the end, all the extra time we save goes into collecting new experiences."
Life-changing travels
They left the UK in October, and even the journey to Dover showed them what a fantastic, life-changing decision they'd taken.
"Our winter palace impressed us greatly on our first long-distance run to the channel. Our feeling of amazement grew with every mile we covered; in awe at the changing landscape and the sun beaming down through the clouds. We had music playing and the fantastic realisation that we were actually doing this. It was so liberating," says Lewis.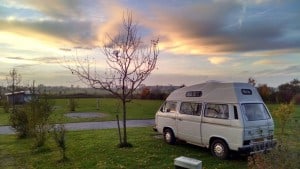 The plan was to head to Italy as quickly as possible, but the first motorway experience taught them they'd prefer to trade speed for scenery. They chose the 'avoid motorways and tolls' options on Google maps.
"Since our camper was most comfortable at 60 miles an hour, it actually didn't make much of a difference from being on the motorway, but the decision to leave the fast lane changed the dynamics of our whole trip," says Georgina.
"In the four weeks travelling to Italy, we saw a mixture of historic sights, local ways of life, modern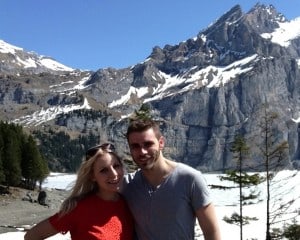 wonders and natural wonders. We loved the vibe of Luxembourg city and stayed there a couple of days. In Germany, we spent Hallowe'en in the Black Forest and spooked ourselves by getting stuck in the mud."
From here, they took the romantic road down to the Austrian border (check out our Camping Date Ideas guide), past the mediaeval walled towns of Augsburg, Rothenburg, and Fussen. In Austria, they had planned to travel the Grossglockner path to cross the Alps, but winter had really caught up with them. The path closes in October, and it was easy to see why. Waking up in the snowy, sleepy town of Heigligenblut was the inspiration to cook a warming Irish stew with Christmas songs playing in the background.
Campsites and wild camping
"We thought Italy would be the start of our adventure, but we'd already seen so many things that most people never take the time to go and see, and we'd only just begun," says Lewis.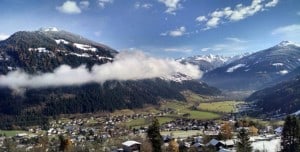 Favourite stops so far have been wild camping at Garda with lake-view sunsets and sunrises, and a small, family-owned campsite in the Austrian Alps.
"They were some of the most generous and friendly people we've met on our travels," says Georgina. "When we woke up snowed in and unable to get to the shops, they gave us vegetables, a few cheeky shots of vodka and a jar of homemade jam. We prefer campsites like this to large resort-type sites because they're much more personal and welcoming."
The plan now is to spend a few months exploring Italy – one of their favourite countries – then head back to the UK via Croatia, Hungary, Austria, Czech Republic, Germany, Denmark, Sweden and Norway. They'll get back in time for an October MOT, do some minor alterations to the van and set back off again.
But has the road always been smooth? Apart from a few breakdowns, the main problem was setting off in winter.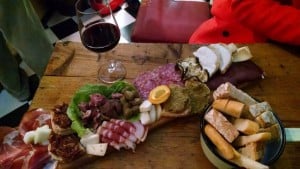 "It was a challenge at times, but," says Georgina, "we feel we've achieved something by getting through the winter. Now summer time will be a warm breeze for us!"
ED: Shame we hadn't written our guide to campervan heaters in time for Georgina and Lewis to set off. It's there now, though!
Working on the road
Lewis works as a nomadic web designer these days and both intend to take up seasonal work here and there to fund their full-time travels. Most will be minimum wage, but they're happy to earn anything that helps them stay on the road.
"The most difficult thing is when we're in rural areas with weak connections. It can take double the time to do the job," says Lewis. "We've also worked in coffee shops. As a whole, though, web designing on the road is an amazing experience. It's very satisfying that my work directly funds our new lifestyle, and that the experiences we have feed into my creativity."
The couple have their own portable wifi router that gives them connection in most countries in Europe, America and Australia. They carry it in the van, of course, but also when out in a city so they can get directions and information on their phones.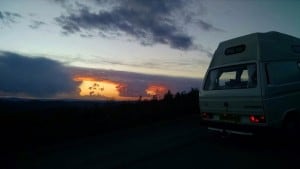 In areas where the router has a bad network connection, they use USB dual antennas to help pick up free networks. (See our article on getting online while travelling)
"Travelling in a campervan has been the most amazing, challenging, liberating and life-changing adventure," says Georgina. "Our campervan is our home, our office and our transport and it gives us the freedom to live, work and travel our way around the world."
If you're thinking about a campervan, we've got lots of articles that might help you decide: