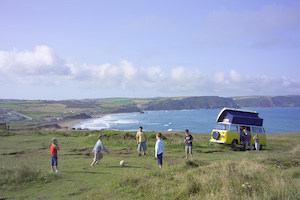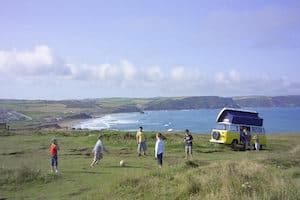 It's always great to hear how a love of camping or campervans has led someone to change their lives.
Pete O'Connor had been restoring VW Beetles for years when he discovered that he could create a business similar to ones he'd seen in New Zealand – restoring and hiring out classic VW campervans.
O'Connor's Campers started back in 2002 and, with a small team of like-minded VW enthusiasts, Pete lovingly restored a few campers and advertised them for holidays in Devon and Cornwall. Within a few months, O'Connor's needed more hire vans and what followed was an exciting few years of restorations, photoshoots, media coverage and customers: lots of customers!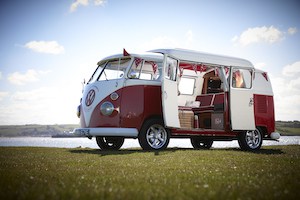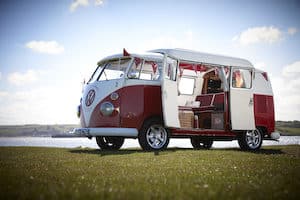 The company outgrew its original base and now lives on the edge of Okehampton, surrounded by farmland and Dartmoor scenery. The huge warehouse has room for the whole campervan fleet, plus space for the workshop, offices and customer cars, nesting swallows, robins, the odd chicken and the resident cat.
"Collecting your campervan is like entering a VW exhibition where you get to drive one of the attractions," says Penny Scott, who now runs the business with partner Paul Robbins. "Many hirers stay a while to look around the rest of the vans and chat to us over a cuppa. Many more are reluctant to leave once they've returned the keys after the holiday!"
A passion for these quirky vans is universal and people travel from all over the world to explore this lovely corner of England in a retro Vdub –  young couples, families with toddlers, retired weekenders and festivalgoers.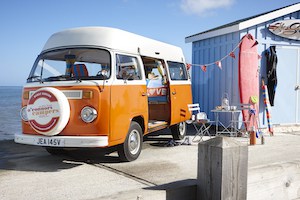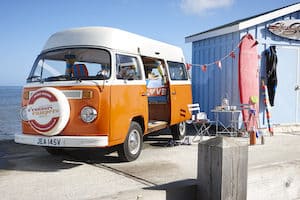 The whole process of collecting the campervan is part of the experience: the bustle of the workshop, the campervan chat, the excited kids, and the spectacle of seeing so many brightly coloured VW vans in one place.
"It's a great holiday atmosphere with customers swapping campsite suggestions and tips, against the roar of VW engines as the vans chug in and out of the workshop," says Penny.
In 2011, Pete sold the hire business to Penny and Paul, who stuck with the principle of customer care and attention to detail, but added new VW Californias to the fleet too. This made it possible for campers to travel further afield – from the Lake District to the South of France – thanks to good fuel economy and diesel heating.
You might remember the ITV series Holiday Home Sweet Home? Well, it was filmed at the workshop and screened all over the world. The O'Connor's episodes still brings Australian customers who've been inspired by the vans and scenery.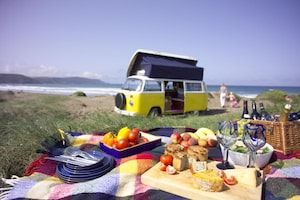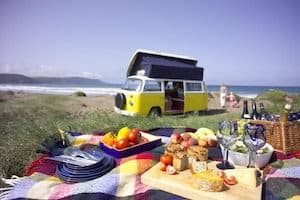 We haven't tried one of the company's vans yet, but we'd love to hear from anyone who has – good or bad. Prices, by the way, range from around £400 to just under £1,000 a week, depending on the choice of van and time of year. August, naturally, is the most expensive.
If you'd like to know a bit more about what it's like to camp in a VW, just search for VW campervan and you'll find plenty of articles here on Campfire Magazine.