If you've already taken our campervan or caravan test, if not even the easy-to-pitch tents in our recommendations can tempt you…then maybe it's time to try something new?
Here at Campfire Magazine, we've featured some interesting ways to camp beyond the usual – from garden camping with CampSpace to Nearly Wild Camping to Glamping. Now here's a new idea that lets you test out what it's like to have a campervan or motorhome without spending too much money.
Goboony

Goboony is a relatively new service that lets motorhome and campervan owners hire out their vehicle to campers. It's a great way of having a holiday, of course, but it's also good for trying out whether the campervan lifestyle and motorhome travel work for you.
Borrowing' someone's VW or bigger motorhome lets you test whether you're happy with driving and parking, but also helps you learn about what and how to pack.
Goboony is a sort of dating agency between owners and hirers, which keeps the price down a bit and means you also get personal advice about the van. There are owners in the Netherland, Belgium, Portugal, the UK and more. Plus you can filter by size of vehicle, date, location and facilities.
"It's been shown that the average motorhome owner only uses their motorhome for a few weeks a year," says Goboony's Fleurine Tideman. "Instead of letting it gather dust in the garage, we help owners earn a nice income. They get to choose who can and can't rent their motorhome, the price they want and all the house rules."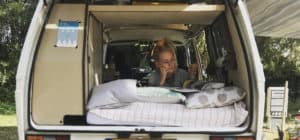 Here's why Fleurine prefers motorhome travel:
You don't have to follow a set route. You're not restricted to hotel bookings or public transport tickets, so you can head anywhere, anytime. You can decide based on weather, mood or even food craving!

Eating out is great at first, but after the umpteenth lunch and dinner, it can get a bit boring – and it's certainly expensive. If you're veggie, vegan or have allergies, it's actually easier to be in control of your own menu. All motorhomes and most campervans have cooking facilities, so you can eat well and save cash.

Motorhomes can be locked, which keeps your valuables and you safe. ED: Do have a look at our article on motorhome security for extra peace of mind.

You get more storage space than in a car or tent.

You get a proper mattress to sleep on, and you can add home comforts like fairylights, quilts and board games to play.

Many motorhome hire options are pet-friendly. This saves you from the hassle and expense of organising and paying for a sitter.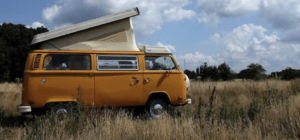 Are there any disadvantages to campervan and motorhome travel?
Although motorhomes combine travel and one aspect of your accommodation costs, they're certainly not the cheapest option for your holiday. Petrol and diesel need to be budgeted for, and so does the cost of your campsite – from around £15 to £50 a night depending on season and facilities.

Many don't find driving motorhomes difficult, but it can be quite daunting if you're not an experienced driver. Parking can be tricky and you won't want to drive around small towns in a large motorhome.

Caravanners have an advantage when it comes to day trips. With the campervan or motorhome as both your accommodation and vehicle, you have to pack things away before you can drive off for the day. Bikes, buses and trains can make that easier, or choose a campsite within walking distance of amenities.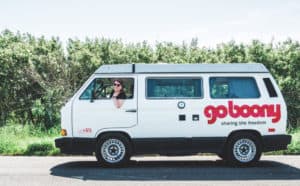 Is Goboony for you?
As a guide, the cheapest rental we found for a summer week in the UK was just under £500 in a Mazda Bongo (sleeping four). In February, you can find a VW campervan for just £200, though. The cheapest peak season French hire we found was in a big and beautiful four-berth Chausson motorhome for just under £1,200 (£800 out of season). Cheaper for two-berth, of course!
Find out more about Goboony – for owners and for hirers – and let us know if you've used the service.