A first visit to New Zealand and a debut campervan adventure…would Martin and Eileen Lawson be won over to life down under and weaned off their love of caravans? Here they give us the highlights of their 18-day trip and lots of useful information for others thinking of campervan hire in NZ.
Latest update: April 2021

Campervanning in New Zealand
There we were at last. After all those months of planning, poring over maps and plotting routes, the moment of truth had arrived. Our first visit to New Zealand and a first taste of life in a campervan.
How would the van compare to our much-loved Coachman Amara 450/2, a caravan that's given us so many holidays and short breaks. The Amara is just right for two people – excellent kitchen space and equipment and, best of all, that spacious end bathroom with camping shower, wardrobe and plenty of shelf space.
Our Amara is a real home from home, and quite literally so when we lived in it full-time for three months during our last house move.
Campervan v caravan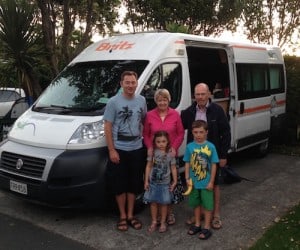 We've often debated the campervan versus caravan question (ED: take our test if you're also on the fence!). No hitching up, nothing to tow and fewer problems on narrow country lanes, fast-moving motorways and windy days.
And far less hassle arriving on site and setting up your pitch. No awkward reversing, easier to get the unit level, no rolling out the barrel to fetch water, no struggle to put up the awning. Just plug into the mains and you're in business with a gin and tonic in hand, way ahead of your neighbours in caravans or tents.
But there are two major disadvantages with a campervan, it seemed to me – the cost and the lack of a car when you want to go exploring, do shopping and so on. You have to pack everything securely away (leaving something behind to mark your pitch) and then manoeuvre through narrow lanes and into tight parking spaces.
So, it was with mixed expectations that we arrived at Auckland airport to collect our campervan, a Britz Trailblazer, with which to blaze a trail across the Land of the Long White Cloud.
Picking up the Trailblazer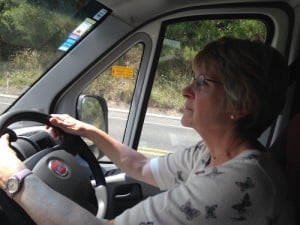 The base vehicle is a Fiat Ducato 2.3 diesel with a six-speed gearbox. In no way could the Trailblazer be mistaken for a motorhome. This was a campervan with no pretensions of being anything more grand.
Despite our having examined the layout and equipment in detail before booking it, once on-board we came face-to-face with the reality of our new situation. The disappointment was tangible.
Where were we to hang and store all our clothes? There was no wardrobe. The Britz rep was lost for words. The second issue was the lack of an external step to get in and out – quite crucial for people like us who are on the short side of average height. The rep found us a step in the workshop and then prepared for our third problem – where to put our suitcases in the compact living space.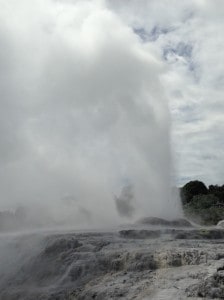 Our smaller sized case fitted snugly under one of the bench seats, while the larger one was stowed on the floor between the two side bench seats (under the bed when it was made up) and which we learned was more often best left down as we travelled through the day. Clothes – far too many – were stowed in that case and in the open head-high shelving running either side of the van's living space.
Immediately behind the driver's seat was the all-in-one chemical camping toilet and shower cubicle. With hardly room to stand or sit, it would be strictly for emergency use only. A TV and DVD player – never used – was mounted on the bulkhead and was a bit of a hazard as it protruded into the walk space. Beneath that was the small two-ring gas burner on a drawer unit storing cutlery, cooking utensils, two mugs and two medium-sized tumblers.
Kitchens, fridges and more
We had hot and cold water, a small sink and a cupboard housing pots, pans, coffee pot and cleaning materials, including tea towels. Bed linen was stored in the bench seat. Under the other bench seat was the electric hook-up cable, bucket, dustpan and brush, waste water drainage pipe and two compact camping chairs. There was also a bit of room for cans, bottles and boxes.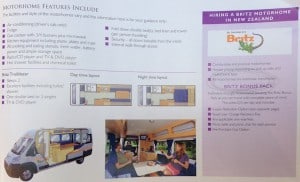 A fridge, worktop and a narrow cupboard (for kettle and toaster) and set of drawers beneath completed the facilities. The fridge, with a reasonably sized freezer compartment, proved plenty big enough for food, bottles and cans.
Despite the kitchen towel padding we applied, the noise of crockery and pans rattling and shaking accompanied us constantly throughout the next 18 days on the road. You get used to it.
By the way, have a look at our guide to the best campervans (in our opinion!).
Exploring New Zealand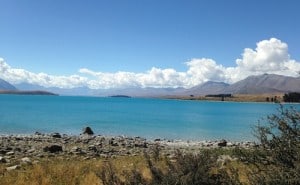 What then of our 3,700km journey on the north and south islands? My only hesitation in saying that New Zealand is 'amazing', 'awesome' even, is the fact that these two words are so over-used.
But, the sheer grandeur of the place is frequently spectacular, the rugged majesty of its landscapes so often breathtaking. Around nearly every corner was something new and eye-catching. Beyond almost all horizons was yet another memorable discovery.
Our Trailblazer journey took us from Auckland to the Bay of Islands in the north (252km) where we stayed at Russell for two nights. What a beautiful, tranquil place. Then we hit the road again for the (462km) drive south to Rotorua and its famous hot springs and geysers. After two nights there, we drove (440km) south and then west to New Plymouth on the coast to visit friends – a beautiful, twisty, high altitude drive.
After another two-night stay, we were on our way again to Wellington (350km) to catch the Interislander ferry to Picton on the south island. One late afternoon and evening in the capital was not enough but we were on a tight schedule, and the weather was poor.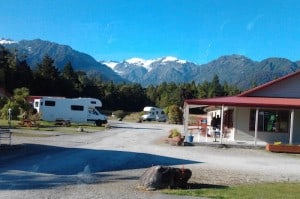 Crossing the South Island
After a Cook Strait crossing blighted by a rolling swell and low, misty cloud, from Picton we enjoyed another challenging (245km) journey via Nelson to the Abel Tasman national park where we stayed at the top end for two nights at Pohara Beach on Golden Bay. We then retraced our steps on a relatively short hop (64km) for another two-night stopover at Motueka from where we explored the Tasman Bay by boat and on foot.
From there we motored south down the serene and lush Motueka Valley Highway and then west through Westport to our next one-night sleepover at Punakaiki on the west coast, a leisurely 284km.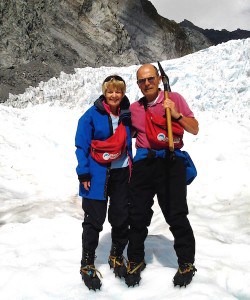 It was then south again down the west coast to Franz Josef (217km) for another two-night stay with snow-capped mountains offering a glorious view. Refreshed, we were ready for another long haul (350km) to bustling Queenstown where we stayed for two nights.
Time was running out as we headed north-east through Lake Tekapo and diverting to Timaru for a last-night stopover before heading for Christchurch airport (520km in total) and the handing back of our campervan which, after such a brief but intense and intimate relationship, we regarded with considerable affection.
And the verdict?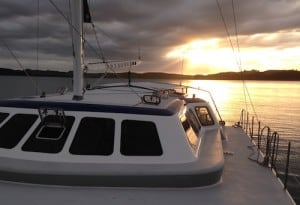 Our thoughts on the Trailblazer? Comfortable, barely. Well appointed, just. Fit for purpose, absolutely. It was just so much fun to shake, rattle and roll along open roads and uneven and unsealed tracks. It was ideal for such a journey.
Both of us hope there will be a next time in a campervan. We'll take backpacks next time. In the meantime, certainly in the UK, we will be sticking with towing our Amara wherever we go.
Our reflections on New Zealand? Fabulous. Wonderful. Immense. And, yes, amazing, awesome.
Information Desk
Journey distances quoted are fairly accurate but don't take into account diversions to the many places of interest.

Travel – flights, two-night stay in a hotel in Auckland, and campervan hire – were arranged and booked in the UK some months in advance through Trailfinders.

Britz Trailblazer hire cost £3,045 for 18 days. There was no kilometre limit. Campervan return requires the fuel tank and gas bottle to be topped up and toilet and wastewater to be emptied. There are plenty of more expensive campervan options. Details from Trailfinders' offices and brochures or britz.co.nz
Helihike and cruise information from relaxingjourneys.co.nz
Apart from two sites – Queenstown and Punakaiki – all our stopovers were at Top 10 Holiday Parks. Friendly and helpful staff, generally excellent facilities, well maintained showers and toilet blocks, along with first rate communal barbecues and kitchens where you can swap experiences and share a drink with fellow travellers. You can buy Top 10 Club Membership either in advance or on first arrival, as it comes with some excellent discounts for local and national facilities and services, including the Interislander ferry. More details from top10.co.nz