If you live in the United Kingdom, you will know that spring is one of the most volatile seasons of the year. One moment it can be warm enough to break out the garden pool and fire up the BBQ while the next, it looks more like it might snow!
This unpredictability can put a lot of people off hiking in spring for the fear of ending up getting soaked in a downpour or exposed to an unexpected bout of hot sun. But you shouldn't let this stop you and a spring hike can be one of the most wonderful. As the flowers begin to bloom and life begins to take shape across nature, spring is one of the best times of year to explore.
The only thing you need to consider is that you'll have to be prepared. Even if you're going on a shorter hike, it can be a very wise idea to take a pack with everything you'll need no matter what the weather decides to do. In this guide, we'll be talking you through the essentials to make your spring hikes some of your most memorable.
Let's Start With Footwear
What you wear on your feet is one of the most important things to consider when choosing hiking gear; and that applies to all seasons. However, it is especially important in spring as you can never guarantee the condition of the trails. Depending on the weather, there could be copious amounts of mud or it could be very dry and bumpy.
To give yourself the best chance in any conditions, we would recommend choosing a lightweight hiking boots that is both waterproof and breathable. This way, you get the best of both worlds; your feet will stay dry if things are still wet and rainy but if the temperature has turned up slightly, you won't need to worry about sweaty, uncomfortable tootsies. We particularly love our Haglöfs as shown below.
In any case, you will need to ensure that your boots have excellent traction. Again, this is something that you will want to look out for regardless of the time of year but in spring it's even more important. This is because of the diversity of conditions you may find the trails in; boots with excellent traction will ensure you can tackle all of these safely and while staying on your feet!
Haglöfs have worked really hard to create a truly lightweight walking boot by taking away as many grams as possible without compromising comfort and durability. The first thing I noticed when putting on these boots was the insole, there is some great support on the arch of your foot which I assume is down to the gel rear foot cushioning which is there to help provide shock absorption. These boots have a rubber toe and heel. After a 5 mile walk I realised the grips are also really great. These boots really do hug your foot and feel great to walk in without being big and bulky, they are a really nice sleek design. A little more money than some others but you can really see why in the quality and lightness. They come in a range of colours and in Mens and Ladies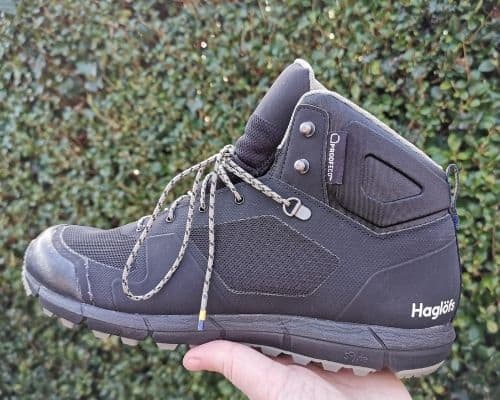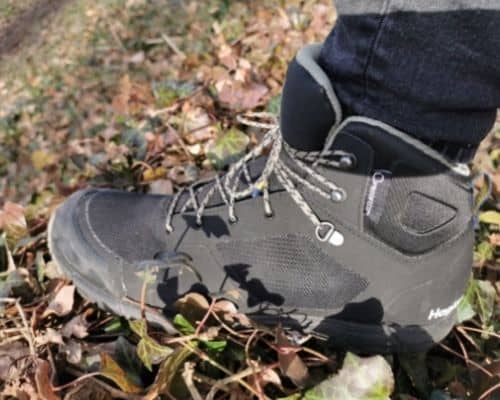 Layering Up
If you're a winter hiker, you will already know the importance of wearing layers to keep your body heat in. But this is something that's also important during the spring. Some days will be warmer than others but the weather, temperature and conditions can change even across the course of a single day. It's not uncommon to go out early in the morning under a miserable grey sky and light drizzle, only to find that by lunch time, the sun is shining and it's pleasantly warm.
Making use of layers means that you are prepared for every eventuality. Traditionally, hikers would go for a base layer, a mid layer and a waterproof outer layer. You can purchase a 3 in 1 jacket (we'll list ours below) which has all of these layers in one and can be taken apart and worn as two separate jackets or worn as one when the moment calls for it.
However, you can also build up your own layers, if you prefer. In this case, you would need to choose a base layer that fits close to the body and will wick away moisture. Some base layers are designed to keep heat in but this is not their primary function.
Your mid layer is what will keep you insulated and usually comes in the form of a long sleeved jacket or top. Natural materials like fleece are excellent for keeping you warm but they can be a little heavier. Alternatively, you could opt for a synthetic material which is much more lightweight and does a great job of keeping you warm, even if you get wet.
Finally, you will need an outer layer which will offer you protection from rain and moisture. During spring, it is not uncommon for random downpours even when the weather seemingly looks good. You don't even need to wear the outer layer for the whole hike, simply pack it in your pack and wear it as and when you need.
The great thing about these waterproof outer layers is that they are lightweight so they won't weigh your pack down. On top of choosing a jacket, you might even go as far as packing a pair of lightweight waterproof trousers should you find yourself in a particularly heavy shower. These are also ideal for overnight stays and multi day hikes.
Shorts Or Trousers For Spring Hiking?
One of the great debates when the weather starts picking up is whether you should wear shorts or trousers. For the most part, we would suggest saving your shorts for those summer hikes when you can guarantee that things will stay warm.
During the spring months, especially in a country like the UK, it doesn't take much for the weather to turn from mild and pleasant to something closer to Arctic conditions! The last thing you want when out on a hike is to find yourself with chilly legs and not a thing you can do about it.
Of course, you could pack a pair of hiking trousers in your backpack but this does mean carrying extra gear. We would suggest opting for a lightweight and breathable pair of trousers that are versatile enough to keep you comfortable in the changing conditions of spring.
Stay In The Loop
One of the worst mistakes you can make as a hiker is heading out without first checking the weather. There's really no excuse since it has never been easier to pick up your smartphone or ask Alexa for a weather update.
Keeping yourself in the loop where the weather is concerned will help you to pack better and means that you won't get caught out. It's no use assuming that, just because it's raining when you leave, that it won't be 20 degrees and glorious sunshine just a few hours down the line.
Additional Items For Spring Hiking
Provided that you wear layers and make sure you've got your waterproof gear at the ready, you should be set for anything that your spring hike throws at you. But of course, there are a few other things that you might want to pack in your bag just to make sure you're covered for every eventuality.
Take a pair of sunglasses, especially if you're hiking in a snowy environment as once the sun comes out, that glare can be blinding. How are you meant to enjoy the scenery if you can't even see?

While most biting insects make their grand appearance during the summer, there are a few about in the spring months so it pays to be prepared. Depending on where you are hiking, things like a mosquito cover for your head and insect repellent are good to have in your pack.

Always take at least one spare pair of socks

. If you're hiking for longer, take a few spare pairs. Even though we suggest waterproof hiking boots, there's still a chance of water getting in or your feet sweating. Wearing wet socks will only do one thing; cause blisters. It takes minutes to change your socks and your future self will thank you for packing them.

Trekking poles

aren't essential for hiking but they can help to retain your balance on uneven ground. During spring, there's bound to be a lot of mud about and this can make the trails slippery. But having a set of trekking poles can mean the difference between slipping and staying on your feet.
Conclusion
As the weather gets better and the flowers start to bloom, there's nothing more tempting than getting back out into nature and hitting the hiking trails. However, as we move out of winter, there is still a chance of unpredictable weather and the conditions might not be as favourable as they will be in just a few months time.
For this reason, it's important to kit yourself out for every eventuality without weighing yourself down. High traction boots, layers and waterproofs are all essential for spring hiking.