Here at Campfire Magazine, we always say you should be able to make great food with only two rings and a wobbly table (and a few tasty ingredients, of course!).
We asked savvy caravan-fan Amanda Regan to tell us how she manages to bake delicious cakes in her teeny caravan kitchen.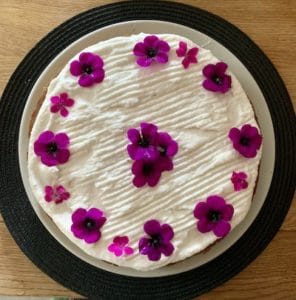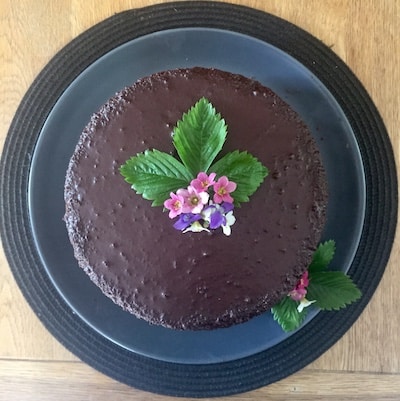 Basic camping equipment and a whole lot of love
"Cooking in a caravan or campervan isn't without challenges, but you can make delicious dishes with limited space and limited equipment if you have unlimited enthusiasm and imagination!" says Amanda.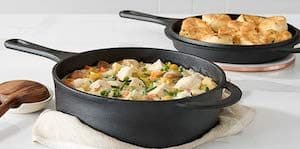 "In my opinion, there's an essential kitchen item – the double skillet. The two pans can be used independently or can be clicked together and used with a heat diffuser to create a stovetop oven for baking potatoes, roasting chicken, warming breakfast pastries and baking cakes.
Double skillets for campsite cake-making
Thanks to Amanda's suggestion, we've found a few useful double skillets that will prove useful at home as well as when camping.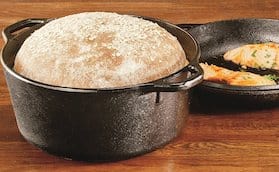 A cast-iron Dutch oven. Heavy but built for a lifetime. Look at that fluffy brioche! Around £70. Short-handled skillets are easier to store.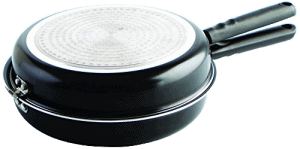 The Quid Gastro. Described as an omelette pan but capable of much more. Non-stick and aluminium. Around £25 and in a choice of sizes.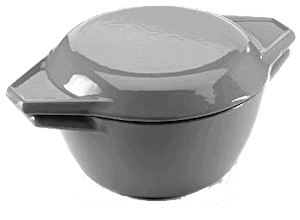 This is an enamelled cast iron double pot, so a bit easier to store and clean. A range of sizes and suitable for all stovetops. Around £30.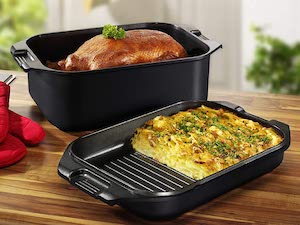 The Karcher is an option that gives you a griddle as well as a roasting and baking pot. For loaf-shaped cakes too. Around £40 and works on induction hobs. 
Chocolate and vanilla marble birthday cake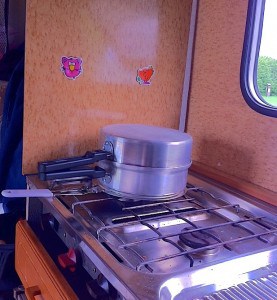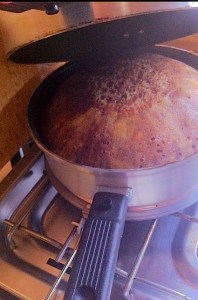 I carefully pre-weighed and pre-packed my ingredients before leaving home, saving space and weight in the caravan and leaving very little to do on site.
I greased the double skillet and left it to warm before adding the cake mixture and leaving the pan to work its magic. I checked the cake regularly, as there is little you can do to regulate the temperature.
I was truly amazed by the end result. I topped the cake with chocolate ganache and chocolate crunch sprinkles before adding candles and presenting the birthday girl with her surprise.
Pancakes with berries and maple syrup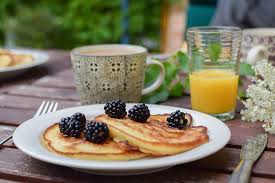 A simple but satisfying breakfast, this is my go-to recipe for four pancakes. One cup self-raising flour, one cup milk, one egg and a pinch of salt. Mix together with a whisk or fork. There is no need for the batter to stand. Melt a knob of butter in the pan, pour in the batter. When the batter starts to bubble flip the pancake over. Ensure both sides are cooked before removing from the pan, tumbling fresh berries over the pancake and adding a generous drizzle of maple syrup.
For a vegan version, no need for egg at all, use non-dairy milk and a dairy-free butter.
Baking tips for campers
Weight and space are at a premium in a caravan or campervan, but there are some simple workaround to make life easier.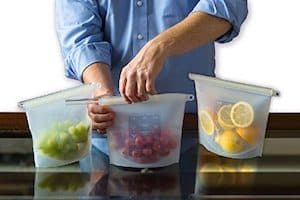 Pre-weigh and mix ingredients and transport in reusable silicone bags. Pre-mix dry ingredients wherever possible.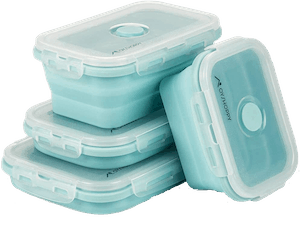 If you use storage boxes (folding ones if space is tight) for ingredients, these can then be used to keep your cakes fresh.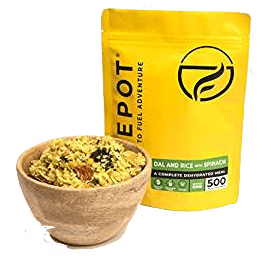 Store recipes on your smartphone or tablet.Don't be too proud to use a packet mix or a decent readymeal like Firepot. In fact, have a look at our tried and tasted readymeals article.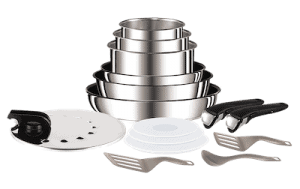 We love pans with removable and interchangeable handles. We have a Tefal Ingenio stainless set that we use at home and when camping. It was too expensive to justify buying for camping alone, but it's fabulous and saves so much space. There's a more affordable Expertise three-pan set too, but not for induction hobs.
There are lots of other ways to make cakes – and even bread – when tent camping or campervanning.
Have a look at our comprehensive baking guide for the equipment, the know-how and the secret (until now!) tips.
Meet Amanda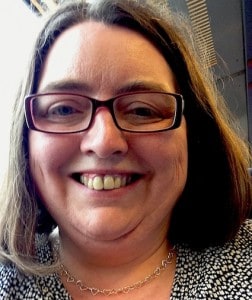 Amanda is a passionate baker and caravanner, and she loves to combine the two. She's been vegetarian for more than 30 years.
She enjoys the challenges of cooking in a confined space to produce mouthwatering food for family and friends. Whilst believing the creation of cakes, bread and pastry to be an exact science, she follows a more liberal "throw any available ingredient in the pot" approach to savoury dishes.
Amanda and her civil partner Allison own a caravan called Gertie