Here's the first dish we ever tried on the Cobb barbecue oven – and it was a hit with our taste-testers.
We served it as a starter, but you could simply add new potatoes and a larger salad to make a main course.
A simple and delicious camping recipe that would work on any of our favourite barbecues or gas stoves too.
How to make anise and chilli trout
This is so delicious that we'd actually suggest making the rub-marinade at home and taking it with you on your camping trip!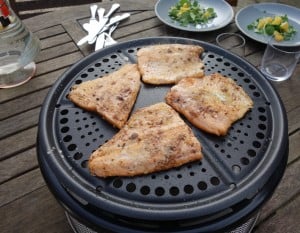 All the ingredients are easy to come by and the meal takes no time to prepare. As usual, the quantities here are for two – just multiply to feed a crowd.
Two trout fillets, skin removed – tilapia, salmon and sea bass all work well too

Two star anise, a teaspoon or so of chilli and half a teaspoon of salt, ground to a powder

Juice of two and a half oranges. Diced flesh of the remaining half

One more star anise

Agave syrup, maple syrup, brown sugar, whatever – just something sweet

Half a fresh red chilli

Watercress – or any other salad leaves, and finely sliced fennel is lovely too
Dust the fish on both sides with the ground spice mix.

Boil the orange juice and a tablespoon or so of whatever sweet thing you're using with the chilli, a pinch or two of salt and the remaining star anise until it gets a bit syrupy.

Mix your salad and orange pieces with a drizzle of olive or walnut oil and a pinch of salt.

Just before you're ready to eat, dust your fish with a little flour and cook till golden on both sides, but still moist in the middle.

Lay the salad on your plates, top with the fish and drizzle the orange syrup over the top.
You can read our review of the Cobb oven here. And we've reviewed the Lotus Grill here (with recipes too!).
Safari Chef 2
The high-pressure Safari Chef 2 is our gas-powered camping stove choice
We thought the Cadac Safari Chef 2 was the best size for portability and cooking options.
It's foldable, comes with all the accessories we need and has the option of extras such as a baking stone, wok and more.
The price is reasonable and a stove powered from a refillable gas bottle is more economical than a throwaway canister and lastly. The stove is also quick to set up and pack away.
We've now been using ours for four years and it never lets us down!