We had a LOT of entries for our win-a-Cadac-stove competition – with some inspirational ideas for camp cooking among them. And now we have a winner!
Joanne McGee from St Ives in Cornwall sent us an intriguing one-pot recipe for a pork (or veggie version) and pineapple curry. Very easy to make and very unusual. You can find her recipe at the bottom of this article, and a bit more about Joanne and her camping life.
We hope she'll enjoy using her prize – it's our favourite camping stove so far (see our review, by the way).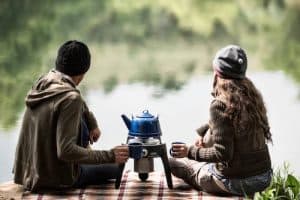 Honourable mention also goes to the following Campfire readers:
Gary Arnold – for his freshly caught wild brown trout from Loch Maree in the north west highlands of Scotland, only lemon juice and pepper required to complement this wonderful fish.

Jane Robinson – "When we go camping or out on picnic days, our three grandchildren like nothing better than making and cooking pancakes, when we get there. We take all the ingredients with us and choose different savoury and sweet fillings. They're a great choice for breakfast, snack or main meal. The Cadac's flat plate would be ideal to cook pancakes on."

Chris Cowell – for his mushrooms stuffed with garlic and stilton, corncobs slathered in butter, ribeye steaks with mustard and brown sauce marinade, haloumi, and bananas wrapped in foil.

Claire Derry – for the simple, but exciting, combination of prawns, asparagus and nectarines.

Neil Wragg – "fresh mackerel, gutted and filleted on the boat then back to the camper and straight onto the Cadac with a few sprigs of samphire collected whilst dragging the canoe back up the foreshore!"

Paul Salmon – "We mainly camp in arid conditions, so are ultra careful about lighting fires. The Cadac is a versatile platform to cook on with minimal fire risk."
We run competitions every month or so, so keep reading and, if you haven't already, follow us on Facebook and get our updates (and competition details) in a flash!
Our winner is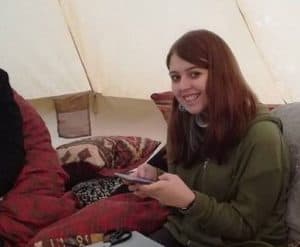 a camping queen
"I'm a single mum of two grown kids, who've both now left home, " says Joanne McGee. "We lost their dad just over six years ago. But even through difficulties, I've managed to maintain a normal life for them.
"We had always gone camping, even when they were babies. I bought a VW Transporter and had it converted, and with the help of my son, we recently bought a bell tent. I even organised a charity camp event last month."
Joanne also uses one of our favourite wood-burning camping stoves, the Frontier – and her new bell tent is the perfect location for it. She still enjoys sitting round cooking using a fire pit, though.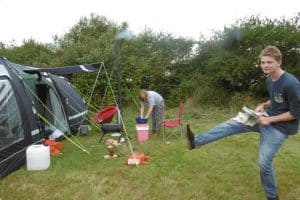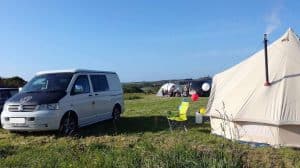 "I've always cooked outside – that's what truly makes it a real camping experience," she says. "Sophie and Daniel love camping, and always look forward to my cooked breakfast. They say it's never the same at home!
Joanne's Cadac curry
Diced pork (or tins of chickpeas, lentils, chopped butternut squash)

Tin of pineapple pieces in juice

Chopped red chili or dried chili flakes

Curry powder

Tin of chopped tomatoes

A tablespoon of mango chutney

Chopped garlic (or use paste or purée)
Sear the pork or squash in a little oil (no need to do this for a version, of course). Add the rest of the ingredients. Simmer till cooked through and serve with rice. You can even add the rice to the curry to turn into a biryani.
There are lots of other camping recipes to try on Campfire Mag, plus have a look at our best-buy tasty cheats for almost-like-homemade readymeals.