Although we love campsite cooking, there are times when you just want something fast and delicious.
We've tested lots of possibilities for easy camping food, and come up with this list of tasty cheats that really work!
Latest update: March 2021
Our joint favourite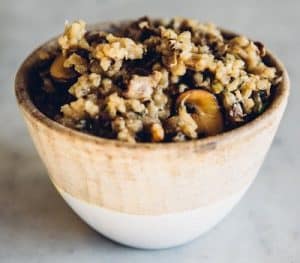 Can you really get good-tasting dried food made with natural ingredients? Yes…thanks to the Firepot range.
Made by Dorset-based Outdoorfood, these pouch meals are a healthy and tasty alternative for campers and hikers. They're our top choice for ready meals.
Handcooked using local ingredients, and dehydrated rather than freeze-dried, they keep the taste and texture.
You simply boil the contents in a pan. The mushroom risotto was gorgeously mushroomy and the orzo pasta bolognese tasted just like a good bolognese should. The posh pork and beans is a little over-sweet. We needed to add a little salt to all of these, which is excellent because so many readymeals are over-salted.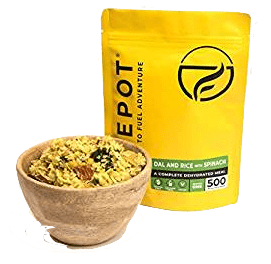 Expensive at around £6.95 each, but the portions are generous. In fact, these were the only meals we found that had enough in them to satisfy a hungry hiker. Now in plastic-free pouches too!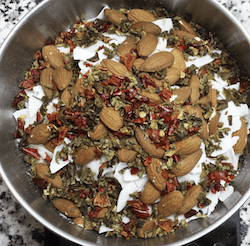 Delicious, wholesome, high energy…and a decent price. We really rate TentMeals dried camping food.
There are some unusual options, including a Moroccan mango dish and an almond jalfrezi. Plus they cost under £5.
The packets are very dinky so easy to pack and they're full of good things.
We rather like Tilda's ready-steamed basmati rice sachets. Fast and easy rice that saves boiling pans of water on a camping stove or inside a campervan.
They come in wholegrain, coconut, lime and coriander and lots of other flavours, and the good bit is that Tilda source ethically and steer clear of artificial flavours, colours or preservatives.
You can stir-fry in a pan with a little oil in 4 minutes. Add some finely chopped spring onion, tomato, fried courgette, red pepper, prawns – or whatever you fancy – to make a faster-than-fast one-dish meal.
Available pretty much everywhere. We always keep two or three packs in the camping kit just in case. Plenty of grains and pulses, including quinoa and lentils, to choose from as well. Often on special offer in the supermarket or available in bulk on Amazon if you can't get to the shops.
Base Camp Food is the best place to buy dried and ready-to-eat camping food. A huge range from the best brands and a good service too.
They also sell some interesting kit – mostly aimed at expeditions or backpacking, but plenty of lovely gear, including the brilliant Solo Stove range, Helinox chairs and more.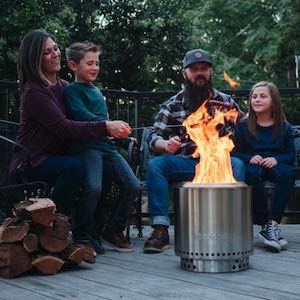 Our joint favourite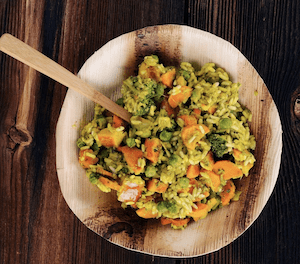 Where else could you get a vegan nettle curry for a camping trip!
These German camping and expedition meals have won lots of awards and they do taste pretty homemade.
In fact, we were bowled over by the squash and sweetcorn casserole we ate on a quick trip this week. Not too salty, fabulous flavour and easy to make.
LYO meals are freeze-dried and free from artificial additives and preservatives. Gluten and lactose free options, as well as vegan choices.
We like the fact that the packaging is resealable and there are two sizes for different appetites.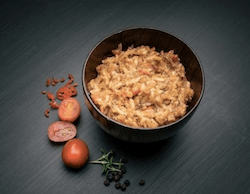 Probably the widest range of recipes, including some vegan (but also some upsetting reindeer stew!).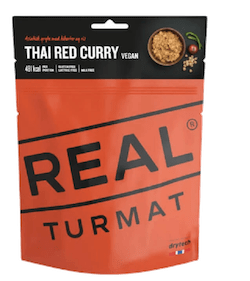 They're not cheap at just under £10 a go and some are a tad salty for my taste, but nutritious and easy to make.
Not exactly a name to make the mouth water, but these are surprisingly good and there's plenty in the pack.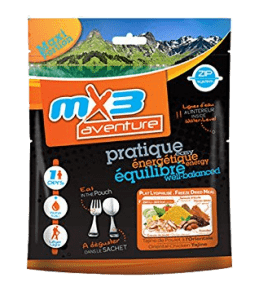 It's a big range – from couscous to tartiflette – so you're bound to find something to your taste. We tried the vegetable pasta, which rehydrated very well and tasted like homemade (nearly).
They cost around £5 on Ebay.
Thai Taste
When we were writing camping recipes the other day, we got thinking about all those other exotic dishes it'd be great to cook while camping.
Thai Taste's green curry, red curry and pad thai kits come in easy-to-pack plastic (hmmm) boxes and don't need a fridge. The pastes come in either resealable tubs (which do need a fridge after opening) or in more handy-for-camping one-meal sachets.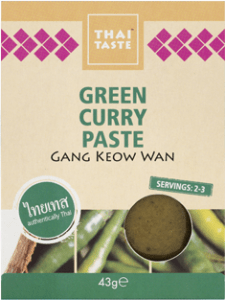 We like the fact there were no nasties in the ingredients and that you can add whatever you like (or have around) for very flexible cooking. We aren't so keen on the plastic, but it's hard to know how to avoid that if you want storable food – cardboard, perhaps?
When we opened the pack, it looked doubtful that there'd be enough curry paste or herbs to make a decent-tasting curry, but, in fact, they had quite a kick and the sachet of coconut milk was nice and creamy.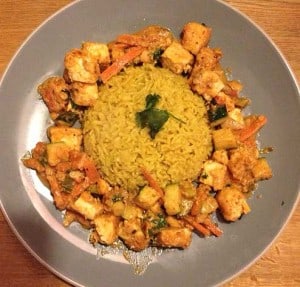 It was super-quick to make and we were very pleasantly surprised by the strength of flavour and the quantity of sauce it made (enough for two). Available in lots of supermarkets.
Fancy a cuppa?
At home, we only use loose tea to avoid throwing all those plastic-containing teabags away. See our green camping article for more about that.
It's not ideal when camping, though, and especially when wild camping. So, here's a trick.
Get some of these cheap and biodegradable paper pouches and fill with tea (or coffee) at home before you go. It's basically making your own tea bags. The bonus is that you can use the pouches for herbs and spices too.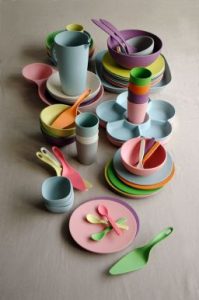 By the way, if like us you're getting sick of all the litter and plastic rubbish, have a look at our articles on reusable coffee cups and on plastic-free camping tableware.
Make yourself a neat camping box of herbs and spices and you'll never have to rummage in your kitchen bag again.
If you've got a weigh-and-save or zero-waste shop near you, you can refill containers like these more cheaply and with less wasted packaging too. We all have our own essentials and favourites, so pick and mix to suit, but here's what we always have:
Curry powder, Mixed herbs, Chilli powder, Cumin, Coriander, Chinese five spice, Garam masala, Whole spices (cardamom, star anise, cloves), Smoked paprika, Dried lime leaves, Sesame seeds