Germany is relatively unexplored by British campers and campervanners – or so it seems.
After a thousand miles and more of travel, we rarely came across anyone from the UK.
Using the Rough Guide to Germany and Neil MacGregor's Germany: Memories of a Nation to help us, we made no plans, but went where the mood took us.
The start of our German camping trip was ominous. We set off as terrible storms and floods hit Europe. But, over the course of a month – and between cloudbursts – the sun came out on an eye-opening journey and a surprising country.
Two nights in Bruges
Our journey began with an overnight wild camp in Hampshire – made stealthy thanks to a new arrangement we've found for the downstairs bed of our VW California Beach (find out more about that here). Then, a choppy ferry ride from Dover to Dunkirk and a short drive to Bruges.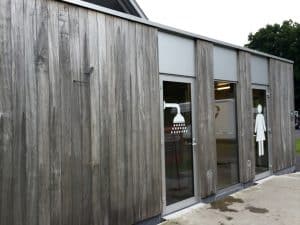 We stayed at Camping Memling in the suburbs. It's a really well-organised site that's fairly quiet (even when busy) and is perfectly located for all the sights, a Carrefour supermarket and a bio supermarket.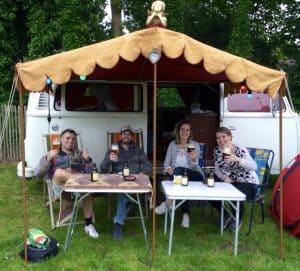 Cycling friendly
It's a 15-minute cycle ride into the city, which is a complete pleasure in a place that's so flat and so cycle-friendly. There are cycle lanes almost everywhere and drivers naturally give way and give you space. If you don't cycle, there are buses from the site too.
Check-in is easy and automated, there's free (if patchy) wifi, a gorgeous shower, washing-up and laundry block and a coffee area (with piano). They do pack campers close together, though. This won't matter to most, as this is just a place to come back to after a day's sightseeing.
Round the corner, we found a great restaurant – the Vossesteert (foxtail) with stunning food and lovely service. We tried the local speciality, stovery, and the best frites ever, one of the tastiest salads we've ever had and a perfect moelleux au chocolat. It's not cheap, but not too expensive either.
Brilliant Bruges

In Bruges itself, we cycled and walked around most of the city, visiting a couple of museums and galleries, eating a cheapish lunch at a locals' favourite, the Cafe de Gilde in Oude Burg, and stopping off for coffee and cakes.
Of course, the city is famously picturesque and expensive, but we also found the backstreets and suburbs fascinating too. There's some great modernist architecture, interesting home extensions and hidden gardens to peek at.
To Cologne…or not
A drive through Ghent, and a stop to see the fantastic SMAK contemporary art gallery. Ghent isn't a pretty town like Bruges, but more interesting for its multicultural, bohemian atmosphere.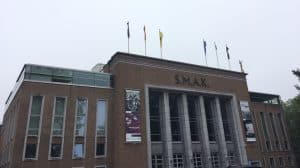 We stumbled across Le Petit Botanique – a social enterprise for long-term unemployed that has its own urban farm where the salads and vegetables are grown. Geert and Kenneth were great hosts and served us lovely salads and homemade shrimp rissoles. Geert used to work for a record company and once visited Newcastle to promote Ritchie Blackmore's new mediaeval music venture…dressed in mediaeval costume too.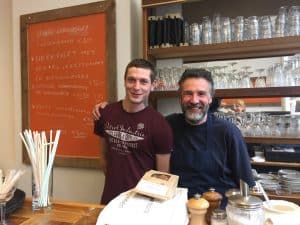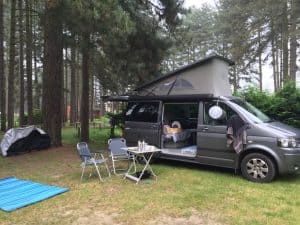 Our Michelin map showed an area around Aarschot that had around 10 campsites, so we headed there…and didn't find a single one of them until we resorted to Google maps (see our article on getting online abroad).
There's not a lot there to suggest why it has so many camping spots (or why they're invisible). We stayed at Camping de Vijvers near Averbode, a pleasant enough pine forest setting with an old-fashioned feel, a helpful owner and basic facilities. Take mosquito repellent!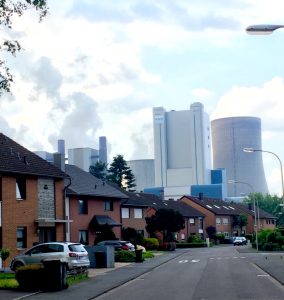 For our first stop in Germany, we were supposed to stay at a CampSpace location near Cologne. We couldn't find it and, after driving round for an hour in vain, we decided we didn't want to sleep in the shadow of three giant power stations all that much anyway.
Riverside camping
A drive further took us into the Sieg Valley. We did stop to check out a few campsites, but these were mostly permanent (holiday) home sites – some like shanty towns and some like mini villages with gnome-filled gardens and picket fences.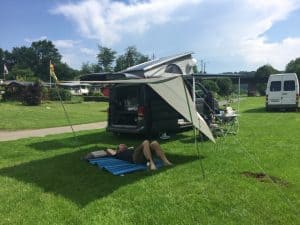 We arrived late and getting desperate at Campingplatz Happach near Eitorf. Again, the site is mainly permanently-parked caravans with 'outbuildings', bungalow-like awnings and eccentric gardens.
There's a vast green sward in front of the river, though, that's reserved for tourers and we've rarely stayed in such a pretty spot – woodlands, river, fields, red kites flying overhead and facilities better than you'd find in some hotels. The owner has a farm and guesthouse over the road and is very helpful. He runs a little bar and café on the site at busy times too.
From the site, there are beautiful cycle routes, handy trains to nearby towns (plus Cologne and Bonn) and plenty of hiking options. The downside of the site is the fact that the railway crosses it on a bridge. The trains come only once in a while, but the night-time goods trains are phenomenally noisy. Despite that, and a slightly odd arrangement of one token a day for the showers, our planned one-night-stand turned into four days. We were won over by watching kingfishers, swans and water rats (nicer than they sound) from the door of our van.
The Hesse region – Marburg
Not having thought too much of the small towns of the Siegtal, we decided to move on into Hesse, the next region eastwards. Our first stop was Marburg and camping Lahnaue.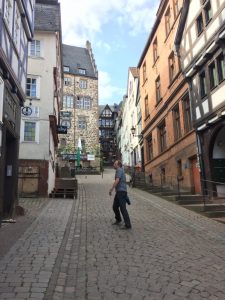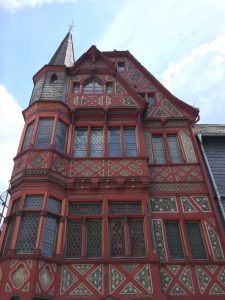 Marburg is a small and ancient town dominated by the hilltop Landgrafschloss and by its 22,000 students. The altstadt is a giddy maze of steep cobbled lanes and steps with some fascinating buildings, but no really unmissable museums or galleries. There are good shops (the brush emporium was amazing) and some nice places to eat (Weinstube Weinlädele was our choice, but check out the panoramic Bückingsgarten near the castle too).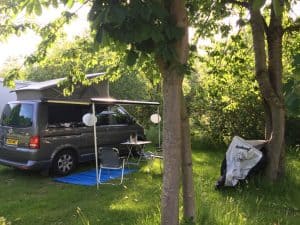 The campsite is right on the river Lahn and is very laid-back. There's a friendly owner, good facilities, easy and free wifi, a café-bar and none of that shower-token nonsense.
City sites and sights
It seems there's always a compromise, however. Here it's not being able to sleep because of an extremely busy main road, a lorry park and a railway run just behind the hedge. The noise is constant and deafening at night. If you're in a tent or the pop-up roof of a campervan, you'll need to have VERY good earplugs. In a motorhome or caravan, you might have more luck.
Still, we stayed for two nights and explored the town, the botanic garden and the nearby lake park…all reachable on foot and cycle paths.
Into Thuringia – Erfurt and Weimar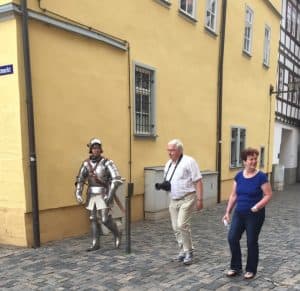 The promise of some wildness and interesting towns took us into Thuringia.
First stop was a fairly closed-looking Schmalkalden. The centre of this old town, though, was a bustling mediaeval market with food and drink stalls, handicrafts and music. Then on into the endless pine forests to Oberhof Camping on the Lütschsee reservoir (near Frankenhain). This is a major area for winter sports too, by the way.
There's a long winding road to this large site with restaurant, good toilet and shower facilities, free wifi and a lake for swimming and boating. Sadly, the feel was again too car-parky for us, so one night only. It's very hard to avoid these sites where you tend to see more white caravan and motorhome boxes than scenery.
Favourite camping spot
On the way to the region's capital, Erfurt, we stopped at Egapark, a huge garden park with a fascinating and arty garden museum and Europe's longest flowerbed. There's a GDR-feel about the place that didn't enthuse us, but Erfurt was lovely, with its beautiful cathedral and neighbouring church.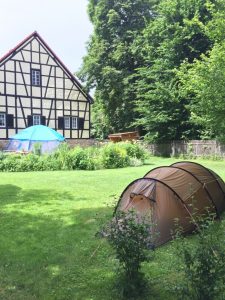 We also found our favourite campsite of the trip so far – Camping Tiefurt, 4km from Weimar. There are no signs to get you there, so you'll need to download or follow a map. The site is the garden of an old farmhouse in a hamlet with a schloss and beautiful park. There are two restaurants in the village as well as a bakery.
The site itself has green and sheltered pitches (not too many of them), basic toilets in a converted hut and very good unisex toilets and showers in the main house, along with a small kitchen. There's patchy (but free) wifi, chickens, cats, lovely owners, a cycle path to Weimar along the river and the schloss park next door. It's a really beautiful place to spend a few days (we kept adding more nights!).
Weimar is small and picturesque with plenty of Goethe, Schiller and Bauhaus culture to balance the Bratwurst and Kuchen.
Our last stop before leaving the area was nearby Buchenwald, now a memorial. It's not a visit we wanted to make, of course, but it felt necessary and respectful.
The Harz – Goslar
This is a region of forests and valleys, beautiful and rather eerie – perhaps because of the connection to Walpurgisnacht, witches and paganism. There are also lots of small towns with wonderful spas and the amazingly picturesque Goslar.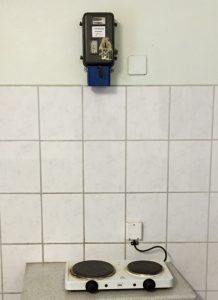 We camped at Sennhütte on the outskirts of town, hoping to be able to cycle in. Sadly, it's on a busy road and the cycle path was damaged by the storms. It's a well-equipped site, fine for a night or two, but rather unlovely despite its hedged and private pitches and forest backdrop. The facilities are all in an old breezeblock building with some interesting vintage touches! Clean and everything you need, however. Also the cheapest we'd found.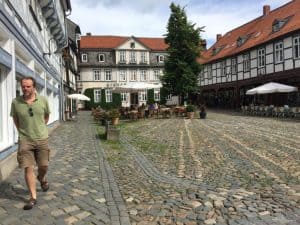 Goslar was our favourite town up to this point, utterly beautiful and architecturally fascinating. The Mönchehaus art gallery is a surprising place with a permanent collection of great modern artists and interesting exhibitions, all set in a historic building. The warren of streets and lanes offers great shopping and there's history at every turn. We also liked the crazy music instrument and doll museum.
There are lots of places to explore in this national park area, but we had our hearts set on Lübeck and the Baltic, so we did a dash up the motorway, past Hannover and Hamburg and into Schleswig Holstein.
Schleswig Holstein and the Ostsee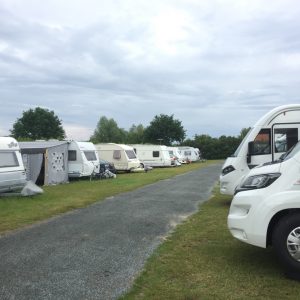 Given that we wanted to be able to cycle into Lübeck, we camped at Schönböcken in the suburbs 4km out. It a fairly large site with that familiar car-park look and bad traffic noise at night. It's offset, though, by good facilities, superb staff and a really friendly atmosphere.
We've learnt to compromise to be within reach of a city, but still much prefer small, green, almost wild sites. Sadly, we never heard back from another Campinmygarden option in the area. If anyone has had a good campinmygarden experience, do let us know!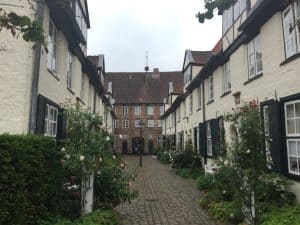 Lübeck is large and grand, with a busy and dynamic atmosphere, plus it's only 20 or so kilometres from the sea. After two days and after chatting to some German campers, we were inspired to have a look at Rügen – Germany's largest island, almost in Poland, and with lots of interesting inlets and natural areas.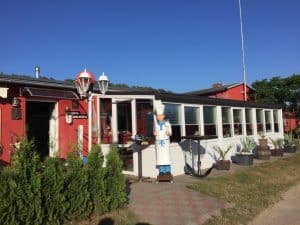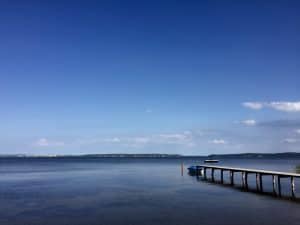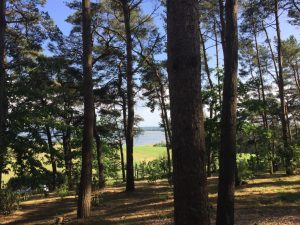 On Rügen, we camped at Banzelwitzer Berge overlooking the Jasmunder sea. It's a brilliant woodland site with great facilities, lots of activities (if you want them), a walk to the shore and to a lovely little fish restaurant, Peter's Fischstübchen, where we had fresh trout and pike with herb sauce.
You can while away a few days here, exploring on bike (it's mostly flat), getting the bus into the small towns or hiking around the nature parks. It doesn't feel like the rest of Germany; quite an island feel, in fact.
The route home
We added 10 days on Denmark's fabulous Bornholm island (a three-hour ferry ride from the tip of Rügen out into the Baltic).
This was a holiday in itself, and you can read about it here.
Our route back was designed to be fast – a day's driving from Rügen to Hamburg and on to the Bremen area for a couple of days' rest before a final long drive to Rotterdam and a ferry to Hull.
We wanted to relax between drives, so chose Worpswede just north of Bremen. It's claim to fame is that it was a colony of artists and craftspeople at the turn of the 19th century and early 20th century, and today – despite being small – has four museums, two exhibition spaces, lots of studios and boutiques and lovely woods and moorland around it.
Winding down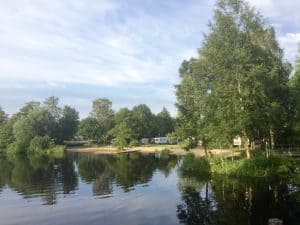 Hammehafen camping is right on the edge of the river, next to a boating and canoeing centre and a small swimming beach. While the showers and loos are new and clean and the location is pretty, the tangle of permacaravans made it feel a little charmless (like so many German sites we stayed at). This was exacerbated by the fact that the pitches for tourers are on the waterfront. The best spot? Perhaps not when the waterfront is a public place. It led to some noise and a slight worry over security. However, it was a good place to wind down and explore the town.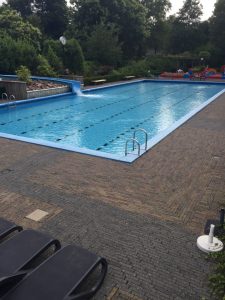 Our next stop was intended to be a one-nighter to get us close to Rotterdam, but we accidentally found a great site near Loenen – Ardoer Camping de Bosgraaf. Big, lots of facilities (including a pool, saunas, a petting farm, pub and shop), but quiet, friendly and easy. We stayed two nights and cycled the flat roads and trails into the nearby (and not very thrilling) towns. A relaxing end to the trip, surrounded by friendly Dutch people.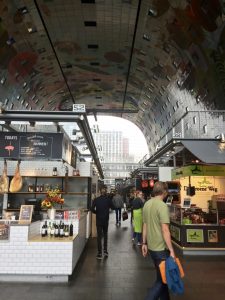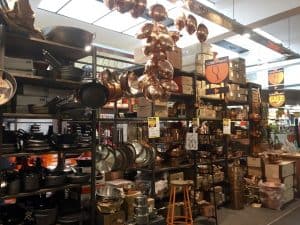 Finally, a day in Rotterdam. Despite greyness and drizzle, it's an exciting city. We visited the architecturally stunning indoor market, the fabulous Spirit organic supermarket and buffet restaurant, lots of design shops and the awe-inspiring Kookpunt – the most enormous cookware shop we've ever seen.
It was an unusual trip – educational, enjoyable, thought-provoking, not always beautiful, rarely sunny, unmissable. Would we make a return trip? Probably not to these areas, but we're keen to explore more of Germany….and definitely more of our surprise find, Denmark.
Tips for travelling and camping in Germany
Get an Umweltzone Plakette before you go. Many towns and most cities only allow vehicles with a special sticker. Forget the costly online sellers and just buy one via Berlin's city website. It costs a couple of euros and means you can accidentally (or purposefully) stray into towns without a fine. Beware the fake websites selling these!

Get a Parkscheib early on (we got ours in a tourist office). You set the time you leave the car or campervan and it allows you to park in streets for anything from half-an-hour to three.

Learn the language a little and take a phrasebook and dictionary. Few campsite owners we met spoke English.

Do NOT rely on TripAdvisor. We're hearing more and more stories about how unreliable this recommendations site is – false five-star reviews, malicious one-star reviews by competitors. Plus, of course, you have no idea whether someone's idea of good is anything like your idea! Some people love quantity and cheapness; others are happy to pay more for organic or a prime position in a tourist centre. We use TripAdvisor to find the names of possible restaurants and campsites, but we check them our ourselves or ask local people. If you must use the ratings, read the three-star reviews for a more balanced picture.
If you've camped in Germany (or Belgium, the Netherlands and Denmark), do let us know your favourite and least favourite bits.