If you're in two minds about a campervan, how do you take the plunge?
The answer for two of our team was a more versatile campervan that could also be their daily vehicle.
Here's why they decided on a VW California Beach – a dayvan you can sleep in too. Here's how they use it and how they've kitted it out.
Latest update: November 2020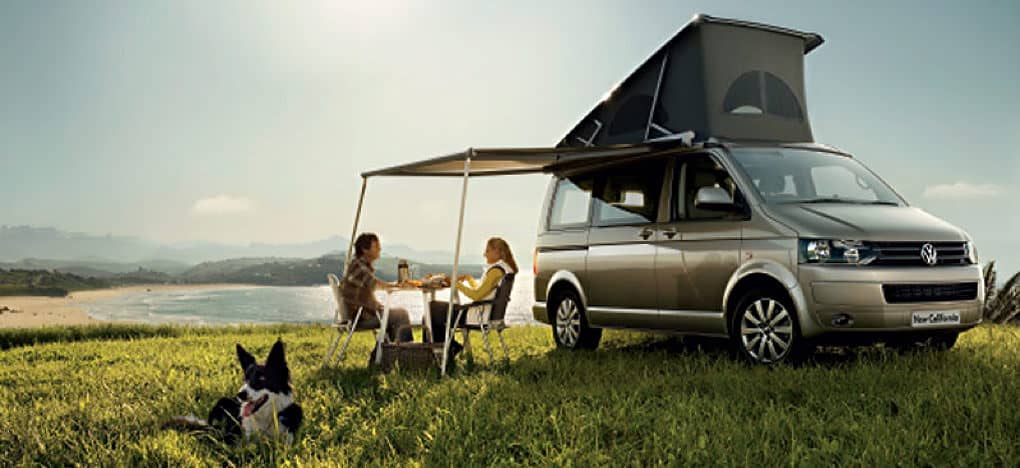 We want a campervan, don't we?
We've loved tent-camping in the UK and Europe, but a bad back, too much bad weather and a bad dose of campervan envy led to us selling our tent after a last summer holiday.

We AirBnB-ed for a while, but couldn't help ogling every campervan we passed. So, this is what happened next…
A campervan? No thanks
Some things had always put us off campervans:
Carpeted walls
Hospital-style cabinets
The cost
Having two vehicles
Having one vehicle (and so having to drive a kitchen to work)
Feeling obliged to only use the van – no staying in houses or hotels or eating out any more!
Yet, as good as these reasons were, we were still hankering. We visited the motorhome shows to look at conversions and came to the conclusion that they all lacked a little finesse. There were either style issues, or some cheap bits and pieces, or some bad finishing-off.
Some were much better than others, of course, but nothing came close to the made-as-a-camper VW California. Plus the price difference wasn't ALL that big!
So….We went for a test drive in a VW California SE (now the T6 Ocean).
And it wasn't for us!
Fantastic to drive, looked great, well-equipped, but so much of it felt fragile and there were so many things to break! Not to mention the trauma of spending £55,000+.
Then, the idea of the VW California Beach slowly started to trickle into our thinking
It's a campervan ­but without the fridge, stove and sink. It does have a rising roof, two double beds, electric hook-up, an awning, those nifty chairs that stow in the tailgate and table that slots in the door, plus some good storage and acres more space.
Many people think of them as day vans, but we could see more potential, thanks to the flexibility of being able to use it as a car, a load carrier and a camper.

Here's why we decided on a VW California Beach
A saving of around £10,000 on a full-fat California SE/Ocean.
Better miles per litre because it was lighter.
Less to go wrong – no water or gas, fewer bits to break, a manual rather than electric rising roof.
Being able to configure the inside. Today it's a people-carrier, tomorrow it's picking up a sofa from Ikea, next week it's a holiday home.
We want to cook outside rather than making our mobile bedroom smell of food. If it's raining, we'll go to the pub. Interestingly, you see a lot of campervans advertised as never having been cooked in. Makes you wonder why the owner paid for a kitchen!
We like washing up at campsites because it's a chance to chat to people from all over the world. And the sink in most campervans is too tiny for pots and pans anyway.
There are just two of us, so we can sleep upstairs and leave downstairs as a permanent lounge.
The most life-changing day van – a place to go back to for a snooze after a walk, a writer's den, a you-name-it. Who'd have thought!
All in all, the Beach brought back the feeling of freedom. Perhaps the 'real' campervans were just too grown-up for us. We collected our new toy four years ago now, and have camped in south-west Scotland, on Scottish islands, in the Yorkshire Dales and the Lake District, in Denmark and Germany and on long trips throughout France, Italy and more.
Why a California Beach campervan works so well
Sleek interior that feels spacious and comfortable
The pleasure of putting on the electric kettle for a quick cup of tea after a walk (on hook-up)
Heated seats (not something we'd have chosen, but very cosy), cruise control, parking sensors, bluetooth music
Great storage under the bench seat and in the side bench
The niftiness of the table and chairs that stow away so beautifully
The swivelling front seats
Plenty of lights for reading and plenty of 12V sockets, plus one three-pin socket
Lots of headroom, especially when the roof is up
Two comfortable double beds!
Gorgeous, gorgeous to drive. It's our only vehicle.

The campervan model we chose
Well, actually it chose us by being close enough to our spec and being available. We preferred the two-person rear bench seat model, which gives you an underseat drawer and a big storage bench at the side where the SE/Ocean kitchen would be.
The things that could be better, or need a solution
IMPORTANT UPDATE: 
The T6.1 update for the California now DOES include a Beach model. VW have seen sense and made the Beach available in the UK. Hooray!!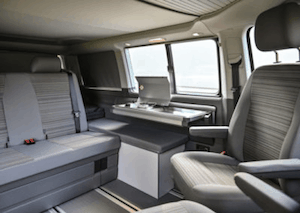 The 6.1 Beach has an ingenious fold-out mini kitchen (basically a gas ring and stainless steel worktop). Other improvements include blinds for the front windows, engine upgrades and a touchscreen camper-function control panel.
There are two versions – the Beach Tour and the Beach Camper.
The Tour is basically a five-seat people-carrier (option for six/seven seats too) with a manual pop-up roof and two sets of sliding doors.
The Camper has the mini kitchen mentioned above, one sliding door, four seats (can be increased to five) and a pull-out awning, as well as the pop-up roof, of course.
Both have the downstairs bed too and the ever-popular chairs and table built-in.
Prices start at around £52,000.
Meanwhile, there are still preloved Beach campervans around or you can take the concept of a kitchen-less camper and create your own.
The extra bits we've bought (gradually)
Cooking stoves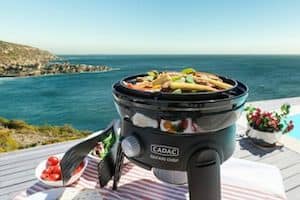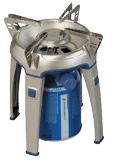 What do we cook on outside? We love the versatile Cadac Safari Chef for outside cooking and, for the odd time we need it inside, a teeny Campingaz Bivouac
 (window open for safety), which we LOVE and have had for years.
A super-quiet Igenix 1-litre electric kettle for when we're on hook-up
. Fits in the panel area behind the passenger seat or the underseat drawer.
The Beach comes with a clever slot-in table, of course, but we sometimes take a foldaway aluminium table too. We can leave it on site to mark our pitch, stand hot pans on it and….we're not as daftly precious about it as we are the original table.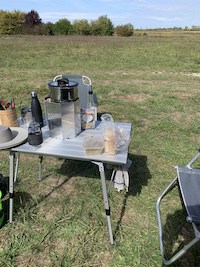 This Uquip table (or the identical Nestling one) is great because each leg can be adjusted to keep it stable on wobbly ground. Just don't pronounce Uquip the French way!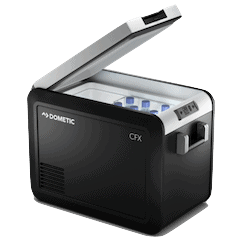 A brilliant Dometic CFX3 35 compressor fridge – see our fridge feature for more info. 
This one is VERY expensive, so the CDF range is a fall-back (and what we used happily for years.)
Keeping warm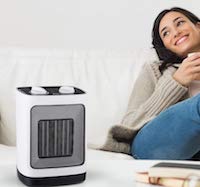 Until we splashed out on a diesel heater, we used a small ceramic fan heater like the Pro Breeze with tip-over protection. An option we still use is the oil-free Eco Chico Dimplex – because it's fast to heat, small, light and safe to leave on overnight.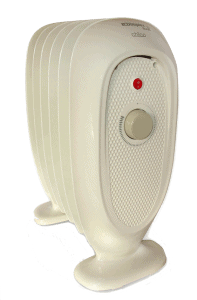 We're testing out the USB-rechargeable Colapz portable electric shower. And it's been amazingly useful so far. Great pressure and easy to set up.
Here's my poor guinea pig is washing his hair in freezing river water on a Storm Gareth day in the Lakes.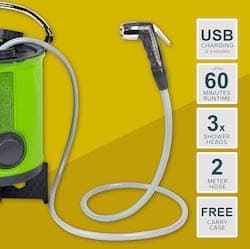 A question of loos…
Thanks to Suzy B for raising the question of toilets. Of course, there's no toilet in the VW Ocean either, but it IS a question we've answered.
We've tested ALL the options for portable camping toilets, bags and gubbins and you can see what we thought of them in our camping toilets article.
Not to spoil the surprise…our choices are the collapsible men's/women's urinal for £4, Green Elephant biodegradable bags for number twos and either a bucket with lid or a Thetford.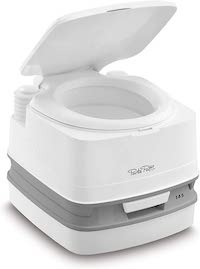 The smallest Thetford (the 335) is a neat little loo with a 10l capacity. H31.3 x W34.2 x D38.2cm. We'll be using a septic-tank friendly cleaning fluid – some campsites won't let you empty if your chemicals have formaldehyde or would damage a septic tank system.
Outside space
We've tried lots of different ways of creating outside space for privacy or weather protection. The pull-out awning is great, but it's nice to have something extra.
We decided against a full driveaway awning (lots to look at in the awning feature) because we rarely stop at a campsite for long enough.
Instead, we take either a tarp, a windbreak or the pop-up instant shelter shown below – all depending on where and when and how we'll be camping.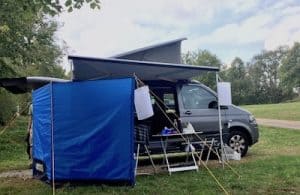 This is the two-panel, quick-to-put up Regatta windbreak (cheap too).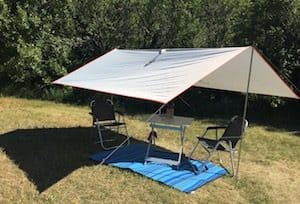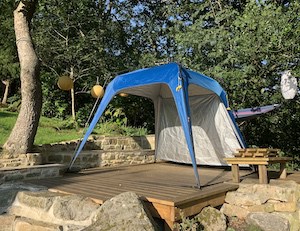 How about this cheap instant gazebo with one of its side panels attached to your van or car? £109, plus £20 for extra side panels (it comes with one included.)
Roof cover and window shades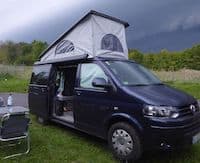 A Calitop roof cover – Excellent. Very easy to put on and take off. People seem to like the cheaper (and UK available) Calitopper, but we prefer the German one because it comes in four separate sections, which makes it easier for one person to handle.
We've rarely used it!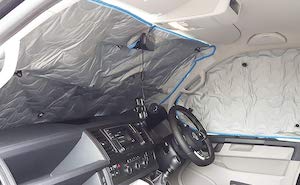 Internal thermal blinds for the windscreen and front/side windows. Only £40 and a perfect fit. Terrible suction cups, though, but we replaced those easily enough.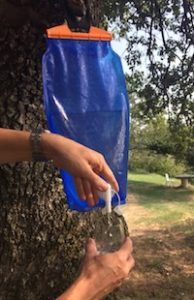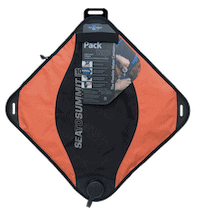 The ones we've used most are the four-litre Source Liquitainer and the 10-litre Sea to Summit PackTap bag. Hang them from a tree or a thumbscrew in the awning rail.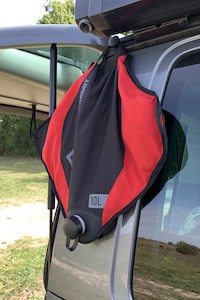 Keeping things like new
Fitted carpets – Brandrup, and in a darker grey than the original carpet, which was going to get very dirty. They seem to insulate well and make us feel cosier.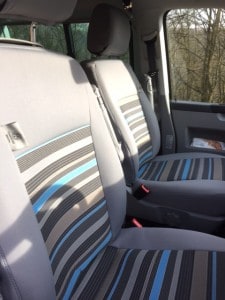 Second skin seat covers for the driver and passenger seats – VW original and just like the seats underneath.
Protective bits for the bumper (VW), rubbing strips (VW), stick-on bits from Halfords for the wing mirrors.
Smart grey lino offcut to protect the multiflex board (now that we've removed the mattress).
Thanks to Tim for the question in the comments about the rubber bootliner (you can just about see it in the picture below). It's actually from the Berlingo Multispace we used to have. Plenty to choose from that won't be an exact fit, but pretty close. There are also cut-to-fit bootliners.
We made our own bench seat covers…well, I did!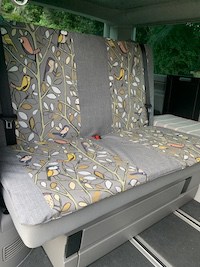 Memory foam inside so we can use them to soften the downstairs bed or for lounging outside. You can find instructions here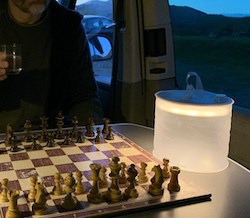 We've got a couple of these Luci Base lamps. They fold flat and you blow them up when you need them. Waterproof, three light settings, bright enough to read by, plus it'll charge your phone. Perfect indoors or hanging from the awning.
Brilliant recycled plastic rug for outside the van. We use it for lounging on and under the wind-out awning on sandy or muddy spots. 
Washes down, rolls away. The blue is the perfect match! There are lots of designs and sizes.
Inside organisation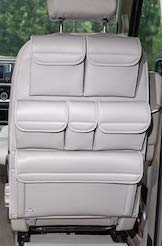 Brandrup Utilities seat-back storage – massively expensive, but fits perfectly and very useful. There are MUCH more affordable options, like this £12 organiser.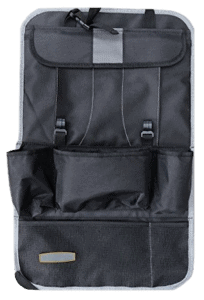 A very nifty tray that sits flat on the side bench so that you can use it as a sidetable. The sides fold up and then fold flat. Ingenious.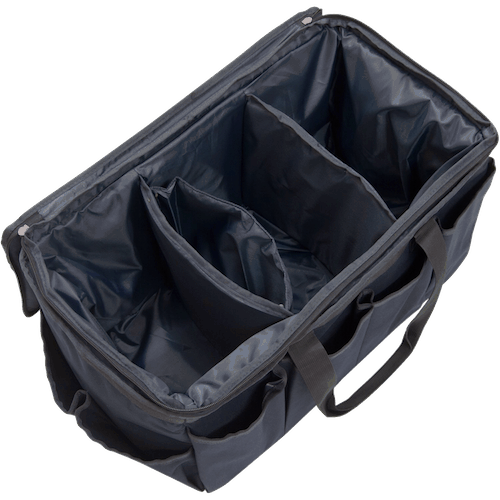 An Andes kitchen storer for all our bamboo crockery and kitchen stuff, including a small titanium kettle for fast-boiling on the Bivouac stove and a set of Tefal Ingenio pans, which are great for campervans because the handle detaches.
The stainless steel pan sets are expensive, though, so wait till you need more pans for home, where they take up no cupboard space and can go in the oven with the handle removed.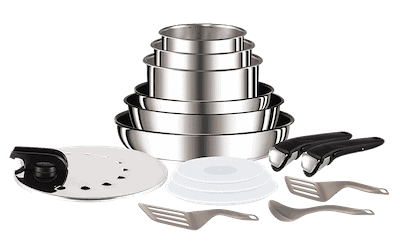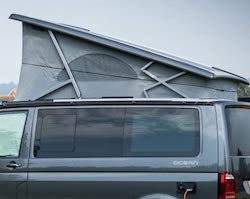 It's happened only once in five years, but it's scary when the roof fabric gets trapped. A bellows bungee sorts that out for you.
A simple clip around elastic that stops the fabric popping out rather than in. Works with (virtually) any pop-top.
Take a comfy pillow!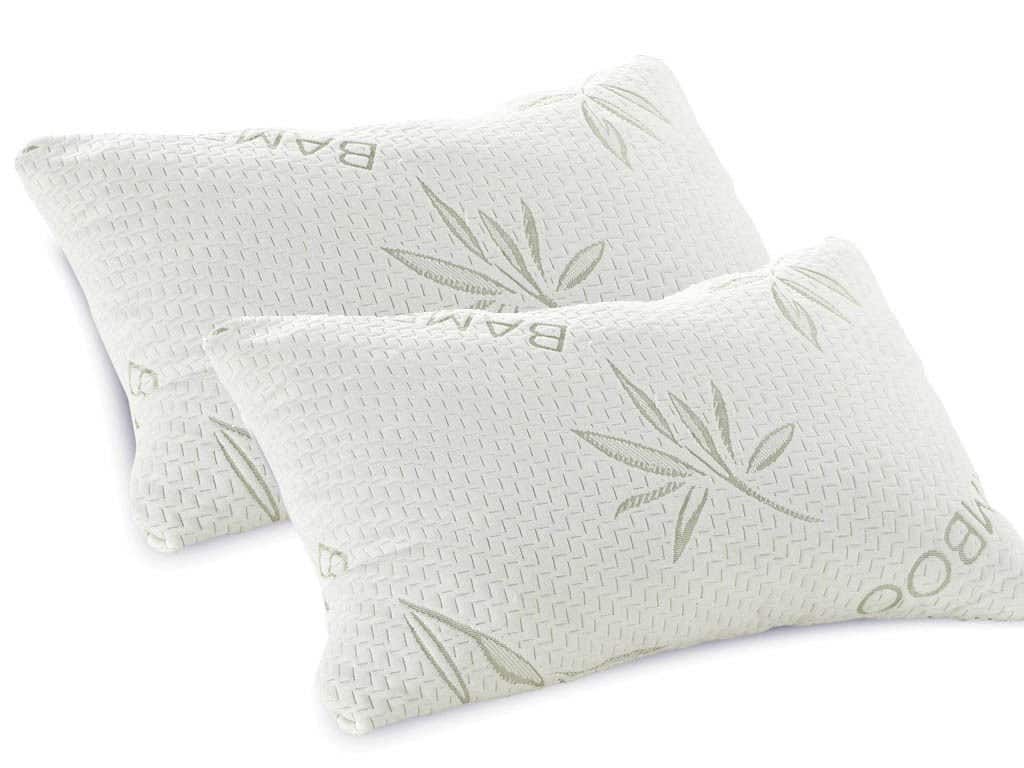 Don't expect to enjoy sleeping on a bunch of rolled up clothes or one of those awful, rustling blow-up travel pillows. The best we've found are super-comfy, breathable mini memory-foam travel pillows.
How we pack the VW Beach
Part of the fun of a new campervan is working out the best way to organise yourself – well, it is if you're slightly obsessive about these things!
After lots and lots of trips, we've refined our pack, worked out what we do and don't need and found the best place to put everything for easy access and quick set-ups and getaways.
The following is our pack for a four-week European trip in early summer. We live outside the van most of the time, so need to get at things from the boot rather than from the inside (we pack differently for UK trips where we can't be sure of the weather).
This looks a terrifying amount of kit. We overdo it…probably. Remember, though, that pretty much all of this can stay in the van. Food and clothes are all you need to add.
The following is our pack for a four-week European trip in early summer.
We live outside the van most of the time, so need to get at things from the boot rather than from the inside (we pack differently for UK trips where we can't be sure of the weather).
This looks a terrifying amount of kit. We overdo it…probably. Remember, though, that pretty much all of this can stay in the van. Food and clothes are all you need to add.
Inside the boot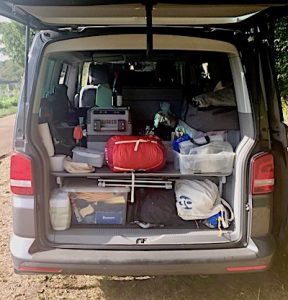 Aside from our grumbles about the inflexible multiflex board in the Beach, the main question is whether we'll be using the downstairs bed.
Sleeping options 
We prefer to sleep upstairs (and that's what we've always done except in terrible weather or in situations when the pop-up roof would be too obtrusive). If you're on a noisy site, downstairs is s better option, by the way.
We've now removed the bottom mattress and put some nice grey lino (looks factory-fitted!) over the board. 
Using the downstairs bed with luggage on the parcel shelf
We've found you can comfortably use the downstairs bed without this back 'parcel shelf'. Swivel the front seats, lower the bed to flat and you'll find it's long enough. 
We put two long sun lounger pads on both downstairs or upstairs bed to make them softer. They're used outside as needed too. We love multi-purpose!
Underneath…
Right at the back, the beach umbrella, tennis and badminton racquets and games.
The gas bottle and Cadac Safari Chef.
A second clothes bag (we often end up moving clothes bags inside – one sitting on the back of the storage chest, and the other behind the passenger seat)
A deeper plastic lidded box for electric hook-up, triangle, spare bits and pieces, tarp clips and bungees, guylines, window cleaner (one of us is starting to behave like a caravan owner and it's not me) and a small toolkit.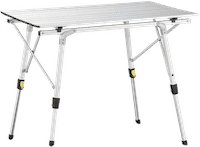 On top of these (but still under the shelf) is a foldable aluminium table. This Uqip/Nestling one is much more stable than any other we've found and pops into place so easily. It's less damageable than the VW one, we can cook on it and we can leave it out in any weather or to mark our pitch.
Sometimes we take a Regatta Camila windbreak (finding a good windbreak has been tricky…see other windbreaks we rated).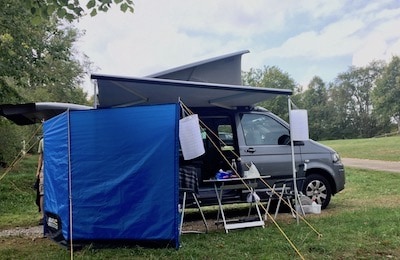 Inside the living room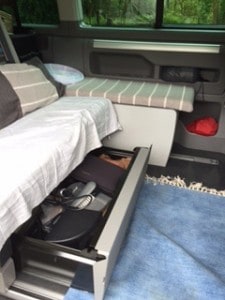 Bedding fits into the storage box (now with new cushion covers!)
Under-bench drawer has electric kettle, fan heater, hairdryer, original cab curtains (Never used because the well-fitting suction silver screens are better). Awning handle there too, of course, plus room for extra things when needed.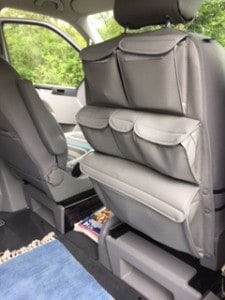 A folding bucket with lid – just in case there's no loo!
Hooks take great Reisenthel hanging toilet bags and sometimes the hilarious Happy Going toilet roll thingy.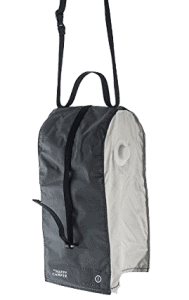 Expensive, but indispensable Brandrup seat-back store on the driver's side for torches, matches and lighter, maps and guides, bin bags, cards and cribbage board, iPhone and
iPad chargers, polarity tester, survival tin(!) and room for more.
Side and door cubby holes take biodegradable Aqua Wipes (we use them a LOT when we don't have easy access to showers), first aid bag, water bottles when on the move, all-natural Incognito mosquito repellent, sunglasses and hats and Luminoodle lights for the awning.
On top…from left to right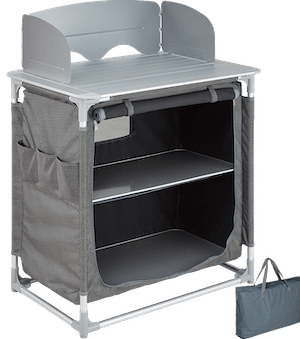 We experimented with a folding kitchen cupboard, but you can't get at the contents from inside the van. Great if you plan to take it out and use in an awning on a longer stay, though.
We've gone back to a kitchen storer bag, with pans, plates, bag of cutlery, glasses, mugs, utensils in its side pockets etc. The Andes bag is great and costs under £30. Might even try another one for clothes.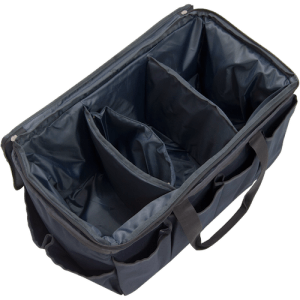 Two (stacking) plastic boxes with lids. The underneath one has swimming things, snorkels plush microfibre towels (the PackTowl ones are are favourites so far), sunscreen and fill-up toiletries. The top one is a larder with tins, spices etc – all our non-perishable food, plus some cheating readymeals (our favourite is the Firepot range of proper food…dried).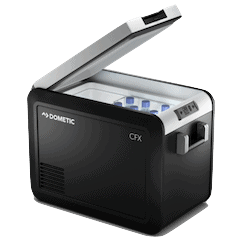 A Dometic compressor fridge, plugged into the 12v socket by the sliding door. Enough for wine, milk, butter, cheese, salad and all chilled foods. It's quiet, keeps its temperature in 37 degrees of heat and can even freeze if we need it to. We've written a fridge guide and review here, by the way.
Another plastic box with lid for the hammock (a reliable Ticket to the Moon), bivvy hammocks, beach/picnic mat, tarpaulin, other odds and ends loosely categorised as leisure stuff. On top, either a clothes bag (reachable from inside because it's raised to the height of the seat back), or a welly bag of shoes.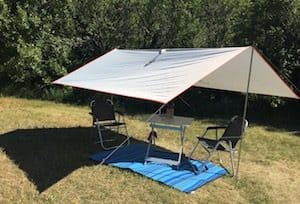 .
In front of these, a smaller lidded box for our washing up bowl (cloths and liquid inside it) and our 'in use' food basket (the pull-out section from the Andes bag mentioned above). We keep in it tea, coffee, a sharp knife, a couple of plates, salt and pepper and other things that are regularly needed. Good for picnics too.
Kitchen roll, a tea towel and the latest food shop are usually sitting somewhere on the back shelf too, along with a recycled plastic 'carpet' for under the awning. The Green Decoré /Fab Hab rugs are lovely and very versatile (the blue one under the tarp).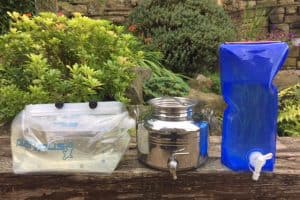 Water storage – we use the four-litre Source Liquitainer, but have started to prefer the one-handed tap on the 10-litre Sea to Summit PackTap.
Ugly boot shade…haute couture version coming soon!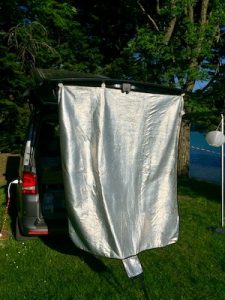 We leave the boot open a lot when we're camped. On the last trip in VERY hot sun, I rigged up a very inelegant shade using our beach rug. I've now bought neodymium magnets and shade mesh and am planning to construct a very elegant curtain that will stay in place and roll up when not in use.
Always ready for adventure
We seem to have acres of space and it's amazing how accessible everything is. 
What's great too is that most of this stays in the van when we get home and is ready for the next trip.
Wild camping and quick stops – how to pack and organise your Beach
We have a different set-up for short or wild camping trips where we know we'll sleep downstairs.
Sleeping upstairs is fantastic because it's a very comfy double bed and you can leave everything set up downstairs for breakfast. But, we often nip off for a couple of nights in the wild and don't want to raise the roof.
We take less kit.
We eat at a pub restaurant for one night, so less food to store.
This means we can keep the back parcel shelf/multiflex board free to become the bed.
We put the fridge behind the passenger seat (there's a 12V plug socket there).
Bedding goes on the parcel shelf.
We still swivel the seats, especially if it's bad weather and we just want to snuggle down inside with a book.
Simple and liberating. No wonder I look euphoric in this just-before-bed photo!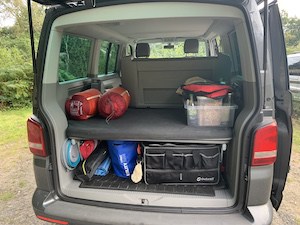 Wow! Look at this streamlined pack for two weeks in France. Fridge in the living area, everything else below the parcel shelf for the option to sleep downstairs in wild spots. Only someone with severe organisaphilia could be this excited!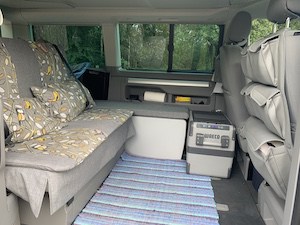 You can still swivel the passenger seat with the fridge here, and it keeps the back clear and food accessible. Oh, you haven't noticed it's the older version of our fridge because you're too entranced by my new cushions?
Of course, the Beach is glampervanning…you can have just as much fun in a cheap van that you've customised to suit you.
A few thoughts on the new VW Grand California…we still prefer the Beach!
Here's the Crafter-based BIG boy of the California range. First of all, this is NOT a campervan. It's a motorhome and, while many will love the California-ness of it, there are actually a lot of swanky motorhomes to choose from.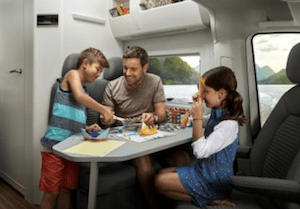 However, just look at it….beds for two adults and two children, a separate bathroom and a living space; an optional panoramic skylight, plus the standard swivelling front seats, dining table and sliding side door.
We don't like the kitchen located in the door opening, but that's fairly standard on a small motorhome. One of the beauties of the Beach (and the Ocean) is the sense of space and light you get with the door open.
A big plus for many will be the separate bathroom – a 84x80cm compartment with a toilet, shower and fold-out sink. There's also integrated shelving and cupboards to store toiletries and towels. There's a 110-litre water tank and a skylight so it doesn't get steamy. Motion-sensing lights are standard.
We love the idea of the external temperature-controlled shower. There are also Bluetooth speakers in the living area. You're going to have to pay well over £65,000, though.
You can see more in our feature on campervans and compact caravans.
Do let us know about your Beach (or your alternative camper). What have you bought for it? Where do you go? How do you pack it?
A Caddy California?
And what do we think about this? Not a definite for the UK yet, but we'll keep an eye on it.
We did test a Caddy at one time and didn't like the low-down driving position compared to the T5, but this is bound to attract some!
The future of diesel campervans?
From 2035 (possibly 2030), there will be a ban on the sale of new petrol, diesel or hybrid vans in the UK. That's the plan anyway.
So with just 15 years to go, what does that mean for campervans and motorhomes? One possibility is that sales will go up now as people decide to realise their camping dreams earlier on.
Manufacturers, though, are getting worried because they rely on base vans from Volkswagen, Fiat and so on, and these – apart from one Nissan electric – are all diesel-powered.
VW's concept SUV/campervan, the ID Buzz, is at least two years away. It's actually quite akin to the Beach in its versatility. However, the problem is not so much the availability of electric campervans, but more the availability of charging points.
Fine if you're tootling round town, but that's not how most people use their vans. How will we tour long-distance in more remote and rural areas?
Obviously, tackling the climate crisis takes priority over people having a few nice holidays. So, we're hoping for some effective solutions over the next 10 years. That'll come partly from we campervanners rethinking our trips and putting some effort into handling the necessary changes. And we're hoping especially for some serious investment in electric-charging, better batteries and vehicle design.
We'll keep you posted.