They hiked, swam and jacuzzi'd, ate the best food they'd ever had. They drank biodynamic wines and craft beers and paddled in the Pacific. They listened to live music, rode the trams, wandered the desert and even went to the zoo. Camping in Southern California is divine.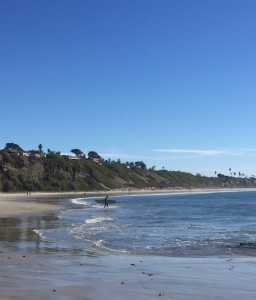 Winter camping in the Californian sunshine
While most campers and campervanners have been keeping warm indoors and dreaming of where the spring and summer will take them, a couple of the Campfire team have been checking out a new world of camping possibilities – southern California.
"Our verdict? Heaven on earth (with some caveats just to keep our feet on the ground). To be honest, we were always rather dismissive of the USA, big as it is! We drink in so much of the culture through films, music and books that it feels like a place we should know very well – and that's a place of Donald Trump, McDonalds, Coca Cola, zealous Christians and guns.
Visiting one state – and, in our case, only a small part of one state – doesn't tell you what America is like, but it was enough to utterly overturn our preconceptions. We loved southern California and we'll definitely be exploring further and wider.
The Californian sunshine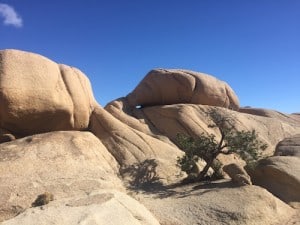 In our three weeks in San Diego and San Bernadino counties, we had blue sky on all but one day.
On the coast, temperatures ranged from around 15-degrees to as high as 23-degrees. That's in the sun; in the shade or with a wind blowing it does feel colder. In the desert and mountain areas 50 miles or so inland, daytimes were pleasant in the sun, freezing cold in the shade and at night.
We found it the perfect weather for walking and exploring – hats, coats and gloves inland, long-sleeved T shirts on the coast. The huge, bright skies gave us wonderful long-distance landscape views. In summer? Well, we imagine it'd be fiercely hot as well as more crowded.
They've had serious droughts and wildfires in California, so our one day of torrential rain was actually a gift. We stayed indoors, looking out over boulder-strewn mountains and caught up on some reading.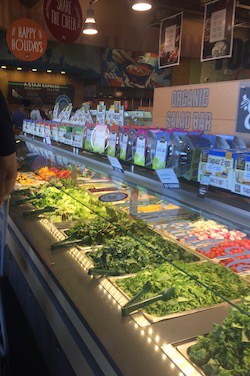 The Californian food
Yes, there are burgers – but the beef is from hand-fed, pasture-raised, organic, local, hormone-free happy cows who did yoga. They come with heirloom tomatoes; avocado from the farm next door; candied walnut and sour cherry baby kale salad; artisan, sprouted grain sourdough rolls; vegan chipotle aioli…and so it goes on.
We have never had food like this anywhere in the world. Californians are not all tanned, surfer-bodied gods and goddesses, but if they carry on eating this much probiotic kefir and chia seed, they'll probably live forever.
We ate out a lot, and all but one meal was astonishingly good – imaginative, delicious and good value. And that includes a lunch from a stall at the zoo, which in the UK would consist of a flaccid hot dog roll and a piece of rubber for £5. We also cooked a lot, and shopping at Whole Foods Market and Jimbo's was both an adventure and a treat. We made the best Christmas dinner we've ever eaten.
Oh, and we mustn't forget the Californian wines and beers – from a 'champagne' flight in the Alice in Wonderland style Vin de Syrah bar (you have to find the door hidden in a grass wall) to Stone IPA from a menu of 20 or more craft beers in pretty much every bar and restaurant.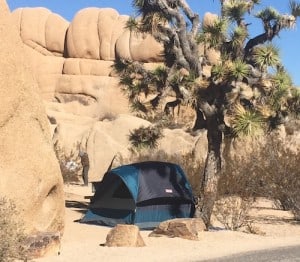 The deserts, towns, cities and campgrounds
We spent three days in San Diego, visiting galleries and the world-renowned conservation zoo, window-shopping and getting our bearings. It's a smart city, with vast bay areas, beaches, sprawling suburbs and different quarters, each with its own atmosphere.
It feels wealthy, but just two blocks from the main tourist area, the Gaslamp Quarter, the streets become a shanty town of makeshift shelters. There are a lot of homeless people in San Diego. We got chatting to one man, who told us he'd moved from Tennessee because it was easier to be on the streets somewhere with warm weather. It was a sharp reminder that holidays are not real life and not everyone gets to eat, let alone eat well.
Our favourite place in our mini roadtrip was Joshua Tree State Park, an awe-inspiring landscape of Fred Flintstone boulder mountains, cacti and, of course, Joshua trees. There are well-marked hiking trails of all lengths and great campgrounds with long-drop toilets and barbecues. Popular state park campgrounds are booked up within hours of registrations opening (in season at least). On Christmas Day, all the campgrounds in Joshua Tree were full.
Integraton hipness and mountain lions
After a week here – where we had a hippy Integratron experience and loved the outdoor art assemblages of Noah Purifoy, as well as the walks up Ryan Mountain and to Barker's Dam, we headed for the coast.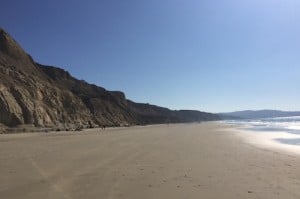 From Carlsbad down to San Diego are a string of oceanside towns – some (La Jolla and Del Mar) upmarket and offputtingly glitzy, others surf and hippy hangouts (Encinitas, Solana Beach). From all of them, you can get down onto miles of perfect sandy, cliff-backed beaches, plus there are state beaches with easy access direct from the road. There are campgrounds right next to the ocean with the best view of the Pacific (albeit with a main road and railway on the other side of the hedge).
We also spent time in the mountains near Ramona, and in the Cuyamacha State Park, which was transformed by a freak snowfall. There were tailbacks 15 miles long on New Year's Day as families tried to get into the park with skis, sledges and stockpots for big campfire meals.
The people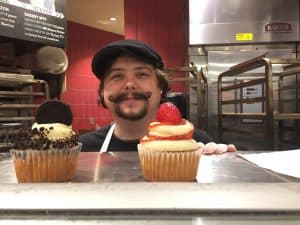 We were bowled over by how polite, thoughtful and friendly people were.
Drivers stop to let you cross roads (though don't assume they will, just in case!), people apologise for almost bumping into you, waiters refill your coffee cup before you've even noticed it's half-empty and strangers are happy to stop and chat.
A few downsides…just for balance
Tipping – it's essential for almost everything and adds significantly to the cost of a trip. Around 20% is considered reasonable.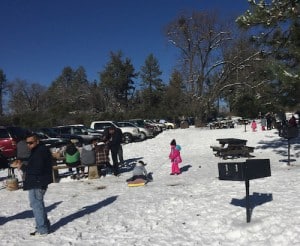 Traffic – out of season and on non-holiday days, it's not a problem; the roads are fantastic and navigation is easy because every street is named and signposted well in advance. But when it's busy, the roads are jammed and you can sit in traffic for hours.
Junk and sprawl – although big fines for littering mean most places are very clean (and definitely a thousand times better than the UK), there's a 'freedom' to do what you want on your patch of land. That means a lot of rusting cars and discarded junk in some areas. Towns tend to sprawl along the main roads, along with swathes of industrial and commercial 'landscape'. It actually makes for interesting viewing at one level, but it's not always pretty.
More information
We used Fodor's Guide to Southern California – more as a way of planning where we wanted to go than as a guide en route. We took an iPad and found wifi everywhere, so finding out about the next stop, booking tickets for San Diego zoo, checking out places to eat and so on was always easy. People were always super-helpful with recommendations too."