We've camped in most of France over the years, but how fantastic to be surprised by a new and gorgeous area.
The Franche Comte's Region des Lacs is stunning. Swim, hike, cycle, eat cheese, drink wine, repeat.
Here are our recommendations for the best lakes and campsites.
Deciding where to go camping in France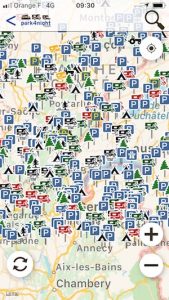 France is so well-endowed with campsites and overnight wild camping spots that we designed this trip around lakes rather than finding the perfect campsite.
In fact, we found both! For help in finding sites and wild camping, have a look at our article on camping apps. The picture here gives just a flavour of what's available on one app we use regularly – Park4night.
We based a lot of our decisions of where to go on the fantastic Wild Swimming France book.
If you haven't come across the Wild guide series (see the full series at the end of this article), and you love countryside, waterfalls and good, local food, then we really do suggest having a look. Anyway, the French swimming book gives details of lakes, waterfalls, river swimming and canyon pools mostly in the bottom half of the country. And it set us off towards the Jura with our swimming gear.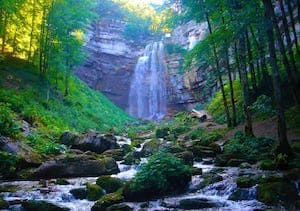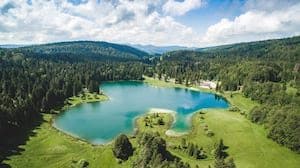 The Jura
The Jura is a virtually unspoilt wild area of crags and forests, high pastures, farmland, waterfalls and lakes.
It can rain here, of course, and we managed to time this trip for some of the worst storms in France. However, things soon warm up and the sun is never too long in showing up. Take a poncho. In fact, have a look at our article on wet weather camping.
After the first few days, however, avoiding too much sun was a more of a problem than cloudbursts. Plenty of heat for swimming in glacial lakes and idling on the grass at our campsite pitch.
The Cascades du Hérisson and Le Relais campsite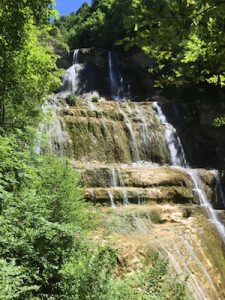 The seven waterfalls that makes up the Hedgehog Cascade are awe-inspiring. There's great walking alongside the falls and lots of side routes for exploring. You can bathe in some of the larger pools and there are places to get food and drink at the higher points ands the campsite at the bottom.
Le Relais d'Eventail campsite near the information centre is where we chose to spend a night (extending into four because it was so lovely). Surprisingly, given the popularity of the cascades, it's not busy out of high season. It's flat and pretty with some nice private pitches and has good facilities.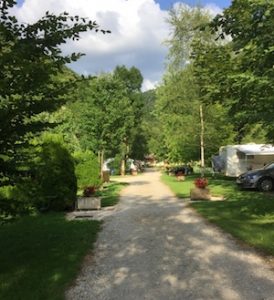 There's also a small lake down the road where you can swim and it's a short drive to Lac Chalain, which is big but still beautiful. Chalain is an activity lake rather than a spot for quiet beauty – at least on its main shore. There's a big campsite and a more holiday resort feel. Not our style, but great for families.
Lac de Narlay and campsite

After a few days at Hérisson, we moved up the valley to one of the most beautiful places we've stayed (Corsica and the Écrins are on that list too).
The lake is the deepest natural lake in Jura and is ringed by underwater white rocks that give you a gentler descent into the blue-green depths. There's also a rocky slope into shallower water for children. All natural…and how perfectly formed!
The Narlay campsite is a large sloping field down to the lake with good basic facilities (no wifi or clothes washing), a small restaurant, a shop with information and a nearby tennis court. You don't go for the facilities, though – it's the irresistible lake and the fabulous countryside that set it apart. Despite all this, it manages to stay peaceful (except at weekends and high season) and very unspoilt.
We swam every day (whatever the weather), lazed on the grass and chatted with our French, German, Swiss and Belgian neighbours. We never saw another English traveller in the area, by the way.
From here, you can walk around four lakes, though forests or up to the head of the Cascades du Hérisson, where there's an excellent restaurant (the Éolienne) and the amazing Boisellerie – a woodworking workshop and Aladdin's cave of wooden objects of every kind. Oh, and a pretty botanic garden too.
The yellow teepee in the picture is one the campsite rents out, by the way. We did see someone putting their own up and it looked super easy. So…we've now included some favourite tipis in our recommended quick-to-pitch tents.
Further afield in the Region des Lacs

Some more of our recommendations in the area:

Baume les Messieurs – prepare to be amazed as you wind down the road into a hidden valley of crags and woodland. A beautiful village with monastery, restaurants, grottoes and riverside walks. Fantastically situated La Toupe campsite here too.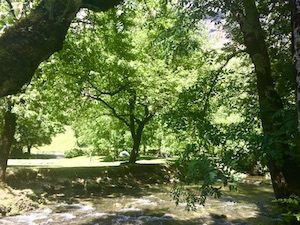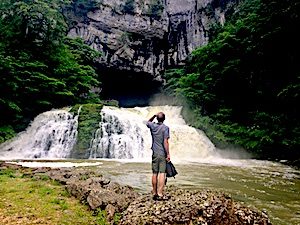 The Source du Lison – water gushes out of a cave to create the Lison river in spectacular style. Lots of walks around the area and an information centre.
Lons le Saunier – the biggest town in the area and a lively, interesting place. A huge bio supermarket as well as all the usuals.
Salins les Bains – for its salt mine museum and thermal baths.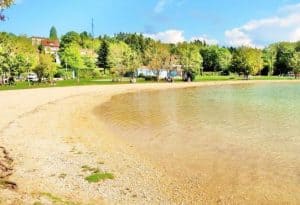 Clairvaux de Lac – a nice town with a big lake and lots of activities. Plenty of campsites in the area – let us know if you recommend any in particular. The countryside is more open here, and we preferred the crags and woods of the four lakes area.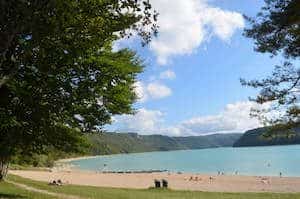 Lac de Vouglans – a beautiful, snake-like lake with beaches, boats and lots of walking and cycling routes. Look out for birds of prey and maybe even a lynx! There are three big campsites in the area with not great reviews. We preferred the smaller and quieter Domaine de la Fraite. The wild camping here was fantastic, however. Lots of secluded spots near the water and even a couple suitable for tents rather than vans.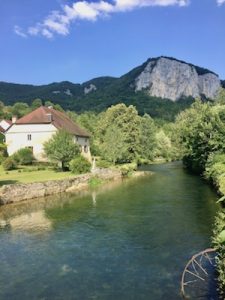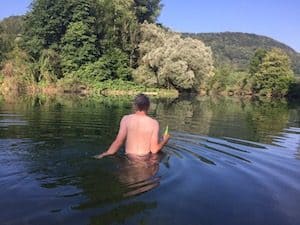 The Loue Valley – drive down this beautiful gorge and into the river valley, walk to the Source de la Loue from pretty Mouthier Haute-Pierre, find lots of swimming spots on the Loue and wild camp just outside Montgestoye. Stunning.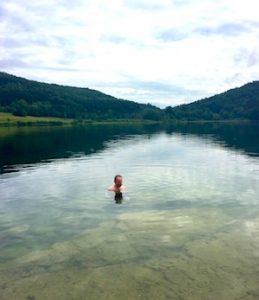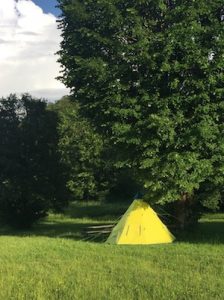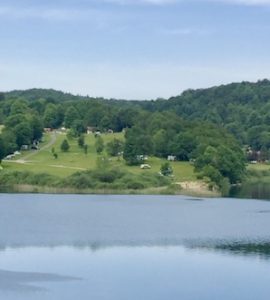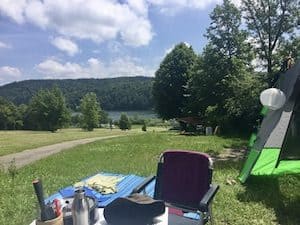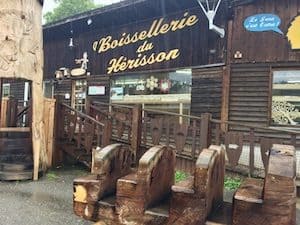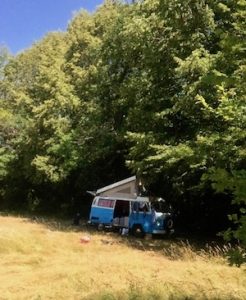 If you have any recommendations for places to see or campsites to stay at, do let us know!