We love campfire cooking, but the kit you need isn't always easy to transport to a campsite or the beach. It gets mucky, and then everything else gets mucky too!
So, we like the look of the collapsible tripod sets (also called kotlich) that give you versatile campfire cooking and packability.
Latest update: March 2021
All our reviews at Campfire Magazine are independent and honest.
Campfire tripod cooking sets
At their basic, tripod campfire sets are three metal legs with chains, from which you hang a pan, a grill and so on over the flames.
These tripod-style campfire cooking sets are designed for meals with friends and family. They're an occasion! Potatoes or vegetables can cook in the pot over the flames to begin with. When the flames turn to live coal you can barbecue the meat or veggie alternatives on the big grill grid, putting bread on the outer sides of the grid.
A simple design at a good price, very easy to take out on trips with you, and to move the food higher when it is cooked enough but you just want to keep it warm. Easy to take apart and wash after use.
Hanging pots with enamelled interiors. lovely to look at and fantastic for traditional stews and paprikash.
These substantial pots are usually made of cast iron and have a handle to suspend them from the tripod.
The lid can often be used as a frying pan or pot too.
Lots of sizes to choose from. A good price for a family-sized pot that'll last you a lifetime.
A handy little extra to have is this Camp Dutch Oven tote bag to store your pan and also has a pouch for your utensils.
How to cook in a kotlich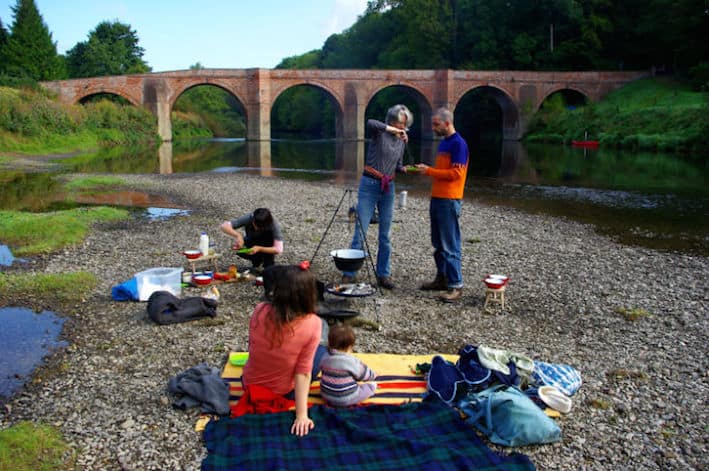 A typical stew (often a paprikash) is started off by frying onions, garlics and spices in hot oil.
The meat's added and then the kotlich boils fast without a lid. The stew is cooked in much more liquid than we would normally use in a casserole.
This is cooking by reduction. After an hour and a half, the contents will have reduced by nearly a third, to a thick tasty gravy. The rolling boil, in lots of liquid, means that the meat is kept moving and doesn't sit on the bottom and burn. Potatoes are often added during cooking and these contribute to the thickening process by releasing starch.
It can be simple too. Set up your fire on the beach, pour some tinned tomatoes, precooked chick peas and smoked sausage or chorizo into the pan and heat. In half an hour you'll have a delicious stew. You just need to remember to maintain enough stock so the meat and vegetables are kept moving in the kotlich.
For inspiration, here are two delicious-sounding campfire tripod recipes to try
Pesto marinated lamb fillet
Enough lamb fillet for four

2 tbsps chopped basil

1 clove garlic

25g grated parmesan

10g pine nuts

1 tbsp virgin olive oil

Salt and pepper
Blend the basil, the pine nuts, the garlic, the parmesan cheese and the olive oil. Use a mortar and pestle or a small blender.

Set the grill grid on the tripod at a moderate heat. Fry the lamb fillets on the grid till almost cooked. Spread the pesto over the fillets and cook for a couple of minutes longer. Serve with the ratatouille and some good bread.
Ratatouille
1 tbsp olive oil

125g chopped onion

200g red and green pepper in small pieces

250g aubergine in small pieces

250g sliced tomatoes

250g courgettes in small pieces

1 clove garlic, chopped

1 tbsp mix of chopped rosemary and thyme

Salt
Put the kotlich pot over the fire, hanging on the tripod. Fry the onions lightly in the oil and add the other vegetables.

Simmer with the lid on until tender. Add the herbs and season to taste.

Hang the pot up high to keep the ratatouille warm.
Why not have a go at Trish's recipes for nettle soup and fish soup?
And here are more great kotlich campfire recipes sent in by Campfire Magazine readers.