Family, friends, fun and food are the four ingredients that make a camping trip truly special.
When it comes to packing provisions, though, how can you make things easy, exciting and nutritious for vegans and people on plant-based diets?
Meat-free barbecues? Yep…they're delicious
Lots of people are turning against meat these days and many don't do dairy either. But, it can be hard to move away from the 'traditional' idea that camping means big fried breakfasts and meat on a barbecue.
So, here are some quick and easy meal ideas for the vegan and vegetarian campers in your crew.
Easy vegan camping breakfasts
Oats and porridge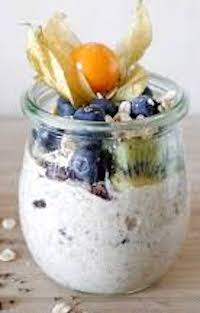 Porridge oats are quick and easy to make, especially if you get your ingredients together beforehand. Mix oats with nuts, dried fruit or seeds in reusable ziplock bags or boxes. Or make one big batch, of course.
You can pour the mix straight into the pan along with plant-based mylk or water to cook. And, if you use finer oats, you can even get away with just pouring hot mylk or water onto a bowl of oats. Stir, cover with a plate and leave to soften. That way you don't have a pan to wash.
Overnight oats
You can also prepare overnight oats in the same way – pour into a jar or container, add a little cold mylk, stir and put aside until morning for a nutritious breakfast. You'll need to put the container in your fridge or coolbox if you're camping in warm weather.
Have a look at our guide to the best fridges for all budgets and camping styles.
Tofu scramble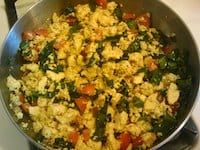 Tofu scramble is a great dish to make towards the end of your trip, as you can add any leftover vegetables.
Use firm tofu – simply add straight to the pan and break it up with a spatula. Add a little turmeric, salt, pepper, nutritional yeast and a splash of soy sauce – in fact, these staples make up your vegan travelling pantry because they work with so many recipes.
If you're adding ingredients such as leftover vegetables, simply pop them in the pan along with the tofu and season well. This makes a good lunch or dinner too.
Lovely on toast or with seitan bacon on the side. We've tested all the camping toasters, by the way, so have a look at what works best.
Breakfast muffins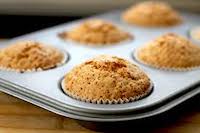 Make these ahead of time and take them with you. They're easy to bake and you can make them extra-nutritious with wholegrains, seeds and fruits. How about blueberry and banana or sweet potato and courgette? Make a selection of both savoury and sweet to double up as great snacks.
Serve your sweet muffins with a little dairy-free yoghurt and fresh fruit or nut butter. Savoury ones taste lovely dipped in olive oil or spread with dairy-free 'butter'.
Pancakes for any time of day
Don't forget good old pancakes. So easy to rustle up in a frying pan, especially if you've premixed the dry ingredients. Sweet and savoury are both delicious.
The pancakes in the picture below are filled with dark chocolate and hazelnut spread, which goes perfectly with a good cup of coffee.

Granola and fresh fruit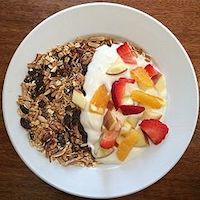 Making your own granola couldn't be simpler. Many shop-bought varieties have honey in them, which most vegans will want to avoid.
Mix up oats, chopped nuts, some sunflower seeds, agave syrup to taste and a little mildly flavoured oil. Spread on a baking sheet and cook in a 150oC oven, stirring every 10 minutes or so till almost brown enough. Add coconut flakes for the final 10 minutes. Serve with dairy-free yoghurt and fresh fruit.
Tip: Try adding nut butter to the mix before baking for an extra-delicious version.
Hummus and crudites

Shop-bought hummus is a good fall-back, but you'll end up with a lot of plastic pots to throw away. You can either make a batch before you leave, or even make your own on your travels if you have a handy hand-powered food processor (we love our £18 Zyliss processor).
You can use the processor to make any kind of dip, pesto or sauce and it makes light weight of chopping up vegetables.
To make hummus, just blend a drained can of chickpeas with a clove of garlic, a tablespoon or so of olive oil, a squeeze or three of lemon, seasoning and (if yu have it) a tablespoon of tahini. Add different flavour dimensions with roasted red pepper, smoked paprika or whatever you fancy.
Serve with carrot and cucumber batons, peppers, courgettes and baby corn, as well as oatcakes or toast.
Tortilla chips and homemade dips
Make guacamole or salsa at home, or use your Zyliss hand-powered processor. A squeeze of lemon will stop the avocado from going brown.
Either buy a packet of tortilla chips or make MUCH nicer ones by dryfrying a large tortilla and cutting into pieces.
Stuffed dates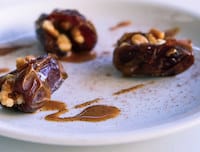 For an evening treat, stuffed dates are sweet, rich, easy to make and keep well. Simply stuff large medjool dates with nut butter – almond works best – along with a little dark chocolate and refrigerate. Pack in a coolbox to keep the chocolate from melting while camping.
Granola bars
Homemade granola bars couldn't be easier. Add seeds, nuts, dried fruits, oats and a touch of sweetness – date syrup or agave, for instance. Push down into a lined baking tine and bake. When they're cool, cut them up and pack them for your trip.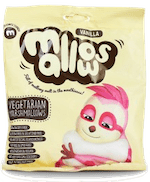 Yep…ordinary marshmallows usually have animal gelatin in them, but you don't need to do without your campfire toasting session or your s'mores. Get yourself a stash of vegan marshmallows before you go.
Quick and easy vegan meals
Tofu steaks and kebabs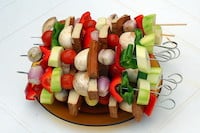 Add a few boxes of flavoured tofu to your pack. There are some lovely varieties – smoked, olive, curried, Chinese style and more.
Cube the tofu and put on skewers with your favourite vegetables to grill over the barbecue or on the camping stove.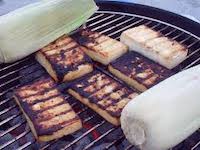 Or, cut the tofu into 'steaks' to serve with salad, quick couscous, our camping 'roast potatoes' or even a side of chips from the chippy nearby (cooked in vegetable oil, of course).
Vegetable boats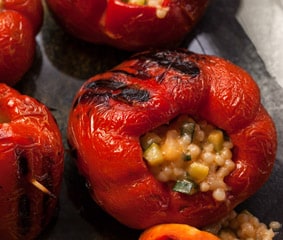 Halve courgettes lengthways or slice the top off red peppers and fill with diced pepper, onions, chickpeas and vegan cheese. Season, add a few herbs and wrap in foil. Cook on the campfire embers for 10 minutes or so (depending on the intensity of the fire) or cook on your barbecue, camping stove griddle or woodburning stove, like the Frontier or Ecozoom rocket stove.
Veggie burgers, seitan and more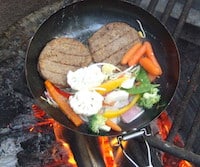 Make yourself a batch of your favourite vegetable or seitan burgers before you go, so you can simply reheat them when you're ready. Serve in a bun with your homemade guacamole and salsa from earlier and a salad or roasted sweetcorn on the side.
Tip: If you're stuck for time, shop-bought vegetable burgers can be healthy (although they'll usually be plastic-wrapped). Just check the ingredients to make sure there's no egg or dairy lurking in there.
Pasta salad
A delicious lunch is easy to create with wholewheat or grain pasta, vegan mayonnaise, sweetcorn, spring onion, lettuce and cucumber.
Of course, pasta is one if the easiest camping meals. Have a look at our favourite pasta sauce recipes that take no time at all.
Sweet jacket potatoes
Simply rub potatoes with olive oil and salt, wrap in foil and pop onto the campfire until soft. Serve with vegan chilli and your homemade guacamole. We recomend Sweet Potato chips on our 7 Best Hiking Snacks page.
Now have a look at some of the dishes the Campfire Mag team have been cooking this spring and summer.