The Clarke family loves camping in Wales and they're always discovering new places.
A busy weekend of booked-up campsites sent them searching for a new spot…and they found a beauty.
Camping on the Llyn Peninsular
"We went with our three teenagers to the Llyn Peninsular in North Wales for a long camping weekend last summer. The weather was glorious, so all the campsites we liked the sound of (based on proximity to the sea), were fully booked," says Diane.
"However, Bodwrog, near Llanbedrog, wasn't full. The website hadn't wowed me, but the site turned out to be superb.
"There was lots of space; the views of the coast and Snowdonia were spectacular, and the owner was very friendly. Best of all, the toilet block was very modern and one of the nicest we've ever come across in Britain!
"The peninsular itself is also highly recommended. We explored four beaches, all of them very different.
Abersoch was our least favourite, as it wasn't pretty and was very crowded.

Hell's Mouth was wonderful – huge, deserted, and with free parking, dunes and ace surf.

Porth Ysgo was a beautiful, isolated cove with cliffs and rock pools.

Llanbedrog was beautiful, with calm, shallow sea, a wooded hillside and a National Trust car park."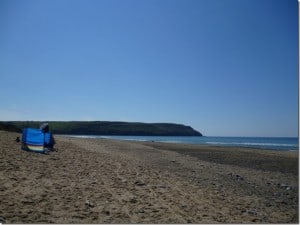 Enough space, sand and sea for everyone.
Testing the EcoGrill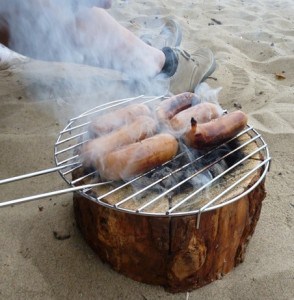 "At Llanbedrog there was also a bistro on the beach, but that's not quite our style. Instead we took along a new EcoGrill to test it out on a beach barbecue." (Editor: We reviewed the EcoGrill in our guide to the best barbecues)
"The fire worked really well with a grid on top and, after we'd eaten our sausages, we had fun building a campfire in the log surround," says Diane. "It was a lovely weekend!"
Have a look at this mini-feature on camping in nearby Anglesey. And, if you've got a camping discovery to share, do leave a comment below.