The UK is one of the most beautiful countries in the world with such a diverse range of scenery and places to explore. From sandy or rocky beaches to mountains, lakes and vast expanses of woodland; there's really something for every taste.
But when you're off exploring everything this stunning country has to offer, you need a base. Yes, there are plenty of hotels, B&Bs and lodges but there's something special about camping that just completes an adventurous holiday.
Trouble is, as well as being packed with things to see and do, the UK is also home to thousands of campsites so choosing one can be tricky. That's why we have put together this handy guide on some of the best UK campsites. Whether you're looking for peace and tranquillity or a family friendly site that's packed with things to keep the kids entertained, you'll find something that's perfect.
BEST CAMPSITE FOR RAW CAMPING
If you're looking for a peaceful getaway then there aren't many places that are as good as the HIdden Valley Campsite in Worcestershire. This isn't a site that puts on any airs and graces and it is totally aimed at people who are in love with nature.
There's no clubhouse, no caravans, no electricity and nothing but miles and miles of beautiful scenery. You could compare this to wild camping but on an organised site. And if you're not partial to full on camping, the site also offers a range of glamping pods for those who want a little more luxury.
It's also great value for money at just £16 per grass pitch.
BEST ECO FRIENDLY CAMPING
Camping doesn't always have to be done in a traditional tent. One of the great things about this campsite in the heart of Pembrokeshire is that it offers a new way of camping and what's more, it's all eco friendly!
For those who like the more luxurious side of camping, there are some beautiful nature domes or safari lodges. However, if you want a more traditional adventure then the site is also home to some pioneer camps which sleep up to four people so are ideal for family getaways.
Alternatively, there is a gorgeous meadow here filled with wildflowers where you can pitch your own tent and get back to nature. In the local area, there are plenty of things to keep you busy during the day including cycle trails, dolphin watching in Cardigan Bay and the chance to explore the ancient Ty Canol woodlands plus much more!
BEST CAMPSITE FOR SCENIC VIEWS
If you're willing to travel a little further for your camping adventure then this gem nestled in the Inner Hebrides is well worth a visit. This is actually a famed location since it was one of the favourite camping spots for world renowned author JRR Tolkein whose famous series The Lord Of The Rings was inspired by this very spot!
But as well as having a place in literary history, Cleadale is a great choice for wildlife lovers as there are plenty of opportunities to see whales and dolphins just off the coast. You'll also find a plethora of wild birds including buzzards soaring over the cliff tops which is a real treat.
For anyone with a passion for hiking, the mountains are an ideal spot to stretch those legs and get back in touch with nature. You'll need to be prepared to slum it a little as there aren't any luxuries on the campsite but if it's adventure you're after, that's exactly what you'll get.
BEST CAMPSITE FOR WINE LOVERS
Are you looking to kick back outside your tent with a glass of the finest wine? If so then you'll find yourself right at home at the Ten Acres Vineyard campsite in Devon where they make wine onsite. It's available to purchase in the on site shop and if you're keen to see how they make their produce, why not try a winery tour?
But there's a lot more to this idyllic setting than just booze! At Ten Acres Vineyard you will also find a quaint local town with a selection of small shops and places to eat. Once a month, you can enjoy the hustle and bustle of the farmer's market allowing you to pick out some amazing local produce for your evening meal around the campfire.
The choice of accommodation at Ten Acres is excellent with either traditional camping or a stay in one of the many glamping pods here.
If you love to get out and about and explore nature on foot then Turner Hall Farm campsite is the perfect spot. Nestled in the heart of Cumbria and with easy access to the beauty of the Lake District, this is one of the most idyllic spots in the UK.
The local landscape is rugged and natural making it perfect for hikers and those who want a casual stroll to enjoy the view. What's more, the little crags provide privacy when camping and you'll wake up to one of the most breathtaking campsites in the country.
There are a whole host of local traditional pubs where you can enjoy excellent food and drink as well as plenty to keep you and the family occupied all day. Muncaster Castle is just a stone's throw away and is perfect for anyone with a taste for history and architecture and even horticulture thanks to the stunning gardens that surround the building.
BEST FOR RELAXING GET AWAY
Lazy Duck Cairngorms National Park Scotland - Best For A Relaxing Getaway
We think that this secluded campsite is an excellent choice for couples or singles looking for a super laid back weekend away. What's special about this campsite is that the majority of the accommodation comes in the form of cabins, eco huts and the like; there are just two tent pitches on site so you'll get some real privacy and peace when choosing this option.
This is also the perfect location for anyone who doesn't want to have to leave the site to enjoy themselves. There's plenty going on here to keep you occupied including a massage service, yoga classes, a hot tub, sauna and even some on site ducks just for good measure. It's the ultimate relaxing break!
However, if you did want to go off and explore, you'll be spoilt for choice. There's some fantastic cycle routes in the nearby mountains and lots of activities for people of all ages. Whisky tours, steam railways, castles and museums are all within the surrounding area.
BEST FOR WATERSIDE CAMPING
If there's one thing that Norfolk is famous for, it's water. Rivers and lakes a plenty, if you're keen to get nautical on your camping trip then this is the place to be. Canal Camping is one of the most popular campsites in the area and boasts beautiful surroundings with plenty of plants and wildlife for nature lovers.
The great thing about this campsite is that you have direct access to canals and rivers for boating activities such as canoeing and much more. There is also plenty to do off site with local beaches, historical sites and places to eat within easy reach.
If you're not up for traditional camping, then Canal Camping is also home to a selection of glamping pods for that little bit of extra luxury. You'll also find three large event tents that can be hired out if you're travelling for a special occasion.
BEST OFF THE GRID CAMPING
Many of the best campsites in the UK have so many facilities you could be forgiven for thinking that you were staying at a luxury hotel or resort. While that suits a lot of people, some campers want to get back to basics and there's no better way to do that than going off grid.
Abbey Home Farm is one of the most basic yet beautiful campsites in the country. It's a great spot for an open campfire and getting things done the old fashioned way. The owners have recently installed a shower block but everything else remains very rustic.
You'll be camping on farmland where there are so many different foods produced so if you're looking to pick up some local delights, you're in the right location. You'll find an on site farm shop as well as a veggie cafe to sample what's grown here and when your tummy is full, sit back and take in the stunning countryside views.
Best UK campsites – readers recommend
We are always hearing from our readers what their top UK campsites are at the moment, here we have listed a few and will update with new ones now and again.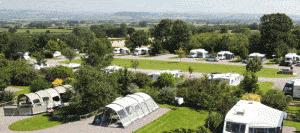 Old Oaks luxury campsite, Glastonbury
Richard Hopewell, who won an Omnia hob-top oven for sharing his perfect pitch with us, writes:
"Our favourite campsite is the Old Oaks site, just outside Glastonbury. It is large and flat, pitches are nicely spaced apart, with hedges between and there's an electricity hook-up to all pitches.
The showers and toilets are spotless and the hot water is endless. The other facilities (dish washing, ironing, laundry) are excellent. There's also a site shop which sells loads of useful stuff – food, guides and camping gear (I once forgot our hook-up cable, and they loaned me one rather than selling it !)
And it's for over 18s – no children are allowed to stay. Bad if you're a family, of course, but good if you like peace and quiet! Very highly recommended."
Find wild camping and good campsites – the best camping apps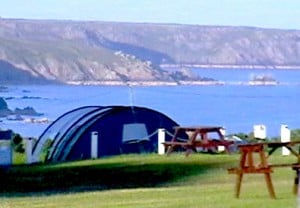 Kevin Friend writes:"My favourite campsite is Chy Carne in Cornwall. It's a relaxed campsite with fantastic views of the sea. Beautiful!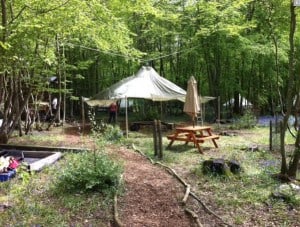 Hugh Sandie writes:
"My favourite is Eco Camp UK's Wild Boar Wood Campsite – 600 acres of woodland with beautiful scenery and campfires. But then again I'm biased." (Hugh runs the site!)
Ash Farm at Ludgvan near Penzance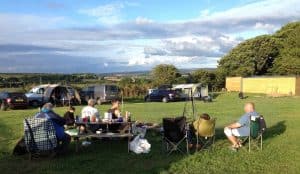 Pamela Hall loves travelling in her beloved Bongo, Bunty, and she's found a real jewel.
"I almost don't want to share it, as I'm it will be booked up when we want to go back this year," she says.
"Quiet and secluded, less than an acre overall ands with no hook-up, it take just tents and small campervans. This lovely site has a composting toilet (not at all smelly), outdoor hot shower (wonderful), mains water and a campfire in the evening. The Secret Garden. where you can sit with a bottle of wine and watch the sun go down over St Michael's Mount is beautiful.
"The owners are lovely people and very helpful. Superb old pub a short walk downhill. And handy for Penzance, St Ives, Marazion and National Trust venues, Trengwainton Gardens and St Michael's Mount.
We intended to stay for just one night but ended up there for four as the tranquillity was just what we had been searching for on our trip."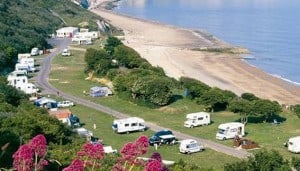 Folkestone Camping and Caravanning Club site
Jane Hawkins writes:
"Our favourite is the Folkestone Camping and Caravanning Club site. It's only an hour and 20 minutes' drive from London and is next to the sea. There are fantastic clean facilities and lashings of hot water. It's great for walks to Dover or along the beach to Folkestone, tea shops and the Millennium Park."
Camping Gear Must-Haves – Our 60 Best Finds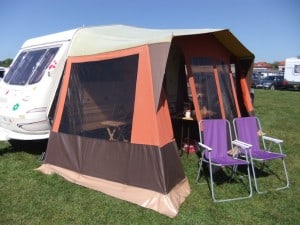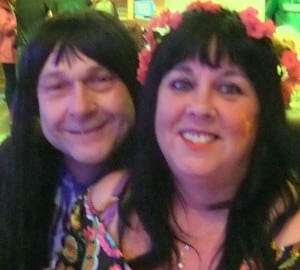 Joan Watson was the winner of our Camperfest competition. Here's what she says about her début trip in her new caravan…
"Thank you for our win and the prize of tickets for our first Camperfest at Chester Food and Drink festival! We arrived at 10pm on Thursday evening and finding the site was quite difficult, but thanks to the helpful tweets on Twitter, we got there.
The staff made us feel immediately welcome and we were shown our place very quickly. The only downside is that the campervans and caravans were parked too close, (nice if you want to know your neighbours but for safety reasons should have been further apart, and there was plenty of space).
We went along to the food and drink festival on all three days and enjoyed the outdoor cooking sessions. These gave me some great ideas and we cooked a whole skewered chicken and baby potatoes for tea! Yummy."
Tips For Camping In The UK
It's easy to see that the UK is home to a vast number of campsites and there truly is something for everyone. Whether you're a seasoned camper who isn't afraid to get back to basics or someone who wants a little more luxury, you won't be left without an option.
However, regardless of the type of campsite you decide to visit, it's always important to be prepared and so we've put together a short guide on the best camping tips for camping in the UK.
Check Out The Campsite In Advance
Before you head off on your adventure, you're going to want to make sure that the campsite you've chosen is clean and well maintained. Even if you're looking for a more rustic stay, the last thing you want is to be living in unhygienic conditions.
Fortunately, most campsite owners in the UK take great pride in providing their patrons with a clean, safe and welcoming environment. But there are a small handful that aren't quite as nice. For this reason, we would strongly suggest checking out reviews and photos before you go.
Check Your Tent Before You Go
It's tempting to pull your tent out of storage and throw it in the car without giving it the once over. However, this can lead to disaster since your tent may have sustained damage while in storage. The problem with this is that UK camping conditions can be very unreliable. While it may be sunny one minute, the heavens can open the next and things can get very wet and chilly.
If your tent has any rips, tears or problems with waterproofing, this can make for a very unpleasant stay. What's more, it's worth checking that your equipment is suitable for the type of terrain at the campsite. More rugged campsites such as Turner Hall Farm and Abbey Home Farm may have harder ground that requires heavy duty ground stakes, for example. It's essential to make sure your gear is up to the challenge.
Plan Your Activities In Advance
You might be tempted to rock up at the campsite and play it by ear and while this is a nice notion, it might not work out. If you're heading somewhere that has popular local attractions, it may be worth booking online before you go to avoid disappointment.
But even if you're only planning to hike around the area, it's still worth having some sort of itinerary in place. Keep in mind that since a lot of the activities will be outdoors, you will also need to plan around the weather so keep an eye on that weather app on your phone!
Conclusion
Why would you want to jet off to another country when there is so much beauty to discover right here in the UK? If you're looking to enjoy a staycation this year then you'll be pleased to know that there are thousands of UK campsites just waiting to be discovered.
No matter where you are in the country, you're only ever a short car journey away from some of the most amazing sites. There are those with luxury glamping pods and an array of facilities or others that allow you to get back to basics and enjoy nature.
Wherever you choose to go, do keep in mind that planning is essential so check your gear before you go and plan your activities in advance.