Swimming is one of the most popular sports in the world. There are many types of swimming, but wild swimming is a new and exciting form that has gained popularity in recent years. Wild swimming takes place in natural bodies of water with no lifeguards or safety measures to protect swimmers from any dangers they may encounter.
Diving into the depths of your local river, lake or pond is an experience that will provide a new perspective on the world. The cold water envelopes you and it's can provide a shock (in more than one way!).
Learn more about how enjoyable wild swimming is and what important equipment you may need.
Do I need a wetsuit?
That depends on the water temperature and your own sensitivity to cold, of course. Many outdoor swimmers think getting wetsuits on and off makes them colder overall, so prefer to swim in an ordinary costume or trunks. But when the temperature really drops, you won't be able to stay in long (safely) without neoprene.
These are the options…
Swimming (in) skins = swimming in just trunks or a swimming costume
Swimskins = streamlined swimsuits usually for serious swimmers and triathletes
Wetsuits = neoprene full-length suits, jackets and shorties at a range of thicknesses – usually 2 or 3mm for cold water swimming. The thicker the suit, the warmer you are, but you also become more cumbersome and buoyant, which affects your position in the water.
Some swimmers suggest you can swim skins (in a cozzie or trunks) and use warm neoprene boots, gloves and hat. It can make a difference. See below for more on that.
Staying safe in the water
Restube
Tow floats
Visibility
Understanding the cold and its effects
Tides and currents
Boats, jetskis, windsurfers
Water temperatures and safety
If you're swimming in the UK, you'll find the season is very short if you only swim when the weather's glorious. That means getting used to the cold. Some people build up their tolerance with cold showers.
There's a phenomenon, though, that means you can actually start to feel quite comfortable in very cold water…and that's a danger sign that you need to get out.
Here's a quick guide to temperatures and what to expect. Remember, though, that everyone's tolerance is different.
0-5C – only for experienced swimmers, with extreme caution and usually not for long. Feels great when you get out, of course.
5-10C – probably the temperature of a lake or river in spring. 10 minutes max unless you're experienced
10-15C – Late spring temperatures in the UK and still feels very cold. Experienced swimmers can swim for a long time in this but most of us are still at risk of hypothermia if we stay in too long.
15-20C – this is what the Channel gets to in summer. Not a bad temperature for swimming in.
20-25C – you wish! Definitely not wetsuit temperatures and rare to find in the UK except in some lakes. Warmer than this and the water actually gets a bit stifling, making swimming tiring.
If you're looking to actually measure the water temperature, we've had a recommendation for the Comark PDQ400. Tie it to your tow float (see further down the article) and you can leave the cover on the probe so it doesn't stab you.
Afterdrop – know how to get warm again
After swimming in cold water; you get out and feel fine, and then you start to get colder, sometimes growing faint, shivering violently and feeling unwellthe coldness when you get out of the water). It's a mistake to try to warm up too quickly. Instead..
To minimise the risk of afterdrop, dress immediately starting with the top half of your body. Put on a hat and gloves and have a warm (non-alcoholic) drink.

Dry yourself off ASAP – remove all wet layers

Don layers of warm clothing including a woolly hat and gloves. Silver foil blankets do not help swimmers – unlike runners, for example, swimmers are not radiating heat post swim, so there is no escaping heat for the silver foil blanket to trap.

Sip a warm drink: this helps warm the body gently from the inside.

Eat something: sugar will help raise body temperature.

Sit in a warm environment: in the absence of more salubrious spaces, cars, with heaters on full, are popular with channel swimmers.

If you feel okay, walk around to generate body heat. It can take some time to warm properly.

If you feel unwell at this stage, sit down somewhere warm.
The Wild Swimming Guides
A brilliant series of guides that help you discover lovely landscapes, places to swim and camp, unusual and special places to eat and more. There are guides to Scotland, Central England, the Lakes and Dales, Wales, Portugal, Cornwall and the South West, Scandinavia and wild swimming in the UK, Italy and France, which includes Corsica.
Wild Swimming Gear Guide
Tow floats and drybags
The most-recommended by swimmers
A swim-transforming piece of kit. If you're not a strong or confident swimmer, a towfloat gives you reassurance that you've got something to hang on to if you get tired. Not to be relied upon to such an extent that you swim too far or stay in cold water too long.
Some are simple floats that you tow behind you on a belt. Others have built-in drybags for carrying your clothes. Although they're pretty failsafe, I still put my phone and keys inside an extra bit of waterproofing to be on the safe side.
Don't get anything bigger than you need. It just adds bulk.
Here's our swimmers tips.
Restube
The lightest and neatest tow float is the Restube Classic.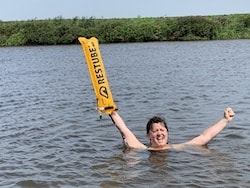 Swim Secure
Swim Secure is safe with its two airbag system.
Nature Hike

My tow float is a Swim Secure tow-float dry bag – great for putting keys and flip flops, money etc in a smaller dry bag if I'm doing longer swims.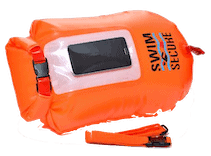 Wetsuits, hats, gloves and socks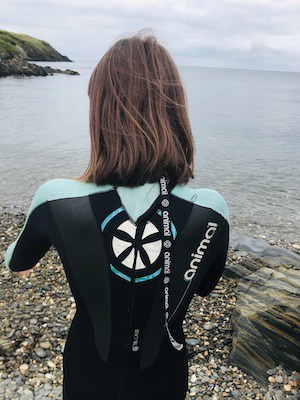 C-Skins 4mm Legend neoprene thermal socks are very cosy, but the soles are slippy. Not for use if you need to scramble over rocks or down banks.
I have 2 wetsuits a foor classic for messing around in rivers and if I'm scrambling along the coast on rocks, it's easily repairable with Black Witch. And I have a blue seventy fusion for hardcore training and longer swims. Different wetsuits have different buoyancy and performance styles depending on your style of swimming and body composition.
Goggles
The most-recommended by swimmers
Not essential for casual swimmers unless you're swimming in choppy saltwater or will have your head underwater.
Changing robes
The most-recommended by swimmers
There are two types. The first is a BIG anorak, waterproof on the outside and towelling/microfibre inside. The second is a towelling or similar to a surf poncho or 'gown'.
You can get dressed and undressed inside without anyone seeing you. Good ones will keep you warm.
The waterproof version tends to be expensive but many swimmers use theirs for other activities too. If you're lucky enough to live or camp near your swimming spot, you can walk home in one without getting dressed.
Things to watch out for are bulkiness for carrying and how quickly they dry. Size is important too. You need to be able to get your arms inside and strip off comfortably (see the note on Red Originals below).
Dryrobe
Thermometers
The most-recommended by outdoor swimmers
Not essential at all, but can be a helpful safety guide (if you also know your own limits). Very good for being able to show off afterwards, though we don't recommend staying in freezing water just to be able to boast to friends. Very dangerous indeed.
An aquarium thermometer – made be immersed.
Outdoor swimmers tell their stories
How to get started in open water swimming. What swimming gear to buy. And why wild swimming could just change your life. Be inspired by these wild swimmers.
Debbie's story
"I started winter swimming to help with my migraines."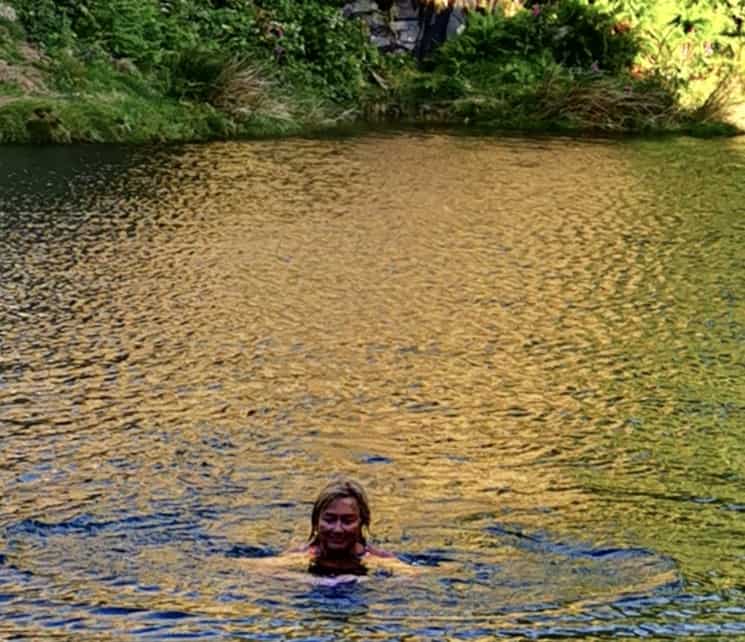 The sea is my favourite, but I love the freedom of my own space in the water and in the natural surroundings. In fact, I started swimming at a very young age and swam for the school.
I was a bit of a daredevil in my youth. I've taken great delight in helping a few people overcome their fear of deep water. I've shed a few tears of happiness to see their confidence grow.
We all start out new at something. Whether it's 10 minutes or two hours of swimming, floating or treading water, it doesn't matter.
I am a strong swimmer, but I've slowed down a bit now I'm in my 60s. My preferred stroke used to be breaststroke, but I now find crawl is easier on my hips and knees. I do love butterfly, though.
What's in your essential swimming kit?
My goggles, usually Zoggs, though they all steam up or leak eventually! My swim caps are usually Speedo or Selki. I get ear infections so earplugs are essential. I buy earplug moulds at the chemist's or go for the Decathlon ones because the red and blue remind me which ears they're for!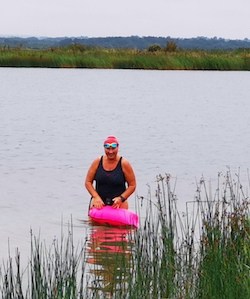 How do you find places to swim?
Wherever I go, I ask locals where I can swim.
Tips for new swimmers?
Safety is paramount for me. If you're new, you have to know if you can get into the water easily because that means you can get out easily too. It seems obvious but there have been tragedies because of not following this.
You need to take cold water seriously. The other danger is swimming so far out that you get too tired to get back. Just be aware.
What do you get out of swimming?
There are real benefits to your mental health. But physically, it's excellent if you've had surgery (not all types of course). Normally, out of the water, I'm a hot water bottle and warm socks person, but the water is a different place and your mindset is different. I even swim with my head in the water after I've acclimatised.
Theo's story
"I'm a rubbish swimmer. Crawl baffles me, but I just love being in the water."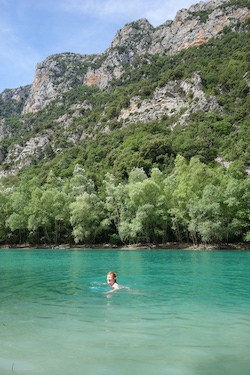 I base my camping trips around having somewhere to swim, whether that's in the UK or in Europe.
I'm definitely not a good or strong swimmer. I can only do breaststroke and probably don't do that with any kind of technique. Crawl baffles me…I just can't breathe and my arms get exhausted.
But, I love being in the water – especially lakes. I'm probably building up my stamina without realising it. I'm certainly building up my tolerance of cold.
What's in your essential swimming kit?
I have a bathing costume type 2mm wetsuit for colder dips and a UV-protective zip top for the rest of the time. £5 water shoes from Decathlon make getting in and out over pebbles less painful.
I've just bought a cheap changing robe towel thing from Decathlon too. It's fantastic for getting dressed and undressed warmly and with privacy. I tried some of the expensive ones, but this is more packable.
Oh, and a tow float changed my life! Knowing it's there if I need a rest gives me confidence to swim a bit further.
How do you find places to swim?
I look for areas of water on Google maps and go to have a look. I also use the Wild Swimming and Wild Guide books as well as Facebook groups.
Paul's story
"I do recommend joining a local wild swim group to meet experienced swimmers."
Outdoor swimming is free and it's a simple way to connect with other people and nature. It also has incredible effects on the body, mind and soul and is great for fitness too!
I was lucky enough to be able to swim before I could walk. I relocated back down to my home county of Devon after 20 years away and after a few sea swims with a friend, entered the Dart 10k swim event. A spring and summer of training hard in the sea, all weathers, all hours and I was hooked.
Now I'm happy to swim whether it's a quick and icy morning dip or a longer training swim. I love meeting new people from all walks of life – from hardened triathletes to sunrise dippers happy to bob around and chat.
Do you need to be a strong swimmer?
Not at all. Ten minutes in the sea is enough to stimulate the vagus nerve (ED: The vagus nerve carries an extensive range of signals from digestive system and organs to the brain and vice versa). I do recommend joining a local wild swim group to meet experienced swimmers. There are many open water coaches around, both inland and on the coast.
There are some good books and YouTube videos to learn stroke technique and pick up other hints and tips.
What's in your essential swimming kit?
Goggles, tow float, Speedos and poncho towel. I'm a skins swimmer – a fan of Wim Hof, the Dutch iceman who combines breathing techniques, movement and cold water immersion. I'll switch to a wetsuit for longer swims in winter when it gets properly cold!
Tips for new swimmers?
Don't worry what you look like or how your technique is at first. Just get in and repeat. It's advisable to stick to areas where you have a good awareness of local conditions, tides, currents, effects of wind, boat traffic and so on. Go with others to get your confidence in a new area.
Mike's story
"Don't be put off by other people's swimming achievements. Just jump in."
Swimming is the only place where I can find peace and works wonders for my overall health, especially my mental health.
Ten years ago, I was on the verge of bankruptcy and suicide due to a family breakdown and problems with alcohol. I got into a recovery programme and it was there that I knew I needed to start to get fit again, mentally and physically.
I started swimming in my local pool again and really struggled to swim 10 lengths. Today, it's 64 lengths minimum. My first time at wild swimming scared me – no blue line to follow and no floor to stand on or lifeguard walking up and down.
I could see the enjoyment other people were getting from wild swimming, so I went on an introductory sessions – I thoroughly recommend that.
Since then, I've completed many of the great swim series events in the Lake District, including the 5.25 miles of Lake Coniston end-to-end.
But…anyone can swim, at any age. You can still feel the freshness and all the beauty nature has to offer even in a quick 10-minute swim. Any stroke you like. Just jump in.
What's in your essential swimming kit?
My prescription goggles – or I can't see a thing! And a brightly coloured swim cap. The watch definitely gets left at home!
How do you find places to swim?
I used to hate social media but I know use it just for wild swimming. It's very informative for swimming events and groups.
Tips for new swimmers?
NEVER swim alone. If you get a cramp out there, you are going to be in serious trouble. Maybe swim on your own with a few years' experience under your belt
Mary's story
"I used my floating drybag to swim from my local beach across an estuary to the chip shop!"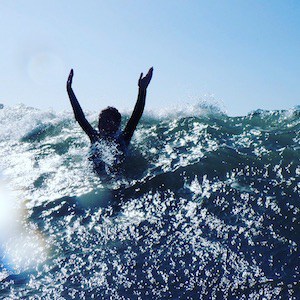 I love being immersed in water, the wildness and contrasting tranquility of ocean swimming. The feeling of freedom, being at one with nature and the sense of accomplishment after doing some exercise.
I swim alone or with my children who have mostly preferred to skins swim (swimming without a wetsuit) unless they fancy joining me for a long swim in the autumn/winter.
Do you need to be a strong and confident swimmer?
It helps. But no, you can swim happily in safe spots, but you do need to understand how to evaluate risks. Rule of thumb, can you stand up/walk without being towed away? Can you get o
ut if you do find yourself floating in a different direction to where you want to be going?
What's in your essential swimming kit?
Inflatable Nature Hike towfloat bag – for visibility and as a buoyancy aid to help weaker swimmers that I swim with. Also for carrying kit if I"m getting in and out at different locations. I recently used mine to swim from my local beach across an estuary to the chip shop, so several uses.
-A changing/towel robe – for dignity, quick changing, and in the winter, for protection against the elements.
In the winter and spring:
– My Blue Seventy neoprene socks – for peace of mind, at low tide protection from weaver fish, and for winter swims.
– My neoprene gloves – as a skins swimmer these buy me more time in the water.
Can I say another? – my waterproof phone case for photographs (not safety 😀 )
Tips for new swimmers?
There's a lot of great information available online about riptides. Read how to deal with afterdrop too (ED: see below)
The only thing I'd suggest is to avoid swimming after heavy rains. This is because of the pollution, and the speed of river flow.
And for fear of getting to cold, follow the 1 minute per degree rule when you begin.
If you're thinking of doing it but are not sure. Go for it. It's such an invigorating and wonderful experience. One of my first solo winter swims, I sat in a 10 force gale on a beach being whipped by the sand, watching the waves, in my towel robe, mentally asking myself if I could or should, as I watched people in full winter gear out walking their dogs. I had assessed the water and knew it was safe, but I was fearful … I eventually took off my shoes and put my feet in the sand, and this small step made me realise I could do it so I went for it. And it was the best feeling and I haven't looked back since.