Wouldn't it be great if you could do away with the camping gas in favour of twigs and pine cones?
There's a world of woodburning camp stoves out there that promise all the enjoyment of an open campfire, but with far superior camp cooking (and environmental) qualities.
Latest update: April 2022
All our reviews at Campfire Magazine are independent and honest.
In a hurry? If you don't have much time using the links below to quickly find our favourite woodburning stoves for you on Amazon. You can be assured we only choose the best products…
Testing the best woodburning camp stoves
We set our team of testers the challenge of making a meal using some of the most popular wood-burning stoves – a wood-burner with chimney, an EcoZoom rocket stove, a woodgas backpacker's stove and the high-tech Biolite camping stove.
Since then, we've added lots more lovely stoves for you to have a look at.
Why cook with wood?
So, an important question…why would you want to cook with wood when you're camping?
Apart from saving you the bother of carrying and changing camping gas bottles or carrying liquid fuels around, wood is generally free and available everywhere.
And we mustn't forget the pleasure of collecting sticks and feeding a fire before you feed yourselves.
Open fires aren't allowed at many campsites, and they're not very efficient when it comes to cooking. A good stove, though, can cut the amount of wood you need to cook a meal by as much as 80%.
There's an added incentive with some of the rocket stoves too. Some began life as a humanitarian project for developing countries, saving families fuel costs and the health costs of cooking over smoky open fires.
Wood or charcoal stoves will never be as fast to get going as a piezo ignition gas stove, of course, and they vary widely in portability. You won't want to be carrying 12 kilos of stove very far. But, if you usually camp with a car or campervan, then it's a viable option. The lighter stoves, usually the highly-efficient wood-gas type, aren't really family-sized – more for back-packing and wild camping for one or two people.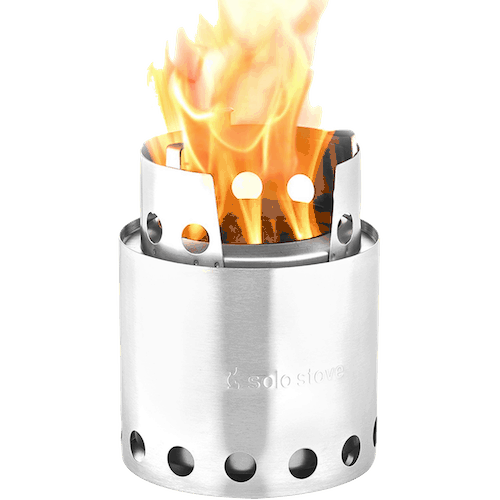 While we haven't given the Solo gasifying stove as thorough a test for cooking as the others, we already love it. And the Ranger is our favourite firepit.
The backpacker's version of the Solo Stove
While it might look rather like the cheaper woodgas reviewed below, it's in a different league (and you do pay for that difference).
There's a range of sizes – a backpacker's one-to-two person option, a compact Ranger firepit, the big Bonfire and a massive (and expensive) Yukon.
A few dry twigs is all it takes to get it going. Rising hot air, and the absence of oxygen created by the combustion process, pulls air through the bottom vent holes in the double-walled cylinder. This air fuels the fire at its base and gives a boost of preheated air through the vent holes at the top of the burn chamber.
An ash pan catches loose ash and prevents it from clogging the airflow. It acts as a heat shield and prevents your stove from scorching the ground. Vent holes near the top of the burn chamber allow preheated oxygen to fuel the flame resulting in a more complete combustion and a hotter fire with less smoke.
Made of stainless steel, the smallest weighs 255g and the Bonfire weighs 9kg.
There are plenty of accessories available, including cooking pots and an alcohol burner attachment to use instead of wood.
Not a cheap option, but it's one of those pieces of kit that earns a devoted following.
What we liked about the Solo Stove range
They look beautiful. A clean shape and a simple style

Less smoky than any other firepit or chiminea we've tried

A lifetime guarantee
The not so good
The price. They're an investment, but – if you can afford one – it's always better to buy something that lasts.
To buy or not to buy?
A thing of beauty, with options for efficient cooking stoves and firepits without the choking smoke. So, a definite yes. In fact, we've just bought a Ranger for home and taking in the van as it's a great compromise size.
Ecozoom-style stoves
Woodgas Stove
At only around 250g in weight and folding away into a titchy bag, a woodgas
has to be the stove for back-packers and wild campers – and even for car-campers who don't want a lot of big and heavy kit.
Woodgas stoves work so well because the main air coming into the stove partially combusts wood-gas, then pre-heated secondary air is pushed into the top of the combustion chamber to mix with the remaining smoke.
The result is a very hot, clean burn and fast lighting. This stainless steel model is a passive wood-gas stove, so the secondary air holes are powered by convection rather than a battery-operated fan.
Setting up and lighting a woodgas stove
Our testers loved the way this stove fitted so neatly and simply together, and it was up and running in a couple of minutes using a bit of small kindling and some twigs. The flame was soon strong enough to set a pan on top.
Cooking on a woodgas stove
It's small, so it took some careful placing to get the pan sitting right on the support, but the pan was soon heating up nicely.
What we liked about the woodgas
Would probably fit in a (big) pocket, so could be taken anywhere for almost instant cooking.

The cheapest of the models we tested.

Simple, with no bits and pieces to break.
The not-so-good
Too small for family cooking.

Watch out for fiddly pan supports on some models

Needs a windshield for easier lighting and burning.
To buy or not to buy
The neatest, lightest and smallest of the stoves we tested. It's easy to light, but susceptible to wind. The pot stand is fairly stable providing you position your pan carefully and don't use anything too big. A simple, satisfying stove to use for one- or two-person wild camping.
More tiny and folding stoves
Reader Tim Watson prefers firebox stoves for their simplicity, reliability and longevity. There are lots to choose from, many different sizes and they cost from £10 upwards. Most can be taken apart for packing away in a very small space.
A reader's tip
For something super-simple, try Mark Bunce's method of using a chimney barbecue starter for fast, hot cooking perfect for woks.
nCamp Stove Plus
Now this is a great idea – the nCamp stove that works on wood, propane or alcohol
It folds up very small into a separate carry case and weighs virtually nothing. We do love versatility, so multifuel is very appealing. The stovetop is also very stable for larger pots. A tad smoky, however.
Off-ground campfires
Here's an idea for avoiding ground scorch under your campfire. This portable mesh campfire keeps the burning logs off the floor and makes it easier to clear up the ash afterwards.
Folds to next-to-nothing and stores away in a neat bag. Lots of brands make the same thing, by the way. We chose the cheapest and fastest delivery option (at the time of writing!). Should you be interested in camping fire pits, this was one that appeared in that guide.
And what did we cook? Try out our camping recipes for chapatis, marinated paneer and lentil and spinach curry.
If you're still thinking of a gas stove, make sure you read our camping gas stove recommendations including a very definite 'don't buy' warning for one particular model!