Just imagine you're on the banks of the Danube when you make Trish Maccurrach's fish soup. And make the most of British wild food with an easy nettle soup.
You can make your soups in a big kotlich pot or Dutch oven using a tripod over a campfire, but you can always adapt to whatever cooking method you prefer.
Riblja cobra (fish soup)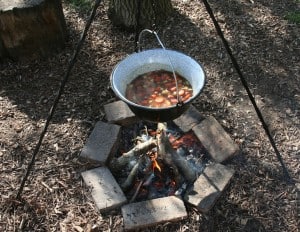 Our recipes are usually written for two (so that you can multiply as needed). Kotlich cooking, though, is really best for a crowd of friends or a family meal, so the recipes below serve up to six.
Special seasoning – powdered sweet paprika, mild curry powder, chilli powder, chopped celeriac leaves and root (you could use lovage or celery salt too), mixed herbs and dill. If you want to cheat, Trish says you can find a ready-mixed seasoning in central European shops.

First light your fire and set up the tripod. Put some oil in the Kotlich and place over the fire

Fry onion in oil – 1 large onion per kilo of fish

Add plenty of green peppers chopped

Add a small amount of water to cover peppers and simmer for 5-10 minutes

Add fish, around 250g per person, cut into joints and cover with water. Any fish is good, but traditionally it would be riverfish.

Add 1-2 green peppers whole.

Add plenty of tomatoes

Cook slowly for 30-40 mins

Half way through this process add your spice mix and, at the end, a good amount of sweet crushed pepper.

If it's not thick enough, thicken with cornflour.
Which campfire tripod?
There are so many very similar tripod legs and chains to choose from. These are our three top picks for campfire tripods.The simple Taotao tripod set or A lovely hand-forged, British-made iron campfire tripod from Arrowsmith Forge.

Third option is a great value one from BBQ-Toro, with all the accessories you need, including a big pot. Delivery is expensive, but still a good price overall.
Kotlich or goulash pots
Hanging pots with enamelled interiors. lovely to look at and fantastic for traditional stews and paprikash.
Dutch ovens, These substantial pots are usually made of cast iron and have a handle to suspend them from the tripod.
The lid can often be used as a frying pan or pot too.
Lots of sizes to choose from. A fair price for a family-sized pot that'll last you a lifetime.
Nettle soup

Nettle soup has a very subtle flavour. To keep the deep green colour, it's important not to overcook it.
If you're kotlich cooking at home, it's nice to blend this soup till smooth. If you're out in the wilds, then just chop up your ingredients very finely or use the hand-powered Zyliss processor.
Gather your nettles with scissors and rubber gloves. Choose only the tops of young nettles. Pack them down until they fill a big mixing bowl.

Put the Kotlich over the fire with some oil and gently fry 4 cloves of garlic, 2 medium onions and two chopped medium potatoes.

When the onions are soft, cover with stock and simmer till the potatoes are tender. Stir regularly.

Add the rinsed nettles, a couple of bay leaves and more liquid to cover. Simmer for about 10 minutes

Remove from the heat, take out the bay leaves. Whizz till smooth (if you're using a hand-blender)

Decorate the bowls with a swirl of sour cream and flowers.
See our other articles too. Lots to read and ideas to inspire you!
Foraging for delicious wild food
Recipes for wild garlic.