We know from experience that there are lots of campers who just can't make the jump from tent to campervan. So, we came up with a smart solution for a homemade mini-camper that cost us less than £350 (minus fridge!).
It's perfect for quick overnight stops between campsites and for wild camping.
This is based on the old-style Citroen Berlingo. More on the new model at the end of this article. 
Also have a look at our full feature on how to turn your everyday car or van into an affordable, part-time camper – lots of great ideas!
Latest update: October 2020
Step 1
Take one Berlingo Multispace car and remove the back seats and parcel shelf.
You can leave the front seats upright if you're not too tall. This gives you an area at the front for anything you might want to get at in the night. If you fold them forwards, though, you'll gain extra space for long legs.
Step 2
Take four large storage boxes with lids.
84l Really Useful Boxes are good and strong or Ikea's largest Samla boxes – 78x56x43cm. These fit perfectly in the back and leave space behind the front seats for a bit of luggage.
Fill the boxes with your camping gear, food, clothes and so on.
Step 3
Take two self-inflating mattresses.
We use two self-inflating mattresses on top of the boxes. Two is better than one because they're easier to store when not in use.
These are Exped Comforts, but anything with at least 5-7cm of height should be OK. Have a look at our other recommendations in our camping mat article.
Leave them slightly under-inflated during the day, so they can be folded out of the way. At night, simply roll out and inflate on top of the boxes. Now you can sleep full-length in the back without removing all your camping gear.
Our choice for sleeping bags, is something that can be opened up as a blanket. The Vaude Navajo are good. But plenty more in our sleeping bag guide.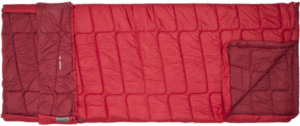 Step 4
Start finessing your set-up.
Step 5
Get yourself a tarpaulin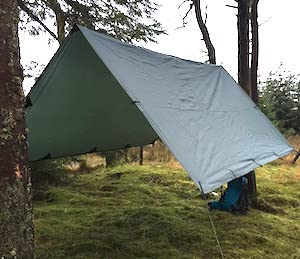 UV-protection and a decent size. We use the Unigear tarp, but see our tarp article for more inspiration.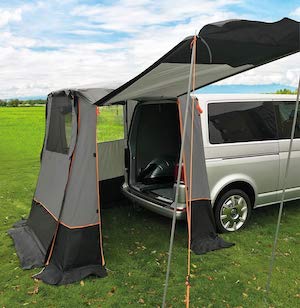 When you want to stay somewhere for a couple of days or more, you'll have a flexible option for shade, rain protection, privacy etc. 
For longer trips, you'll want to consider a shelter or tailgate awning.
Tried and tested – but hang on to your knickers!
We've tested this system on winter camping trips to the Lake District – near Crummock Water, at the top of the Kirkstone Pass and on the Honister Pass.
It was warm, cosy and comfortable, though the gale-force winds on the Honister Pass blew some of our underwear out of the suitcase and sandblasted the side of the car with gravel.
It worked really well and it was very easy to get at things the next morning. It's also a fabulous and flexible option for warm weather camping in Europe – tried, tested and recommended (with tarp for shade) in Corsica, France, Germany and Switzerland.
The same car camping method could work in other types of car and people-carrier. Sliding doors, good head height, removable seats and a flattish floor are the main factors. A bit of research should turn up four boxes that will fit the space.
Have a look at our guide to car camping for more ideas for other models of car.
Car camping tips and techniques
Tip 1
Space for one or two
This set-up won't work with a family, or if you need the back seats for some reason.
If it's just the one of you, two boxes and one mattress will give you lots of extra space at the side for a little folding table and stove (well vented).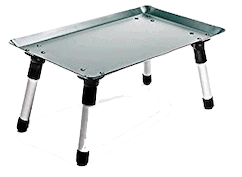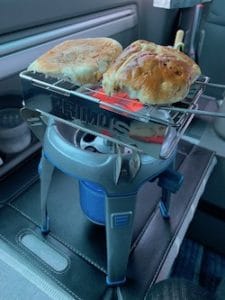 Tip 2
Taking the weight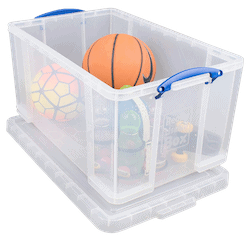 We weigh nine stone and 14 stone and the boxes hold us with no problem. 
If you're very big or heavy, you might need stronger boxes and lids than the Ikea ones – The Really Useful Boxes work well.
Tip 3
Storing more camping gear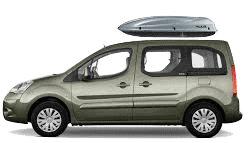 The beauty of our box-bed is that you don't have to take everything out at night and store it under the car.
If you find you're spilling out of the boxes, then use the roof space. We prefer soft roofbags like the Thule Ranger for their storeability.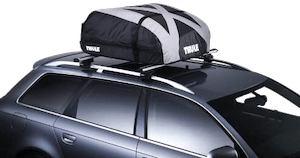 Tip 4
Adding a fridge
We bought a smallish CDF Dometic compressor fridge. This fits behind the seat. These fridges work fantastically and and there are compact sizes for two/four people.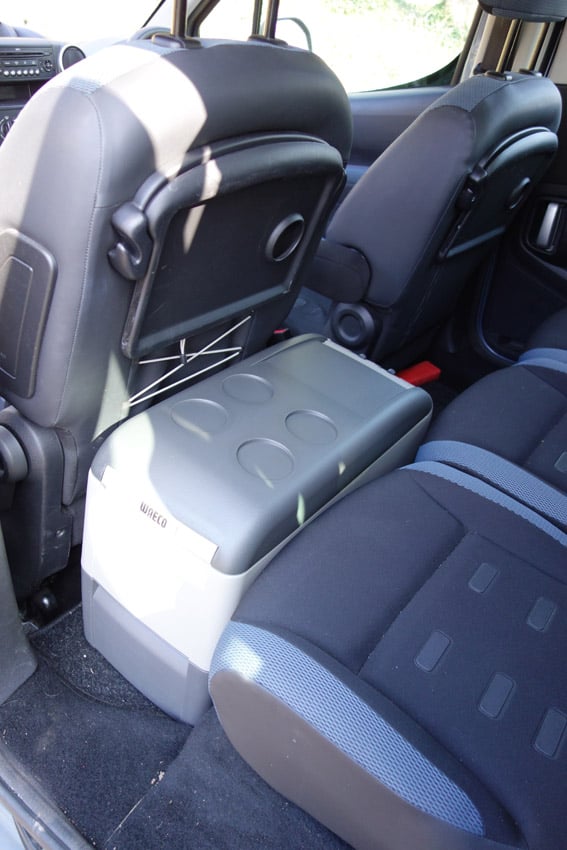 If you need a larger fridge, you can replace one of the boxes with the fridge itself. The gorgeous new Dometic CFX35 fits nicely in the back in place of one box with room for ventilation.
 You can still use a mattress at the fridgeside, providing this is the leg end. The smallest  CDF
might fit between the seats in some cars too, but they're a bit expensive for the size. 
Tip 5
Privacy and warmth
Make yourself some thermal silver window blinds for the side windows by cutting a standard windscreen blind to the right size. Sew on hooks to fix suction cups.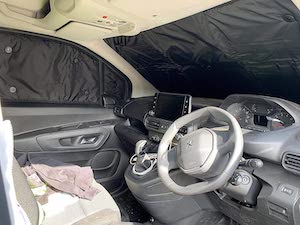 If you have an Berlingo (2008-2017), these eight tailored thermal blinds will save you a job, but cost you £100.
Tip 6
A bedframe workaround?
Another ideal upgrade – leave out two boxes and find a sturdy camping table with telescopic legs that will fit widthways at the rear, over the fridge and any gear you need to get at easily. At night, it'll be a mattress base; during the day, use it outside.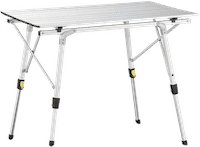 Uquip's aluminium adjustable table can go from 45-69cm and holds 30kg. Around £70.
So what should you put in those boxes?
Here are some of the essentials (and nice-to-haves) that always go into our camping boxes. For more, see our list of  favourite, tried and tested kit.
Sturdy and with a good lid, the Summit (or Kampa) pop-up bucket is one of the best we've found for lots of uses (including a night-time toilet, providing you don't sit down heavily on it, of course!). Costs less than £10 too.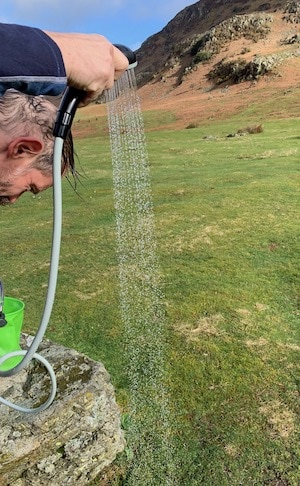 We've been using this portable electric shower on wild camps in the Lakes, on Mull and more. Great pressure and a neat kit to carry. Recharges via USB. We filled the Colapz 2-in-1 bucket from the river and topped up with a kettle of hot water.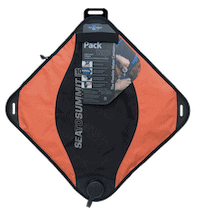 Current favourite is the Sea to Summit PackTap in the 10-litre version.
Easy to fill, holds enough for a weekend trip, taste-free water and you can hang it up too. The push tap is simple to operate one-handed.
Have a look at more of our favourite water carriers.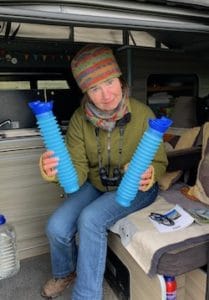 Kathy won us over with these super-handy wee tubes. They fold down small, seal well and have a fit that works for women as well as men. Oh, and they cost about £5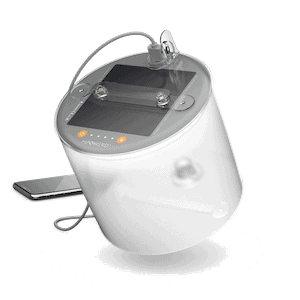 This Luci Base Lamp is really good. Three brightness settings, no weight, waterproof, charge lasts for ages and you can even charge your phone with it.
The best thing, though, is that it's both bright enough to read by or illuminate outside eating areas and can be dimmed for a soft background light.
Take a comfy pillow!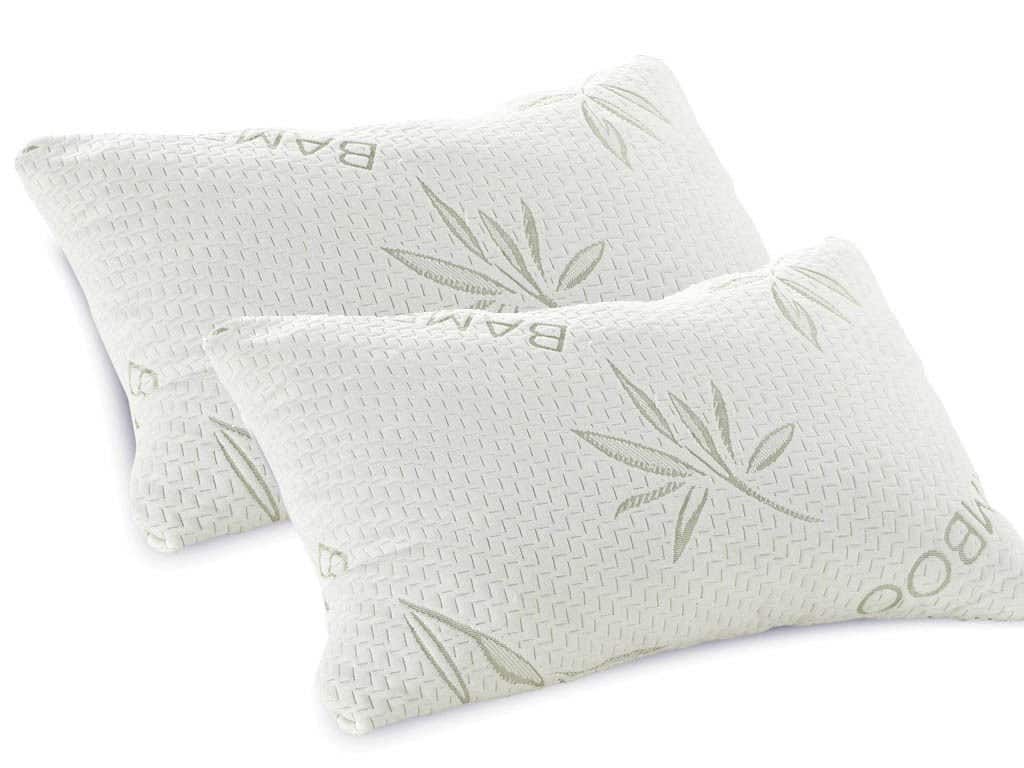 Don't expect to enjoy sleeping on a bunch of rolled up clothes or one of those awful, rustling blow-up travel pillows. The best we've found are super-comfy, breathable mini memory-foam travel pillows.
We've been recommending the Dirt Boot shoes for all that in-and-out of cars and vans.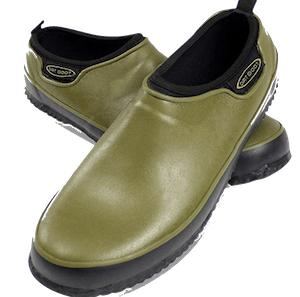 Waterproof and sturdy and around £20.
But new favourite is the Toffeln range of professional quality clogs and shoes. Brilliant!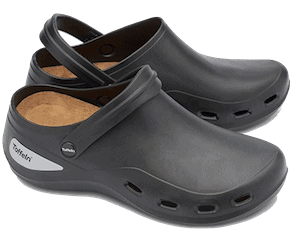 Lightweight, waterproof, proper insoles and non-slip grips. Go for the higher-back clogs with back strap or the closed shoe. Both easy to get on, but won't leave your feet half way to the toilet block. Around £40 and way better than Crocs. Oh, and men's and women's sizes plus lots of colours.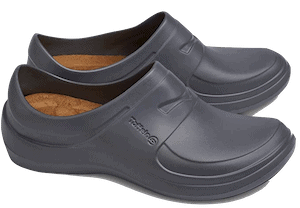 We love our neat Campingaz Bivouac stove. Small and effective. Been using it for years and years and still just as perfect.
Stows in a small bag and takes easily-findable canisters. The Cadac is our choice when we need something bigger and more versatile, but this is the one we use the most.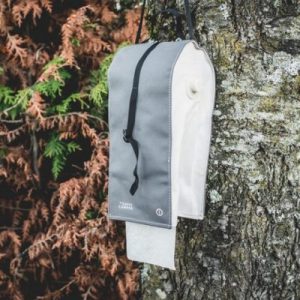 One of our funniest bits of kit…useful too. A waterproof toilet roll holder with built-in light (flashing option!).
The Happy Going. Just get one. It'll make you laugh every time you pack. £3!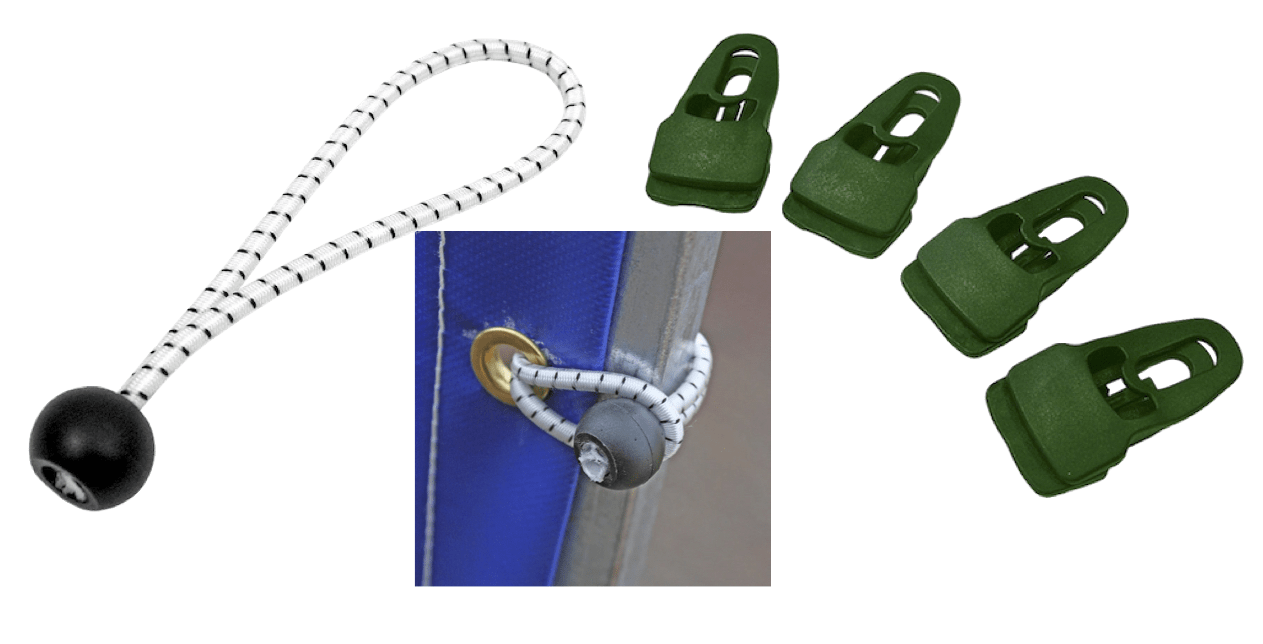 These bits and pieces will cost you under a tenner and will change your (camping) life! Use the bungee cords to secure tarps, awnings, bits of flapping tent or for 101 other uses. The green clips fasten on to canvas taps, tents and so on without damaging the fabric and give you more options for securing.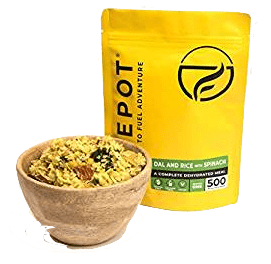 After a long day's walking or when you just can't be bothered, Firepot's dried meals are quick and delicious (and now in paper rather than plastic pouches). All natural ingredients too. Just add boiling water.
See more tasty cheats in our article on fast (but good) food.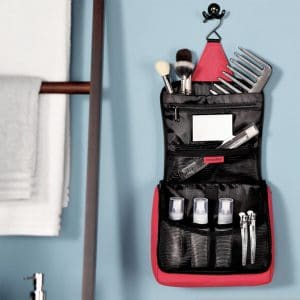 The Reisenthel hanging toilet bag makes organising your bathroom kit very satisfying (am I revealing a bit of fussiness here?!)
Anyway, I embrace my tidiness! The medium size is plenty big enough, it's easy to find things, there's a mirror and it looks lovely. Perfect for hanging in trees, in the car or in the shower block.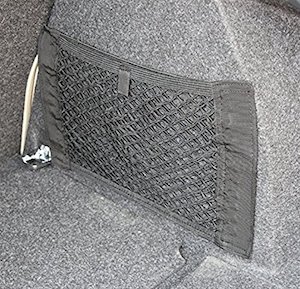 This handy storage net simply velcros onto a carpeted wall. Two in a pack for less than a tenner.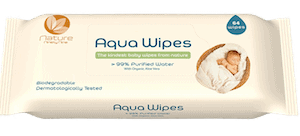 No shower? No worries. We always take a couple of packs of these totally natural Aqua Wipes. Just water and biodegradable. Remember that biodegrading takes time (sometimes a LONG time). So don't chuck these in the wild – it's still litter.
For more environmentally friendly cleaning options…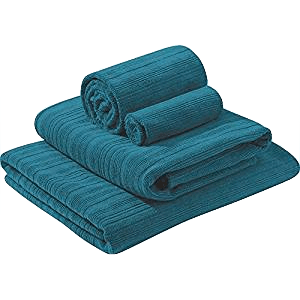 The PackTowl Luxe range – supersoft camping and hiking towels that absorb up to five times their weight in water, dry 30% faster than normal towels and stay fresher for longer. Lots of sizes.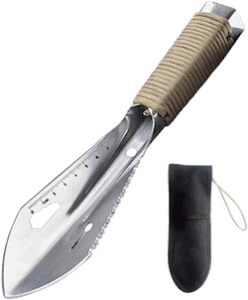 After using a serving spoon for the job on our last trip (not recommended), I knew I had to get more professional.
Use this Redcamp trowel for digging a toilet hole on wild camps, or for sawing, chopping, cutting branches, pulling out nails and more. Use it for weeding at home. £10.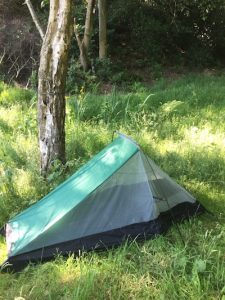 We like to stick a couple of bivvy tents in the back just in case. Our favourite sleeping arrangement for fair-weather wild camping is Aqua Quest's West Coast lightweight mesh tent. Sleep safe from bugs and able to see the stars.
It takes about 20 seconds to set up and is roomy, without that claustrophobic coffin-like feeling you get in many small tents.
Car converters and modules
Amdro – made in Wales conversions and pull-out kits to go in the boot.
Campinbox – French and homemade-looking simple box system with a range to choose from.
Ludospace – French company that makes all kinds of pull-out/add-on accessories for part-time campervans.
Slidepods – custom slide-out kitchens and utility bits.
Can you camp in the 2018-onwards Berlingo?
In 2018, Citroen brought out a new Berlingo…and we were excited. On paper at least, they seemed to have recognised that people like to camp in their Berlingos.
So, we went for a thorough inspection and test drive. We weren't aiming for a Top Gear style delve into engines and mechanics, but rather whether the new design made car camping easier or not.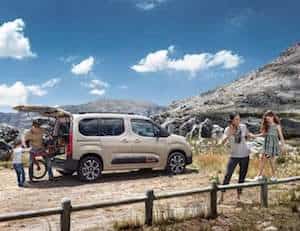 Oh no! The seats don't come out
In the new Berlingo, the seats DON'T come out. Instead they have what Citroen call 'magic flat' foldability. They claim they fold flat into the floor. There's nothing magic and there's certainly nothing flat about these. They leave a slight rise towards the back of the driver/passenger seats.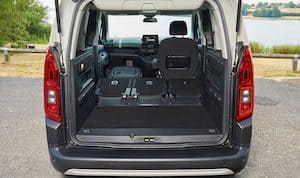 While it is slight, it definitely interferes with our box car camping arrangement. If you're going for more of a modular conversion, then you'll no doubt be able to work around it. We were disappointed.
A 220V socket. That's good, isn't it?
Perfect for car camping? Except that none of the three dealers we spoke to could explain how it was powered. On a campervan with a 220V socket, you use hook-up to give you electricity. There's no hook-up point on the Berlingo, so it has to be coming from the car battery.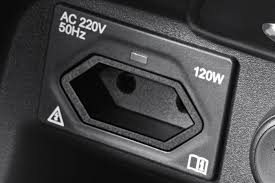 One of the dealers 'guessed'; there'd be an inverter, but the best we could get after that was "maybe you'll only be able to use the socket if the engine's running"
Will it break?
Our old Berlingo feels sturdy and tough. This one was chock-full of plastic bits and pieces that looked messy and flimsy. Pull up the driver seat adjustment ratchet, for example, and the handle wobbles so much you think it might come off in your hand.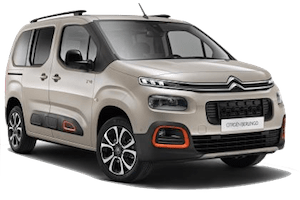 No, no to the nasty console
In the old Berlingo, there's a box between the passenger and driver seat that can be removed. You get more room and can put something more useful there if needs be.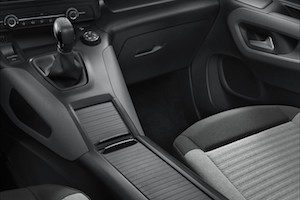 In the new model, you're stuck with a big, ugly console that doesn't come out. It immediately limits movement (no more squeezing a little 12V coolbox in there, for example).
The verdict
The newest Berlingo starts at around £19,000, but you're sure to want to add on lots of extras. We were actually ready to trade in. Now we're not.
All in all, the new Berlingo didn't give us the feeling of freedom and adaptability that we love about our old one. It's worth noting too that there's no point looking at the new Peugeot Rifter (updated Tepee) or the Vauxhall ComboLife, because these are all made in the same factory using the same design (bar a few tweaks).
The good news is that you can start snapping up old-style Berlingos for a better price. 
BUT, you're clever folk, so if you've come up with a good way to camp in the new Berlingo, do leave a comment below.