Roasting and camping? It is possible. Here's a quick, easy and infinitely adaptable way to make roasted stuffed peppers – plus a roast ratatouille with courgettes and tomatoes.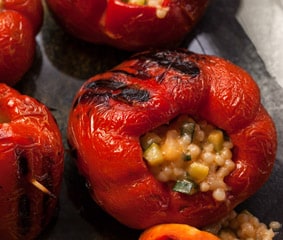 Roast stuffed peppers for a delicious camping meal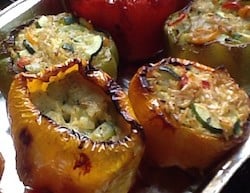 Four red or orange peppers (avoid the pointless green ones!)
Basic stuffing ingredients – leftover or ready-cooked rice (have a look at the Tilda variety here), couscous, bulgur wheat, drained tinned lentils, or even chopped up bread
A couple of chopped tomatoes
Your favourite herbs and spices – try mixed herbs, chilli, smoked paprika or curry powder.
You could also add cheese, garlic, chopped spring onions, cooked bacon, mushrooms….you name it.
Cut out around the stalk of the pepper and then pull it out in one go, which should remove the core and seeds.
Mix your stuffing ingredients, add a little oil or tomato juice if it seems dry, and season with salt and pepper.
Stuff the pepper through the hole. If you find it's just too fiddly, slice off the top completely. You can still use it as a lid.
Wrap in foil and put on the edge of the campfire or barbecue for around 20 minutes. You might have to check now and then because cooking times depend so much on how hot your fire is.
If you want a bit of barbecue charring on the outside of your peppers, you can give them a quick blast out of the foil before you stuff them. Don't let them get too floppy, though.
Delicious with a dollop of mayonnaise or yoghurt – or our favourite, yoghurt and mayonnaise mixed with a tiny bit of garlic, a squeeze of lemon juice and a sprinkling of chopped herbs (basil, coriander or parsley, perhaps).
---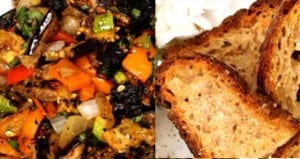 The campsite ratatouille
As an alternative to stuffed peppers, cut your peppers into chunks and wrap in foil alongside some quartered tomatoes, sliced courgette, salt and pepper, a splash of olive oil and mixed herbs.
Cook on the fire (making sure you keep the folded-over side upwards to avoid losing any juices). After around 15 minutes (depending on your fire), you should have a fabulous ratatouille-style roast vegetable mix. Perfect with crusty bread.
And a spicy version with a Thai twist
An adaptation of a peperonata that's usually done in the oven. It's heavenly.
Four red/orange peppers
One thinly sliced onion
Lemongrass stick, halved and bashed if you have it (we take Holy Lama spice drops rather than fresh. A tiny bottle with big flavour and all natural. One drop is a whole stick of lemongrass)
Two cloves of garlic, chopped
One chilli or powder
Dice-sized knob of finely chopped ginger
One brick of passata
Juice of a lime
Coriander and/or basil
Roast the peppers on the fire wrapped in foil or in a frying pan on the camping stove with a bit of oil for 10-15 minutes. They should be soft and a bit charred.
Cook the onions in a little oil and a pinch of salt in a pan.
When they're looking see-through, add the lemongrass, chilli, garlic and ginger and cook till the onion is completely soft.
Add the passata, bring to the boil, reduce the heat and cook till the mixture looks thick enough.
Stir in the roasted peppers.
Season with lime juice, salt, pepper and the herbs.
Make yourself a neat camping box of herbs and spices and you'll never have to rummage in your kitchen bag again.
We all have our own essentials and favourites, so pick and mix to suit, but here's what we always have:






Curry powder

Mixed herbs

Chilli powder

Cumin

Coriander

Chinese five spice

Garam masala

Whole spices – cardamom, star anise, cloves

Smoked paprika

Dried lime leaves

Sesame seeds

A
masala dhaba
is a great idea, providing it has airtight lids or a double outer lid.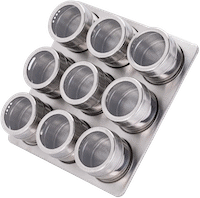 Go for a neat set of
magnetic tins
.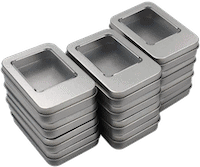 Or
simple stackable boxes
with transparent lids so you don;'t have to open every box to check what's inside.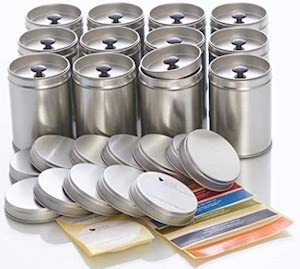 This lovely German set of spice and herb tins has good lids and all the labels you need to keep things organised.
If you've got a weigh-and-save or zero-waste shop near you, you can refill containers like these more cheaply and with less wasted packaging too.
Fancy a tasty cheat…we have some great camping readymeal options for you! And a couple of books to give you more ideas too.