Caravanning or campervan camping in winter may not seem ideal. It's cold and slippery, with snow and ice blanketing the countryside.
But what about those scenic views of frosted valleys and hills, and the cheap, empty campsites? Could it be the most glorious and peaceful Christmas yet?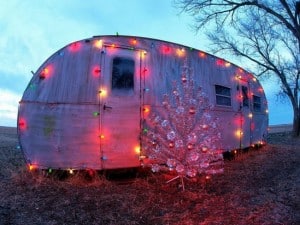 Picture the family waking up on Christmas morning…
…stockings are filled, mince pies left by the window have mysteriously disappeared, and all around Jack Frost has cocooned the van and the surrounding field in a magnificent white blanket.
What could be more magical than opening presents in the middle of the great outdoors, with the morning sun glistening all around, through trees and over rolling hills.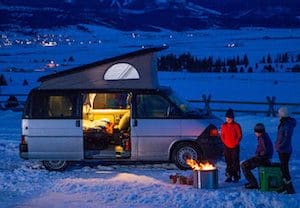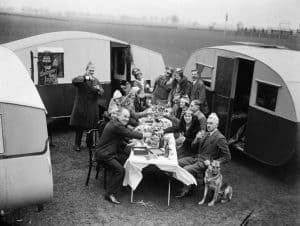 Getting over the cold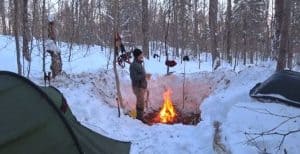 The cold is likely to be the main deterrent for most travellers, so here's some advice for keeping everyone cosy and comfortable in your Christmas caravan:
Bring along lots of extra warm layers and duvets, hand-warmers, hot water bottles, thick socks and blankets.

Don't stint with the heating (here's how to heat a campervan or caravan). Not only will it help you stay nice and toasty, it'll help prevent your pipes from freezing. (And leave the heating on frost mode at home too!)

Insulate external water carriers with bubble wrap or old blankets. This is to ensure you aren't chipping away at ice blocks to make a morning brew!

Snuggle up like penguins.
If it's going to be an especially chilly winter, you'll need to change your gas supply from butane to propane cylinders. Propane operates at a higher pressure and can still be used when temperatures get as low -40 degrees centigrade. You'll also need to change the regulator, as it won't be interchangeable between the two cylinders.
You'll find some more cosy tips in our winter camping article.
Choosing the right campsite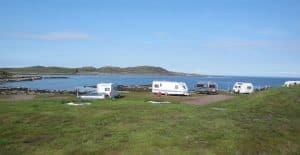 Aim for a campsite that's not too exposed, perhaps protected by a tree windbreak.
You also don't want to pitch in a low-lying valley bottom in case of floods.
You can find out which campsites are actually open over Christmas in our special feature on autumn and winter camping.
Making the dinner
You can do away with the open fire, but Christmas just wouldn't be Christmas without the feast. Then again, camping lets you have both…campfire cooking or cooking on a fire pit is an adventurous option.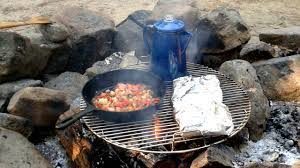 If you're using a gas or electric hob inside, though, you'll have limited space to work. So, it may be worth cooking the centrepiece before you leave, meaning you have more oven space for the roasties and trimmings.
Alternatively, you could book a table at a local country pub, Be sure to book now, though, as there are likely to be many others with the same idea!
Towing in the snow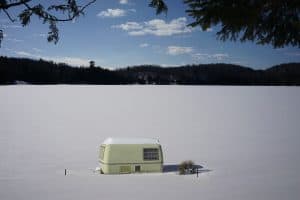 Caravan trips in winter should not be taken lightly, as it's much easier to lose control of the car when towing a caravan on ice. Here are some ways to minimise the danger
Ensure tyre pressure is set to the manufacturer's instructions.

Arrange luggage evenly throughout the caravan, with the biggest Christmas presents locked down low and close to the middle of the trailer.

To avoid the caravan's braking system interfering with the car's ABS, you should adjust the brakes on the caravan so they don't react so powerfully (this should only be done on especially ice roads).
And, of course, drive more slowly, using a low gear and at a consistent speed to stay safe on the roads. Pump – don't slam – the brakes!
Meet some Christmas caravanners…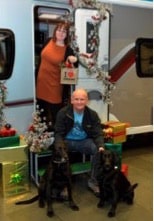 Debra and Chris took their two kids Max and Jamie caravanning in Northumberland for Christmas, and said it truly was a magical time.
"We wanted a change from the usual hectic Christmas in London and so took our caravan on a tour way up north for some actual peace and quiet," reports Debra. "The kids were reluctant at first ("but mum, how's Father Christmas going to find us?"). We managed to convince them, though, when we said they'd be allowed to play football and go sledding all day without having to ask us for permission. It was a lot colder than London, but it meant we actually got a white Christmas!"
Michelle and Andrew are another couple who regularly take the dogs Christmas caravanning to a site near Betws-y-Coed in Snowdonia. They're keen outdoors people, whatever the time of year.
"Our touring caravan is like home from home for us," she said. "We have central heating, double glazed windows, a shower, a toilet and a fixed bed. We love the freedom of being able to step outside into the countryside. What more could you want?"
…and some New Year campervanners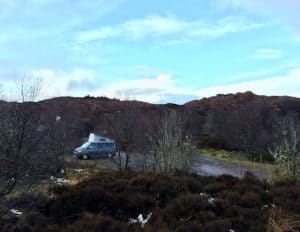 Theo and Angie campervan every Christmas and new year. They spend a couple of nights wild camping somewhere as remote as the snow will allow (usually in Scotland) and then pop to a campsite for a proper shower for a night or two.
"We have a heater in the van, which makes us self-sufficient, but we used to camp before we had that fitted," says Angie. "We took lots of blankets, big socks, filled flasks with hot water for fast washing and took old-fashioned 'china pig' hot water bottles.
"We make our Christmas dinner ahead of time and use a big saute pan to warm, everything up."
Theo and Angie make sure some of their nights are within walking distance of a nice pub or cafe. And they have a secret to share…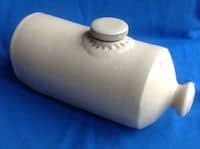 "We love the camping, but we always end our week or so with a night in a favourite hotel – after the new year price hike has ended. That way, we go home really relaxed."
If you're planning to spend Christmas in your caravan or campervan, let us know…we'd love to share your stories and pictures.