Why stop camping just because it's out-of-season? Lots of campsites stay open all year, and you'll get to visit beautiful places without the summer crowds.
Most of the Campfire team will be spending Christmas camping this year – some in their campervans and the brave ones in a lovely new bell-tent.

Where will be open for camping this winter?
So, we asked around for recommendations for sites all over the UK that would be open in the winter, and we got hundreds of fantastic suggestions.
We've compiled a guide to some of the best, along with some tips for making yourself cosy and comfortable. And, if you've got a favourite winter camping spot, do add a comment at the end.
Now, here's an idea. Many of these sites have camping pods orB&B rooms too. Book your camping spot and take along a non-camping friend or family member who thinks you're a bit crazy. Just resist the temptation to pile into their room when a gale tears your awning down!
Keeping warm for winter camping
You don't want to be just warm enough when you camp in the winter, you want to be relaxed and toasty. So, don't stint on packing warm clothes – extra socks, gloves, layers, hats and scarves.
Have a look at our guide to all the heating options for campervans and caravans – portable electric, propane, parking heaters and even woodburning stoves.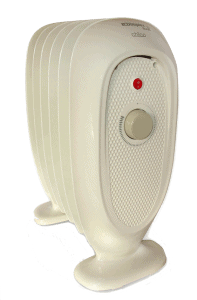 If you don't have heating in your camping set-up, then you'll need a plug-in electric heater (providing you have electric hook-up, of course).
The best options are an efficient fan heater for instant warmth or a small radiator that you can leave on (safely) for constant background heat. We don't like the gas-powered heaters because they can be very dangerous in small spaces.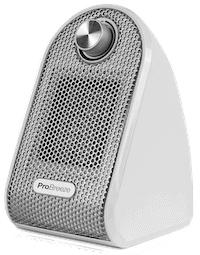 Top pick is either the mini oil-free radiator – the Eco Chico baby Dimplex –. It has a 700W output and costs around £60; or the £20 ProBreeze ceramic fanheater. The Dimplex warms up much faster than an oil-filled radiator and is far lighter and more portable, plus you can safely leave it on when you're out for a walk.
No electricity?
If you don't have hook-up it's time to get clever with hot water bottles. Every time you boil a kettle, put leftover water into a good thermos flask and use this to help fill your hot water bottles. It saves gas and time.
Sitting around in your sleeping bag will keep you warm, but it's not easy to move around. We prefer to take a couple of insulated blankets (like the Bestie or the Snugpak), or better still (and far more in the spirit of a cosy winter) a fake fur blanket. Very luxurious!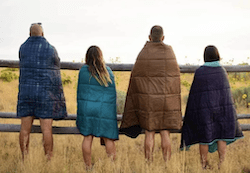 A warm but lightweight jacket for inside is a good idea too. We try to avoid down-filled because of the cruelty involved, so have a look at our article on alternative padded jackets that use lightweight synthetic insulation.
Convertible fingerless gloves are the final essential in our keep-warm kit.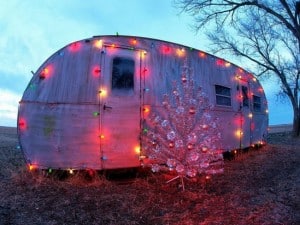 Feeling Christmassy
Go mad with fairy lights, take outside decorations that'll stand up to the weather and find a nearby tree you can festivise.
We like Luminoodles (around £20) for decorative light you can read by and USB recharging. They come with lots of ways to hang them (built-in magnets and ties), plus they fold up into a bag to make a table lamp too.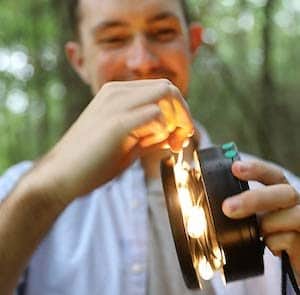 A new one this year is the Luci String – a neat set of fairylights. 10 pairs of LEDs on an 18′ string that all packs away into a tiny cylinder. Up to 20 hours on a full charge (again, solar or USB). Around £40.
Battery-powered fairy lights are a bit more magical. Remember to charge the batteries fully before you set off and get ones with a timer so that you can save power.
If your site allows it, build a campfire, wrap up warmly and enjoy the frosty air. Or take along a portable outdoor wood-burning stove like the Outbacker/DWD or Solo Stove Bonfire.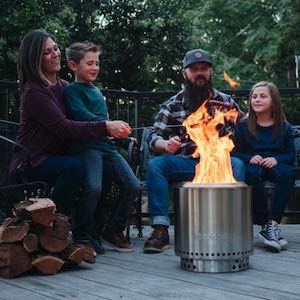 Winter campsites – tried, loved, recommended
You won't need reminding, but things are rather unusual this year (2020/21), so please double-check with campsites before setting off. 
Campsites in the south of England
Westdown Farm in Devon is a wild camping and caravanning site set in beautiful countryside. It's open all year, but the lack of hook-up might be a problem for anyone needing to run electric heating, You'll have to layer up and take hot water bottles maybe.
Cofton Holidays is a big holiday park at Dawlish in Devon, close to the sea. All the facilities are open all year, says Christine Vincent-Lott. There's a gym, pool, events and activities, so a good one for families.
Quantock Orchard Caravan Park near Taunton in Somerset was recommended by Sarah-Jayne Pendery. It's a bigger site with some statics, but offers bike hire, a gym and an outdoor swimming pool (in season). Open all year.
Another large Somerset site with lots of facilities, Home Farm Holiday Centre is between the sea and the Quantocks. Claire Bowyer suggested this one. Indoor heated pool that you can book for half-an-hour (free) every day. Showers are to pay for, though.
You'll definitely need to book ahead for the adult-only Bath Chew Valley site. You get private bathrooms, a lake 800 yards away, a pub nearby and five-star facilities.
Birchwood Tourist Park in Wareham Forest, Dorset is close to the Jurassic Coast. "It's so peaceful in winter. Just surrounded by buzzards, rabbits and the natural sounds of the forest," says Maria Munn. On-site shop, plenty of space and free showers. A really nice-looking site.
Mendip Camp at Longbottom in Somerset is one of Pennie Bray's three favourites. It's very basic with no showers (though there is hook-up). Great views, fantastic walks and campfires allowed in the top field. If yuo need a shower, pop over to the leisure centre in Cheddar.
Two more of Pennie's – Cheesewring Farm on the edge of Bodmin Moor for lovely walks. Toilets, showers and the wonderful bonus of a camp kitchen with a microwave, washing-up sink, washing machine and small freezer for ice blocks. And Dropped Anchor near Helston in Cornwall is a stunning 10-pitch campsite with a sea view. Showers, toilets, but no electricity as it's off-grid.
The Middle Bit
Cotswold Farm Park is a fantastic site. Sadly, it's only open until December 16, so you can't spend Christmas here. In its favour are great facilities and lots to do in the area. It's a big, organised site, so won't suit the wild-at-heart campers.
Andy Kent tells us he stayed at a lovely place called Foxholes near Bishops Castle in Shropshire. In fact, the only time in five months he'd paid to camp in his van. A nice lounge hut, green credentials, great views, super quiet and the Shropshire Way passes close by. No electricity.
Merryweather Farm near Chipping Norton is a caravan, motorhome and camping park recommended by a couple of readers. It might be a bit too stark for some, but has decent facilities, interesting things to do nearby and big skies.
Blue Skies campsite near Wells next the Sea is handy for walks, the coast and Wells itself. Small and friendly too. Note that there's no electricity. Michelle Allen warns against the beach campsite at Wells, which visitors say looks smart but is very exposed.
Lower Lode Lodge in Tewkesbury is one reader's favourite campsite at any time of year. It's a riverside site linked to a 15th century pub with what she describes as "the best pub food I've found in England". A choice of grass pitches with or without electricity.
Oaklands Leisure in Shropshire has fishing, firepits and a friendly atmosphere. They're open all year but you'll need to book because it's a nice, small site with few pitches.
Tudor Caravan Park at Slimbridge in Gloucestershire is a favourite for many. It's close to the world-famous Wildfowl and Wetlands Trust Centre and the Gloucester-Sharpness canal. All the facilities you could ask for, plus a pub, restaurant and shop.
If you're into fishing or birdwatching, then JoJo Ashall's recommendation of Hallcroft near Retford is the one for you. Year-round facilities, six lakes, nearby pubs and free wifi.
Lydia and Keith O'Gorman like Beech Croft Farm near Buxton in the Peak District for winter camping. There's a luxury heated shower block and washing up block plus spacious and well-kept pitches, they say. No tents in the winter, by the way.
Campsites in the north of England
York South caravan and camping site is a new one. It opened in 2017 but is getting good reviews, says Leah Grayson. It also gets a thumbs-up from Evzman Wingfield. Nice facilities, 20 minutes into York and three handy pubs, plus shop.
The Quiet Site at Ullswater has featured in our favourites for the Lake District before. It's in a great location, a bit car parky in appearance, but has the huge benefit of its own rather fabulous bar and meeting room with enormous open fire. Have a look at our review.
Andrew Weston likes the White Swan at Danby Wiske in North Yorkshire, where campers can set up in the rear beer garden. It has a shower and is aimed at the Coast to Coast hikers.
The Church House Inn at Coniston might not have electricity, but it does have breakfast and a bistro that also does takeaway. No wonder some readers love it.
Lots of recommendations for the National Trust campsites at Great Langdale and Wasdale. Big motorhomes and caravans will struggle with the narrow roads and bends. For the tenters and campervanners, though, the warmth of the Old Dungeon Ghyll pub awaits at Langdale.
Pitch and Canvas at Tattenhall near Chester is mostly glamping, but you can also pitch your own tent there and enjoy the warmth of a firepit. We've only heard from the owner so far, so let us know if you've stayed there.
Irthing Vale near Carlisle is a small and quiet site with the big advantage of being a short walk into Brampton. It's not expressly advertised as being open all year, but a recent guest there suggested a phone call might just get you a spot! So…07561 817461
Campsites in Wales
The Ancient Briton, Penycae in South Wales is popular with hikers, bikers and cavers. A traditional inn in the Brecon Beacons national park, it's just a few miles from the Famous Dan-yr-Ogof show caves. There's a heated shower block, electricity and a log fire in the pub, says Christine Stock.
Only opened in 2017, Bargoed Farm in Cardigan Bay is open all year and has an on-site café and farmshop. Karen, who suggested it, says it's a very friendly, family-run site. It's close to the sea and some beautiful walks. Lots of pitches, all hardstanding, and even a dog wash area for mucky pups.
There's got to be more in Wales, so do let us know if you've stayed somewhere worth sharing.
Campsites in Scotland
A great tip from one reader – a map of 400 Scottish campsites that shows open-all-year ones in a different colour so they're easy to spot.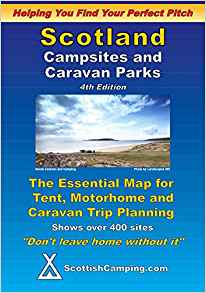 Red Squirrel Campsite at Glencoe in the Highlands is fabulous. Lots of facilities, including free wifi, a £1 a go battery charging point and 25 acres of countryside to camp in. No motorhomes on Bank Holidays. Small campfires allowed.
Donald Boyd suggests the Camping and Caravanning Club site at Moffat in Dumfries and Galloway. Although there are 180 pitches (for non-members as well as members), the scenery is lovely. It can get a bit packed in and there are no trees to screen individual pitches, but facilities are great and it's close to town.
Ann Irvine loves Porta Bhaigh campsite 20 miles north of Ullapool on the Coigach peninsula. It does look stunning. Right on the coast, excellent facilities and a winter offer of a discount on food in the bar opposite. Boat trips too.
Lots of people recommended Invercoe Holiday Park at Glencoe near Aviemore, it seems. It has good facilities, including a small shop and a drying room, lakes, mountains and more. You'll need to book if you're planning on a Christmas or New Year break here, by the way.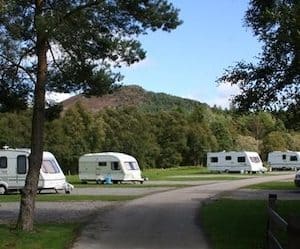 Barbra Wilkie suggests Invercauld campsite in Braemar: "It caters for skiers and hill walkers and is open all year, has drying room, laundry, boot room, storage for skis etc, good facilities, and is on the edge of Braemar, so close enough to walk to shops/bars/restaurants. It still feels like it's in the middle of nowhere and is close to the ski resort and lots of walking/cycling routes."
Some campervan and motorhome owners have also suggested wild camping in Scotland. We're definitely game for that. One recommendation is the ski centre car park in the Cairngorms, where you'll even get wifi – how wild is that! And Jules Robinson suggests the Falkirk Wheel because you can use the boat facilities.