We get some lovely messages from readers. And the note we got from Dave Zollo was truly heartwarming.
Having read our article on how to camp in a car, Dave set off from Totnes on a 5,000-mile adventure, using his day-to-day car as a mini campervan. Here, he shares his story and all the workarounds he's learned along the way.
We'll let him tell the story in his own words…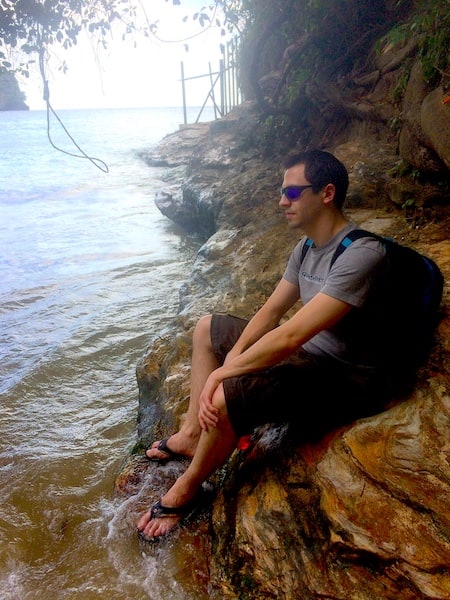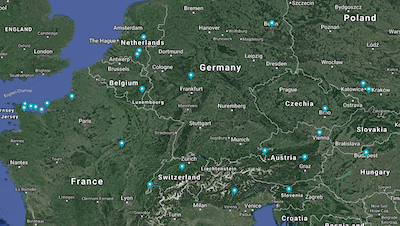 Why camp in a car?
I'm a 31-year-old quality engineer whose first 'proper' travelling was around Nepal, Thailand and Cambodia last year with my ex. I was pondering about what to try next when I was made redundant.
It was a chance to really take some time out. I'd always wanted to go to Normandy for one of the D-Day commemorations and the 75th anniversary was the perfect opportunity.
Whilst camping last year with friends, I had the idea of just chucking a blow-up bed in the back of my BMW estate. It worked reasonably well for one night, but the height of the bed left only just enough room to move about.
So back to May, I started to wonder about a more versatile version of a 'stealth camper'. Searching the web for ideas, I came across Campfire Mag's car camping article and I realised that what I wanted to do was actually a thing, not just a far-fetched idea.
How Dave turned his car into a camper
Sleeping in comfort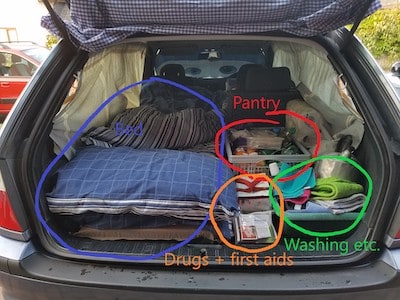 For the bed/mat, I went with the Vango Comfort 10 single, which slotted nicely widthwise in the gap of the 60/40 folding rear seat. Lengthwise, I had to move the front passenger seat slightly forward, but there was plenty of space for me (5' 8") with my head at the boot end.
The rear seats fold pretty flat, but it was preferable to have the car facing slightly downhill to keep head and legs level.
The Cyclone flip valve on the Vango mat proved really useful as it was quick to inflate and deflate so that I could change from car to camper every night. I used a standard double duvet and normal pillows.
Privacy and darkness
For privacy, I had a reflective blind for the front windscreen, doubled up mesh blinds for the front side windows and standard curtains with plastic 'C' hoops at the back, slotted into bits of trim along the ceiling of the car (top of pillar covers, passenger handles etc.)
For the back window, I tied a bit of material around the struts of the split hatch. There was an extra blanket to hang just behind the front seats if I felt I needed more privacy, but it was rarely used.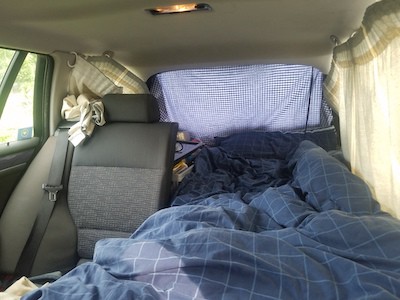 Packing for practicality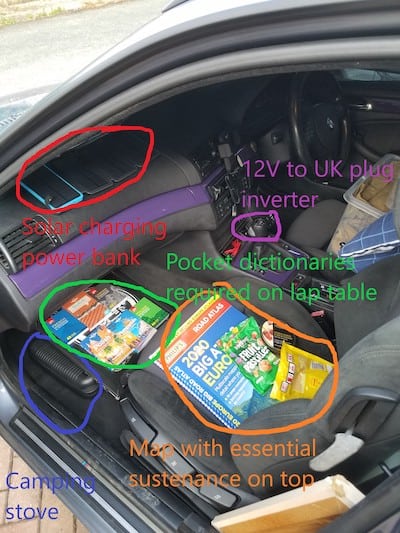 In the boot, I had a small crate of food replenished on route, a basic camping stove, kettle, saucepan, cutlery and bowls, a washing-up bowl, first aid kit and various medicines for all sorts of possible ailments.
I bought a Ledgle USB LED light to save the car battery at night, plugged into an Addtop solar powerbank.
I also bought a Bestek car 12V to UK plug, which I only used to charge the torch a couple times whilst driving.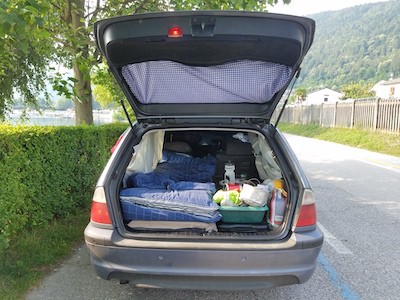 I included an unbreakable mirror in the car for use when putting in and removing my contact lenses. As I had positioned most stuff on the left of the back seats, I could still sit in the right rear seat to do this and dress, eat etc. My 'wardrobe' was a Karrimor backpack.
Water for drinking and washing
I guess the most useful thing was my 20-litre water container with a tap. The first fill lasted about 15 days, but I was eating out quite a bit when in Normandy.
I refilled it at a spring in the mountain above Brno in the Czech Republic. It tasted a bit funny, so a couple days later I replaced it with spring water from the Austrian mountains.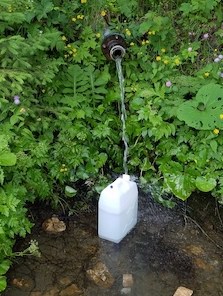 A couple of times, I placed it on the roof of the car and opened the tap to use as an impromptu shower, though not quite as nice as the 'natural shower' during a thunderstorm by the Danube in Budapest whilst it was still 25+ degrees.
Keeping cool in the car camper
I'd really overlooked the problem with temperature. I'd taken plenty to keep me warm, but hadn't thought about it being too hot. During most of the second half of the trip, it reached the 30s during the day.
Closing up the car to avoid insects getting in meant I had a few very stuffy nights with broken sleep. A sunroof with mesh might have helped, but keeping the windows open a little wasn't enough.
I had thought about breaking down, though. I took a decent selection of tools under the carpet in the boot.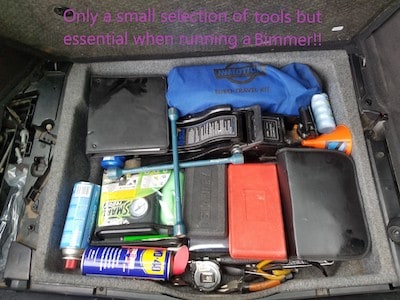 Twelve countries, 27 days, a lifetime of memories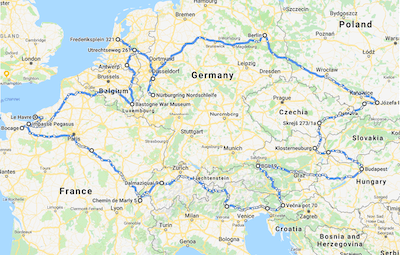 The trip started with a ferry from Portsmouth to Ouistreham/Caen and I used the park4night app to find my first camp. This app was fantastic as it was so easy to find places to stay. I made sure I left comments to help others after each location.
Getting up the first morning, I was offered freshly made coffee by a friendly Danish chap in the next camper. It was my first time camping alone, so it was a nice welcome.
I then headed off to see the sights of the Normandy beachhead from Operation Overlord – the start of the liberation of Europe. A huge multinational force was involved, we fought together to overcome tyranny and oppression in one of the strongest-ever examples that we are better when we work cooperatively.
Normandy and into Belgium
I spent the next few days touring the sights, museums and events.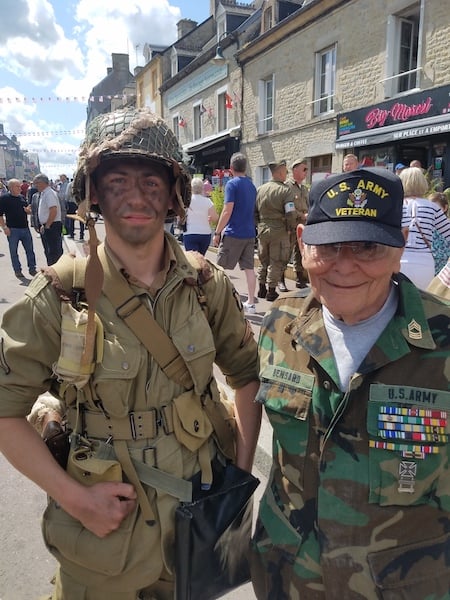 There was a great atmosphere and people from all walks of life, and from many nations, came together to commemorate those who sacrificed so much and to celebrate the peace we enjoy now, largely thanks to those actions 75 years ago. I made some good friends here, and witnessed some emotional reunions of veterans.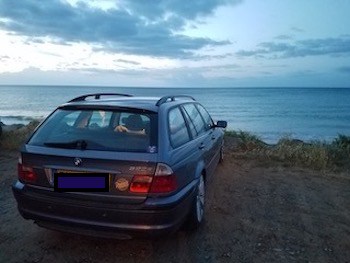 For the five nights in Normandy, I pretty much camped wherever I wanted and saw that there were other campers, so mostly right on the beaches. I then took a toll-free, more scenic route east to Belgium and camped in a nice quiet layby in some woods.
Arriving in Bastogne (site of the famous Battle of the Bulge), I made camp in the woods next to the remains of foxholes the encircled American paratroopers had lived in over the winter of 1944. Again, I really benefited from having a small, inconspicuous camper.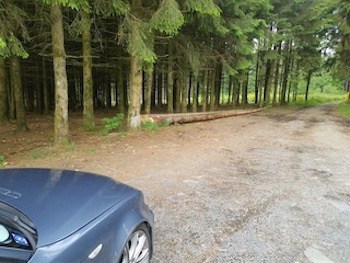 The Netherlands and a night in a hotel!
On the journey to Eindhoven, I had the only real health issue of the trip – a severe pain/cramp in my right hip and lower leg.
I took some painkillers, booked into a hotel and fell asleep within 10 minutes of getting into my room!
Plenty rested by the morning, I started the route of the British tanks during Operation Market Garden (Sept '44) – Valkenswaard, Eindhoven, Best/Son, Sint-Oedenrode, Veghel, Uden, Grave and Nijmegen. With no-one shooting at me, I made it to Arnhem, unlike the British tanks.
Now on Day 10, I spent my time in my first big city – Amsterdam. Parking is easy if your camper is just a car. Unfortunately, I hadn't booked in advance for the Anne Frank museum, but there was still plenty to see in this crazy place with a great atmosphere and some great architecture.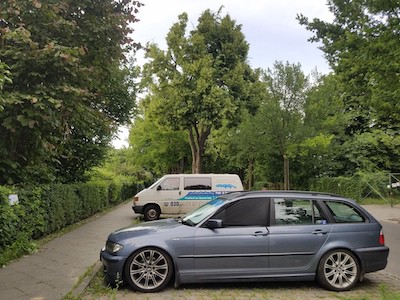 Into Germany – and the low emissions zone
Through another seamless, no-fuss border, I popped into Cologne for a quick visit, narrowly avoiding a Low Emissions Zone fine.
My next detour was down to Nurburgring – the world's longest racetrack, which is open to any car on special tourist days. I did two laps, took my time and had great fun. Another Brit wasn't so lucky – he wrecked his car after rolling several times, but escaped with concussion and a few cuts and bruises.
On to Berlin, at up to 135 mph briefly on the unrestricted autobahn, and a very nice spot to camp in an area of allotments and communes with free parking. I set up next to a caravan with a friendly and helpful couple who gave me some pointers in the area and invited me to a party the next day.
It was a shortish walk to the S-Bahn station and 20 minutes on the train to the centre. Berlin, though, was my first encounter with high temperatures. It was very stuffy in the car.
ED: see our article on camping in Germany for more on the LEZ
Poland and backbreaking bumps
Into Poland and onto the 30km of shocking road (literally). Bouncing up and down on sections of badly patched concrete, my back was hurting and bits of the bumper trim were shaken loose.
I secured it with cable ties and was incredibly relieved when I found a decent road. I'd actually been contemplating turning back.
Day 15, I headed to Krakow to meet my uncle. He lives in Sweden and I don't see him often, so it was pleasant coincidence that he was doing a conference here. We had a good catch-up then I had a decent look around the old city – what a lovely place!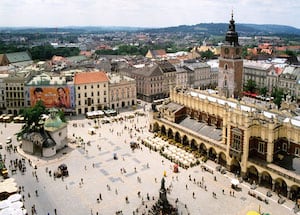 Day 16, I headed straight to Auschwitz. On Facebook, I posted the following reaction:
"I am baffled by it. I cannot fully comprehend. I'm quite good with numbers but these numbers are people, precious lives, human beings. 1,950kg of women's hair, thousands of pairs of children's shoes, the 'trophy' two-year-old's clothes. That was merely part of what was recovered from the 1,100,000 people murdered here. The mindset of someone being OK with this, the statement 'a Jewish child does not deserve to live'. It is insanity in its most vicious form."
The mountains of the Czech Republic and Austria
At Brno, I set up camp in the mountains overlooking the city. Here I found a nice place in the woods.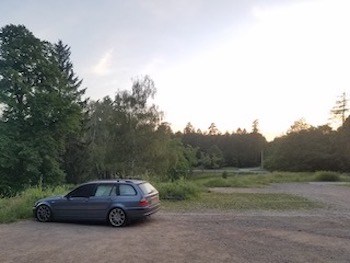 My routine had settled into sightseeing during the morning and driving in the afternoon. I found the old architecture seemed to attract me the most in these cities.
Getting close to Vienna, I nearly fell foul (again) of the Low Emissions Zone, but I managed to skirt the city to find a convenient camp at a train station about 40 minutes up the line from the centre. I arrived and set up the camper just in time for a thunderstorm. It was a welcome break from the really hot days!
I jumped on the train in the morning for a lengthy walk around. Vienna is an incredible city with some awesome architecture. It was a national holiday – Corpus Christi – so there were several Masses in the streets outside the churches too.
I then diverted south-east, following the Danube, passing through Slovakia, into Hungary and the mountain above Budapest in a much bigger thunderstorm, with rivers pouring down the road. Budapest is another incredible city with a rich history, again some fantastic architecture especially the Matthias Church and Fisherman's Bastion.
Late that afternoon, I drove back to Austria and stopped for the night up a mountain 20 miles north of Graz. It was pitch black when I arrived, so I was a little unsure about camping miles from the nearest town at the end of a track after driving through eerie fog. I decided to stick it out and in the morning was pleased to see the stunning mountain vista.
The Eagle's Nest
Day 20. After the beautiful Austrian mountains, I moved on toward the German peaks. The going was a bit slower, but the views were stunning.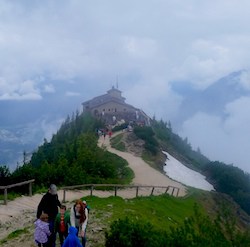 Fog (cloud, really) masked the view the next day, which wasn't ideal for my hike up Mount Kehlstein to The Eagle's Nest, Hitler's summer retreat.
Next, I headed to Slovenia and a journey along stunning mountain ranges, valleys, rivers and lakes. I got to Ljubljana in the evening and found quite a random spot with park4night by a zoo. I cooked my dinner to the bellowing of sealions and other animals. I walked into the town along the cycle path in the morning and discovered a really quaint city.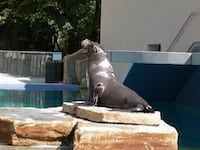 Dave's adventure in numbers
4,787 miles
£1,250 budget, including ferries, fuel and camping gear
12 countries visited, 10 of them for the first time
5 different currencies
9 languages spoken or attempted!
14 cities, 41 military sites, 15 museums, 6 cemeteries, 6 lakes
2 laps of the Nurburgring racetrack
7 tanks of fuel
2,147 photos and 88 videos
Italian and Swiss lakes
I had a few brief stops just over the border in Italy to see some of the areas that had been involved in WW1. My great-grandfather had been in the area (I'm half Italian), but I'm unsure where exactly.
There had been 11 (yes, 11) battles over the Isonzo river. The Castillo at Gorizia had been the aim of the early ones so that was the first stop. I found the monument dedicated to those who fought in the region and wondered if my great-grandfather would have known some of the lads named on it.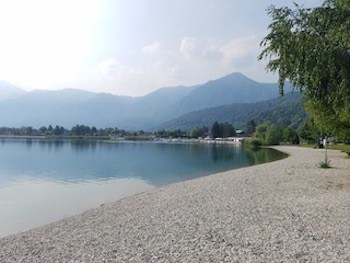 A friend had suggested a route via Switzerland, so that evening I set up camp on the shore of beautiful lake Caldonazzo. Anice swim before dinner was very welcome.
The following day took me through lovely little mountain villages, including Glorenza (also known as Glurns). Going deeper into the mountains, over the Swiss border and the Flüela pass was breathtaking. Then it
was on to a few hours of wandering through the interesting streets of Bern, before moving on through more awesome scenery to Lac Léman.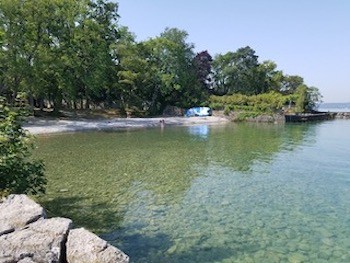 I found a great spot just round from Geneva right by the lake in a car park for a little communal ground and a beach. I had a nice long swim in the lake and a chat with a Brit heading to an Ironman competition, suffice to say he was a bit quicker than me swimming out to a buoy a hundred metres or so from the beach.
Day 25 started with another swim before all the locals and tourists turned up, then into Geneva. Again, the stealth camper could park in an underground car park near the city centre.
The route back home
I now aimed to get to Dijon before making camp by the Seine. As I was quite far ahead of schedule, I took my final detour toward Villers-Bocage – scene of a quite famous tank battle during the Normandy campaign of WW2.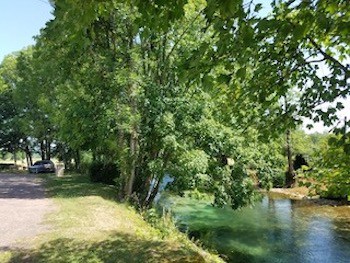 I had to pay one toll here to get to Le Havre, to take the bridge over the Seine and avoid the 60km extra it would have been for the free bridge. I then found a large and mostly empty car park right on the seafront in view of the ferry port.
Camping was forbidden here and there was a height barrier to prevent campers but my camper is quite inconspicuous and I was getting up early for the ferry. My decision paid off and I was in the queue at 07.45, well in advance for the 09.15 sailing on day 27 of the trip.
Would you do it again, Dave?
It was a very successful trip. The camper worked great and I had no real hiccups.
My average mpg was 54.5, not bad for a 17-year-old, fairly cheap car. Nothing broke or fell off, but could hear some of the joints in the front suspension mounts getting a bit tired.
Lessons learned?
My number one lesson from the trip? I guess I found out how easy it is to travel alone and how open and friendly people are in mainland Europe. I very quickly got used to the lifestyle and really enjoyed it.
Language wasn't too much of an issue as I'm reasonable in French and German, a little Italian too. With other language, Google Translate with the real-time camera section really helps. You open the camera, point it at text of a sign etc. and it translates reasonably well on your screen.
For next time…
The only thing I would change is something better to keep cool in the car on hot nights. Perhaps just a thinner duvet might have helped. Oh, and I should have documented the different ice creams I had in each place!
I guess also a bit better planning around the Low Emissions Zones would have been useful, as that did cause a bit of confusion on two occasions.
Will I be doing more trips? I certainly will – shorter ones, maybe, while I sort out a new job for myself.
If you have any questions for Dave, he's more than happy to answer. Just leave a comment below.