This year, we need to extend our camping and outdoor season. Being outside is clearly going to be the best way to still have a life during the winter months.
But…how do we stay warm, dry and comfortable with chilly days and evenings ahead?
Read on for our round-up of ways to make the great outdoors enjoyable whatever the weather – in the garden or on a campsite.
Latest update: October 2020
It's raining, it's cold…it's time to be realistic
To be honest, I've had my fill of the hyped-up, cheery articles in the national newspapers. Embrace the al fresco winter or be a wimp?  Nope. There are some days in the autumn and winter when it's just NOT going to be pleasant outside, whatever you do and however much you prepare. 
That doesn't make you nesh, it makes you realistic. So, don't force it. If it's horrid, make the most of indoors. 
On the other hand, a bit of preparation, an eye on the weather forecast and you can really enjoy those cold-but-sunny days or the drizzly-but-warmer days.
Firepits and outdoor woodburners
An efficient outside fire that keeps you warm is a real incentive to stay outdoors. It doesn't just look attractive, collecting wood and keeping it stoked-up gives you something to do.
Also look at the section on blankets. Fires will warm your front, but backs often get chilly, so wrap up!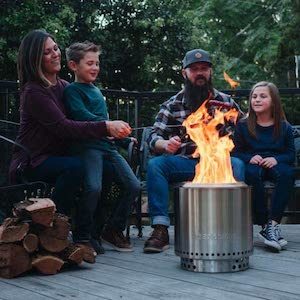 Solo Stoves are beautiful things. The smaller ones are hugely popular with backpackers and wild campers who want to cook without carrying gas.
The larger ones are (almost) smoke-free firepits and even come with a lifetime guarantee. We've just bought the Ranger because the size is perfect for home and for taking in the van for picnics and camping. Not cheap but gorgeous.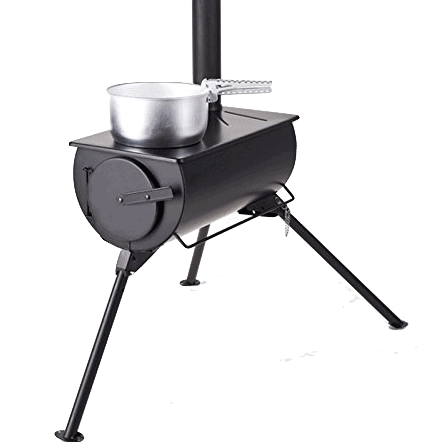 A fabulous DWD wood-burning stove. It all packs down into a small bag, you can cook on it and keep warm. 
The water heater option is brilliant and there are kits so you can use it inside a bell tent or yurt-thingy.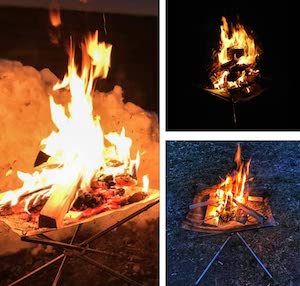 Here's an idea for avoiding ground scorch under your campfire. This portable mesh campfire keeps the burning logs off the floor and makes it easier to clear up the ash afterwards.
Folds to next-to-nothing and stores away in a neat bag. Around £20. Lots of brands make the same thing, by the way. We chose the cheapest and fastest delivery option (at the time of writing!)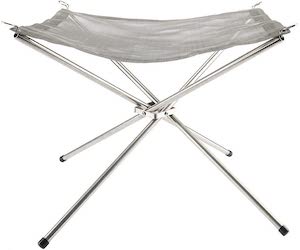 A smokeless wood-burning FirePit that the makers claim can go from spark-to-fire in less than 30 seconds, cook your meals, and give you a full view of the dancing flames.
Burn charcoal or wood, and control the intensity with four-speed fan, powered by the FirePit's rechargeable powerpack that can also charge your phones and tablets. There's even a control app! Around £220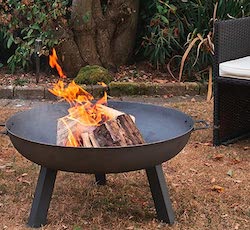 Plenty of this type of firepit around, but this Harbour Housewares one is stronger and more durable than most. Plus it's a good size at W75 x H38.5cm.
It'll discolour and rust over time, but that's character! Keep it covered in very bad weather. Around £65.
Cosy outdoor blankets and ponchos
Try a Snugpak Jungle Blanket for wrapping around you and a friend so you can sit under the stars for longer. Lots of readers say they love them. Warm and light.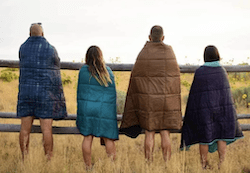 The Kelty Bestie blanket serves the same purpose and might suit you more if you're after some colour! Go for the double rather than single if you're big.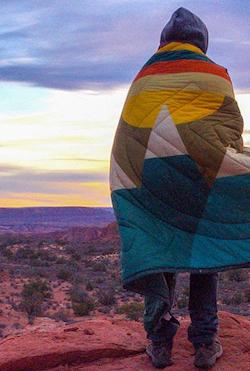 Voited's range of water-resistant blankets are definitely not cheap, but they are rather lovely and with excellent eco-credentials and customer care.
They come in a stuffsack and also transform into a press-stud-fastened cape or a pillow. From around £90.
A layer of fleece on the inside and a waterproof outside, Rubbastuff's Pacmat rain poncho is very useful.
You can open it out to use as a picnic blanket, attach the loops to your bike handlebars for cycling or just squirrel down inside.
It's not super-warm, so wear layers underneath, but the hood is nicely adjustable. Costs around £45.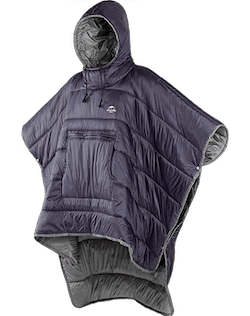 The iBasingo poncho (above) looks a lot like the now wonderful (and, to be honest, better) Thermarest Honcho Poncho (below), but it's a lot more affordable at around £40.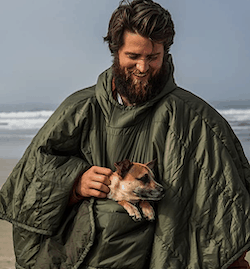 Compresses to a smallish pack size and doubles as a blanket as well as a warm and water-resistant cape. A choice of colours too.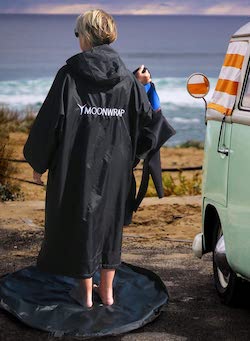 We've been researching for a new article on outdoor swimming (follow us on Facebook or subscribe for free to get updates, by the way). 
One thing that's come out of this is how versatile changing robes (dryrobes) can be. These are an essential for many outdoor swimmers who use them to get changed without exposing themselves. They're warm on the inside, waterproof on the outside and have shorter arms for ease of doing stuff.
Some are expensive, but the Frostfire Moonwrap is a good choice and would work well for outdoorsy activities. One size and around £80.
For baselayers and jumpers, we like Bamboo Clothing – lots of tops and bottoms for men and women that are soft and comfortable.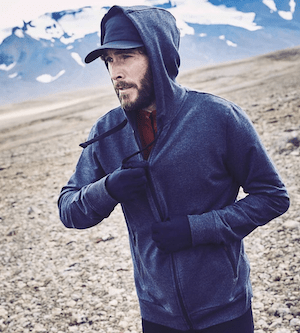 I'm sure I've said this before elsewhere, but a waterproof hat (and a warm, waterproof hat in winter) makes you feel invincible.
The best I've found is the DexShell brand. Cosy inside, lots of colour choice and totally protective against wind, rain and snow. 
If I have one complaint, it's that I'd like a slightly bigger, less close-fitting version, but I have a claustrophobic head!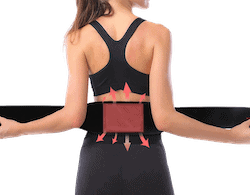 There are lots of waist belts, bodywarmers and jackets that come with heat pads embedded. They're powered by portable powerpacks (like the ones you use to recharge phones). You can see more about these in our camping power article.
It's important to choose one that's got good temperature control. We're highly suspicious of the safety of some of these, so do read the bad reviews rather than the good for a clearer picture.
We'd opt for a belt rather than a jacket as it's more versatile. The best we found was a graphene-based waist belt (now you ask…graphene is the one-atom thick material first isolated at the University of Manchester). Around £40.
Keep the rain off
If it's raining AND windy, then indoors is probably the place to be. It's hard to stay comfortable when the rain is hitting you sideways.
But don't let a bit of drizzle put you off. And when the snow comes (!), that can make outdoors rather magical. 
There are some great quick-to-put up shelters to give you a bit of protection. Just remember to keep your firepit well away from flammable or meltable fabrics.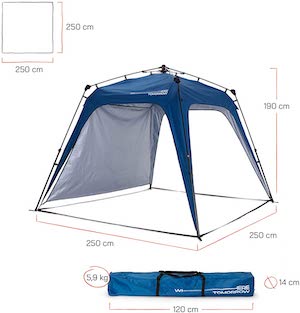 A smart, surprisingly sturdy and affordable option. The Lumaland gazebo comes with one side wall and you can buy the others separately as needed.
Comes in a minimal black, a vibrant lime and a blue for those sitting on the style fence!
It takes less than two minutes to snap the poles into place and peg it down. It's waterproof and includes a bag and pegs. We use it in the garden, on campsites and as a workaround campervan awning. Brill and not expensive.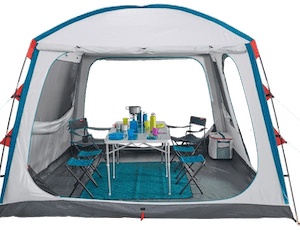 The Arpenaz Base Fresh is a very versatile gazebo/tent or campervan awning with a fixed groundsheet. Affordable too at around £80.
Fantastic light, plenty of weather protection, easy to put up and makes a brilliant campervan awning too.
I would not light a fire anywhere near this, by the way!
Though we can't vouch for its durability, we do love the TentHome's versatility.
Use the inner or the outer on its own and prop up the big canopy for loads of space. It costs £170 and gives you 310 x 360 x 240cm of space.
Aluminium poles, bug-mesh and lots of ventilation. Great as a versatile weather shelter too. Check out our great article about waterproofing gazebos.
Tips for staying warm on the campsite
Don't let the cold in – keep toilet and facility visits to a minimum
Take your own loo
Your own loo – whether that's a bucket with a lid or a 'proper' Portapotti – means you can stay inside. If your camping buddy doesn't like the idea, set up a mini toilet tent next to the van.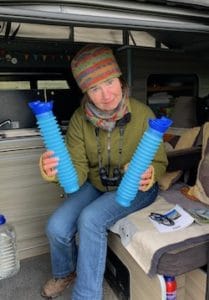 If you've read our guide to camping toilets, you'll know we have a healthy interest in these matters! Kathy won us over with these super-handy wee tubes. They fold down small, seal well and have a fit that works for women as well as men. Oh, and they cost about £5.
Take your own water
We use two
PackTap
10-litre bags filled at home. These last us at least three days.
Plenty more options in our water storage feature.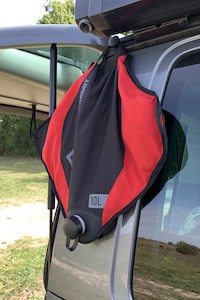 Choose a site that allows or provides firepits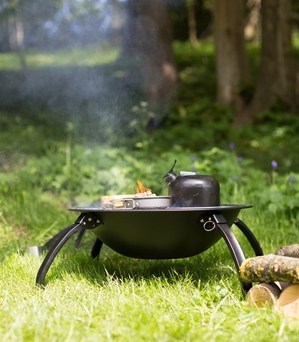 Don't forget the matches. Take a small bag of dry kindling to give you a good start.
Look at the blanket and poncho suggestions for when you're sitting around the fire. Fronts are often toasty while backs get chilly.
Make cooking easy for yourself

Cooking in the cold or rain can be a real challenge. This is where good organisation pays off. Have all your food in ziploc bags or boxes, know where everything is and it'll all seem a lot more fun!
Remember that it's not safe to use a gas stove inside a tent or sealed-up campervan. You need very good ventilation. Use your awning or tarp shelter instead.
Outside in a gazebo, awning or tarp shelter, you're going to need a decent windshield for your stove. They're cheap to buy, but will save you frustration and mean you burn less gas.
BUT, if struggling is going to spoil your enjoyment of the rest of your stay, don't feel you've failed if you use some of our tasty cheats like our favourite shown at the top. These (and others we've tried) are bought-in meals that need barely any preparation but are FAR better than a pot noodle!
Tasty cheats – super easy camping food
Know your tent or campervan inside-out
If you know exactly what you're doing, pitching or setting up will be faster and you'll be inside and warm in a twinkling.
So practise if you haven't already learnt the ins and outs of your equipment – and especially awnings and extensions that might not have been used often
Sealing yourself in against the elements is sensible, of course, but it can also lead to condensation. Give yourself some ventilation and keep a soft cloth around to wipe away condensation before it soaks sleeping bags or clothes.
TOP TIP: Remember to guy tarps with elasticated or bungee rope so that they don't get carried off in a wind.
Tarps and shelters
It may seem a bit obsessive, but practise a tarp set-up ready before you need it. It makes a big difference if you don't have to fumble with poles and guy ropes because you know exactly how to pitch the tarp.
You can find more in our tarp article. Use tarp as extra cover for a tent or as an awning/extension for a campervan or caravan. Use it to cover bikes or create a cooking area. Take adaptable tarp poles to make it easy whatever the situation.
A quick erect gazebo or shelter is great for wet conditions. Throw it up in a couple of minutes to make pitching your tent or unpacking more comfortable. For the rest of your stay, you've then also got extra dry space and a cooking area your tent or campervan is all set-up. Lots of recommendations in our multipurpose shelter article.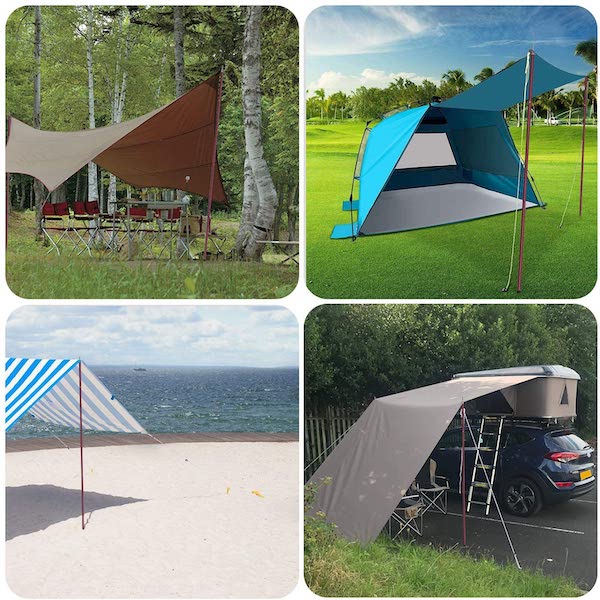 Heating your tent, campervan or caravan
But what do you do without electricity?
The secret is never to let yourself get too chilly to warm up again!
Keep your hat on if it gets really cold. Warm socks plus a good pair of insulated slippers make all the difference.You could also try one of these 12V heated seat pads.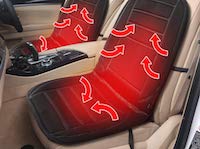 Cooking inside (with ventilation to avoid carbon monoxide poisoning!) adds extra warmth. We also fill up thermos flasks with hot water whenever we can to reduce the time needed to boil a kettle for tea or a hot water bottle.
Great tip from reader Dave Harding. These vintage stoneware hot water bottles (provided you check for leaks) are a brilliant way to keep warm. And no plastic!