We asked Campfire Mag readers to tell us about their favourite items of camping gear. In fact, we've given  away a prize or two for the best suggestions. 
Here are some of their recommendations – from barbecues and kettles to the comfiest camping mattresses.
Plus if you'd like to win a great piece of camping equipment, just send us your own suggestion for something that works really well for you.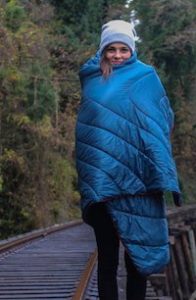 Latest update: September 2020
Paella and a shower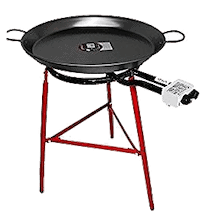 I have so many favourite bits of camping gear. A paella burner and pan to feed the 5,000; a hammock to sling up between trees, and a good loungy camping chair. I think my current favourite is a solar camping shower – a black bag system to hang up that warms in the sun and gives an alfresco bathing experience that is sheer joy. Modesty covering is optional, depending on how wild your camping is! Jos S.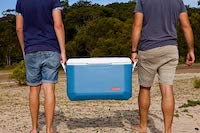 My Coleman fridge keeps my beer super-chilled. There's nothing worse than a warm beer and nothing nicer than an ice-cold beer whilst kicking back and stargazing around an open fire. Great for keeping the bacon fresh for the mornings as well. Michael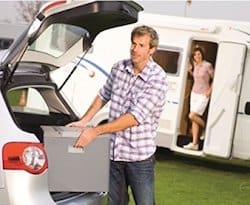 My favourite camping gear is my
three-way fridge
. We load it up with sandwiches and beer and it keeps everything cool in the car. There's nothing better than a cold beer and an egg mayo sandwich to keep us calm while pitching! 
Martin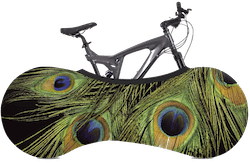 Stretchy, beautiful and fits all bikes, these 'sock' bike covers are designed to keep your bike's muck out of the car, the campervan or the house.
If you don't like peacock feathers, plenty of patterns and plain colours, plus full covers as well as bottom-half ones. Velosock are the best, but expensive. Go for British-made Bike Bra as a cheaper alternative. Pete C.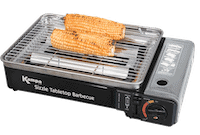 Kampa Sizzle Tabletop BBQ. So easy to use with the gas cartridges and we've cooked many fab meals on it. Viv S.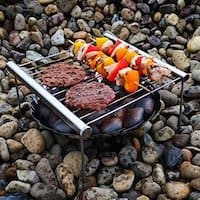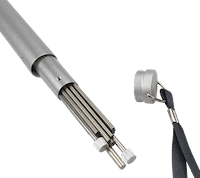 My choice is my Tube Grill. It's portable and lightweight and very easy to clean. My 18-year-old son was about five when I bought it and he loved setting it up once I'd shown him how. 
We've used it with logs underneath, coals and a gas burner, so it's versatile too. It's still like new and nothing's broken. It all packs away inside the tube so nothing gets lost either. It's also a lot cheaper now than it was when I bought it! Sharon O.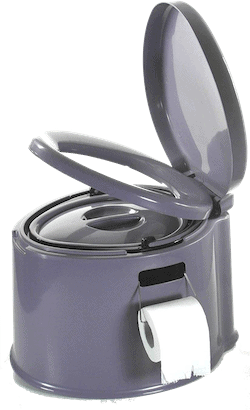 My favourite piece of camping gear is the Kampa Khazi portable toilet. As a woman of a 'certain age', I find that these days my bladder has the capacity of a walnut.
If I didn't have this fab wee portable toilet in my tent it would make for an uncomfortable trip, having to wander to site loos or find a bush to hide behind at all hours of the night. Could terrify the locals.
It's a sturdy and not too obtrusive bit of kit and the lidded bucket means you can discretely dispose of the contents. No 'walk of shame' with an open bucket! Catherine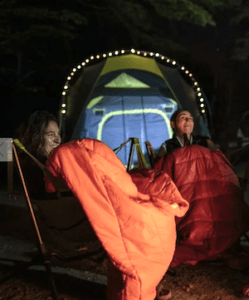 My favourite kit is my Nemo Puffin insulated blanket. Great for sitting round a fire and being able to stay out late enough to see the stars. I use it in the car and on the sofa at home too. Sally T.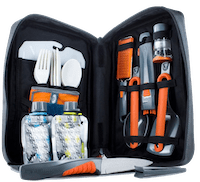 My favourite camping kit is our GSI kitchen utensil kit bag. It contains everything we use and we've added extras into the elastic loops. The folding utensils inside are amazing and are really durable. Best of all it has a solid zip which keeps everything inside the bag. Jane Feilden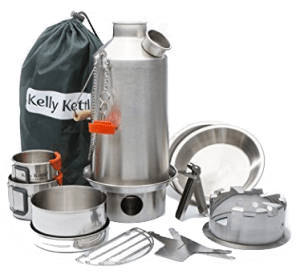 My favourite piece of camping gear is a Kelly Kettle. Small, portable and easy to use. Hannah Sorley 
Folding things for space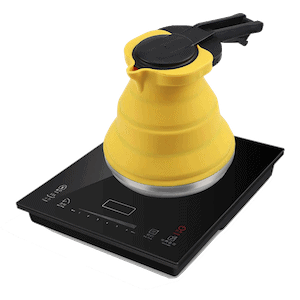 My favourite piece of camping gear are my folding bowls and kettle. Super space-saving. Chris M.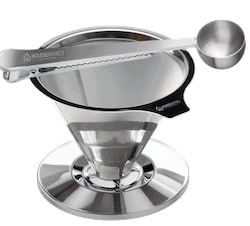 My favourite item of camping kit is a
coffee dripper
. Makes one perfect cup.
Nick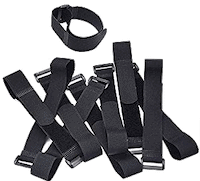 Those velcro cable straps are soooo useful for all sorts of jobs. I wrap my cutlery together, tie my curtains up, hang stuff from them etc etc.  The only thing I haven't used them for is cables! Happy camping. Kathryn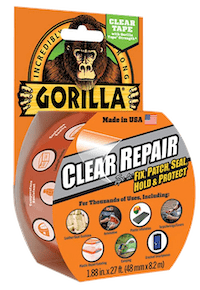 My essential piece of kit for camping is
Gorilla duct tape
. I have an old car, an old tent and ageing kit, BUT that tape can make nearly everything usable. My other essential is my dog – to make me feel safe, no matter where I camp.
Lorraine

My favourite piece of camping gear is my Ridge Monkey Connect. It saves so much space in our small camper and is perfect for breakfast, lunch and dinner (and even cookies!). Tracey O.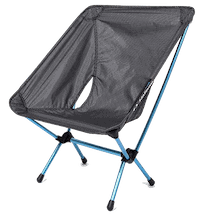 My favourite piece of camping gear is my Helinox Chair Zero. It's the lightest chair in the world that has a full backrest…about 500g. I also have the optional ground sheet, which allows it to be used on even the softest surfaces without sinking in.
I even made a special waterproof roll-top pouch for it which is fixed vertically onto one side of my backpack via some custom 15mm webbing straps. It's not cheap, but the comfort it brings me when camping is worth every penny. Alf B.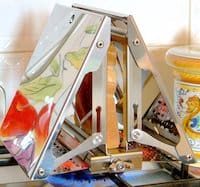 My favourite bit of camping gear is my Delta Toaster. I've owned every type of stove-top toaster and even imported a special bruschetta-maker once from Italy in my pursuit of perfect campsite toast! In my opinion, this is the only one that does the job.
It is expensive but it is a brilliantly engineered piece of equipment that will last a camping lifetime (it may even become a family heirloom). It only does one piece of toast at a time but it does it quickly and evenly. Cory P.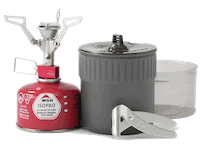 My favourite piece of camping gear is an MSR Pocket Rocket – a fantastic stove for bikepacking. Adam K.
 I love the
MSR Pocket Rocket 2
. It's incredibly small and incredibly lightweight, perfect for a several-day expedition but just as useful for a day trip to the beach when you want a nice cuppa! The boil speed is very impressive and it always outperforms friends' kit whenever I pull it out of the bag!
Mike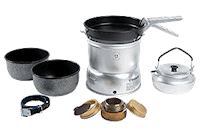 My favourite piece of camping gear is.our years-old Trangia. Easy to use and hot water in minutes! Patricia B.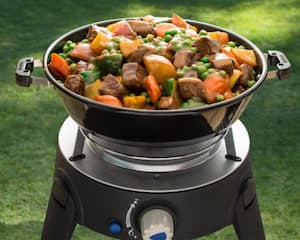 My favourite piece of camping gear is the Cadac Safari Chef 2.  It packs away neatly into a small bag, is really easy to use and it's amazing how much you can actually cook on it considering it's compact size. I regularly manage to cook up a feast for a family of four.  It's really easy to clean too which is a bonus as no one likes that job. I opted for the canister version, but there's a gas bottle model too. Paula H.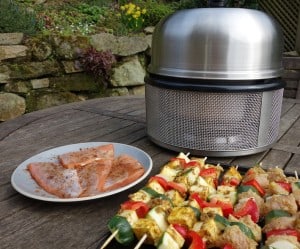 Our favourite bit of camping gear is our Cobb BBQ. It's super-compact, and you can pick it up when you're using it, as it doesn't get hot on the outside. It has so many cooking uses, not just barbecue.
We've done the usual sausage, bacon and eggs in the morning and left it by the van cooking a shoulder of lamb that was then ready for us when we returned from an afternoon on the beach. Lush! Fern S.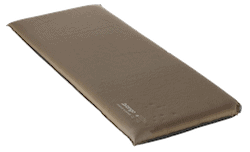 I think my favourite piece of camping gear is our
Vango Comfort Grande
self-inflating mat. My husband is 6'5″, so we have one each and it means we both get a great night's sleep when camping! It's also used for sleepovers in the house, so double use! 
Helen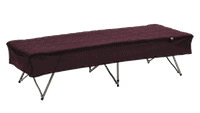 My favourite camping gear has got to be the Outwell Centuple campbed combined with decent Outwell sleeping bags. After rolling about (and off) an airbed it's great to get a good night's sleep. Not lightweight and not cheap but well worth it. Chris Vesey 

My favourite piece of camping gear is dry shampoo! I know it's not flash, or particularly hard to come by, but I just feel so much more refreshed and happier knowing my hair isn't stuck to my head with grease. Little things like looking good when camping really matter to me. Karen S. 
Great tip from reader Dave Harding. These vintage stoneware hot water bottles (provided you check for leaks) are a brilliant way to keep warm. And no plastic!
Over to you…
It's great to hear from a wide range of campers about what they actually use and love.
So, what's your favourite item of camping equipment, outdoors gear or cooking kit?
Let us know and you could win one of three camping prizes. Just leave a comment below.